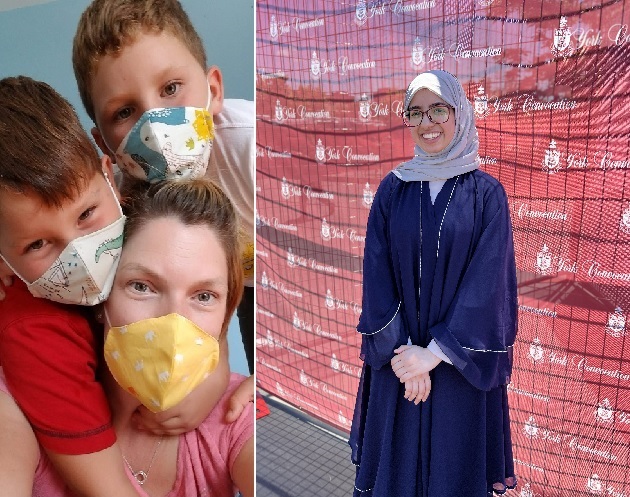 Two international students graduating amid pandemic are available to share their unique stories
While a 19-year-old Pakistani is one of the youngest on a student visa to receive an undergrad degree, a British expat student juggles full-time university and motherhood
TORONTO, June 14, 2022 – Meet Syeda Fatima Abbas Rizvi, 19, and mature student Sabina Goranova – two women who started their post-secondary education in person before the COVID-19 pandemic emerged and had to complete their programs online, overcoming all challenges the pandemic posed.
But that is not the only thing the two of them have in common.
Rizvi, one of the youngest international (visa) students to receive an undergraduate degree from York University, and Goranova, who is the mother of two young children, will both walk across the stage in graduation garb at York's Spring 2022 Convocation as two individuals who came to Canada for the sole purpose of pursuing post-secondary education.
While Goranova – a British expatriate living in the United Arab Emirates (UAE) – picked up her two kids and came to Canada with her husband to fulfill her ambition, UAE-born -and-raised Pakistani, Rizvi, packed her bags and flew to Canada to attend York at age 16 with an aim to study global politics at the university level.
"I continue to be inspired by our students' desire to drive positive change both locally and globally. Syeda and Sabina are inspirational examples of York's steadfast commitment to shape global leaders for an equitable and sustainable future," says Rhonda Lenton, York's president and vice-chancellor. "They represent York's values and are applying their unique skills and experiences, overcoming unprecedented challenges, and addressing issues in their communities. I am excited to see what they do next. They are incredible ambassadors for the University."
Read on to learn more about Rizvi and Goranova, who are also available for media interviews to share their experiences and tips for future students:
Syeda Fatima Abbas Rizvi – Global Politics BA Hons.
"I will be graduating Summa Cum Laude at age 19 from York! I intend to use my degree in Global Politics to continue further studies with the intention of pursuing a career in academia. Ultimately, I hope to excel in a research-based career with a focus on how to improve the condition of countries such as Pakistan."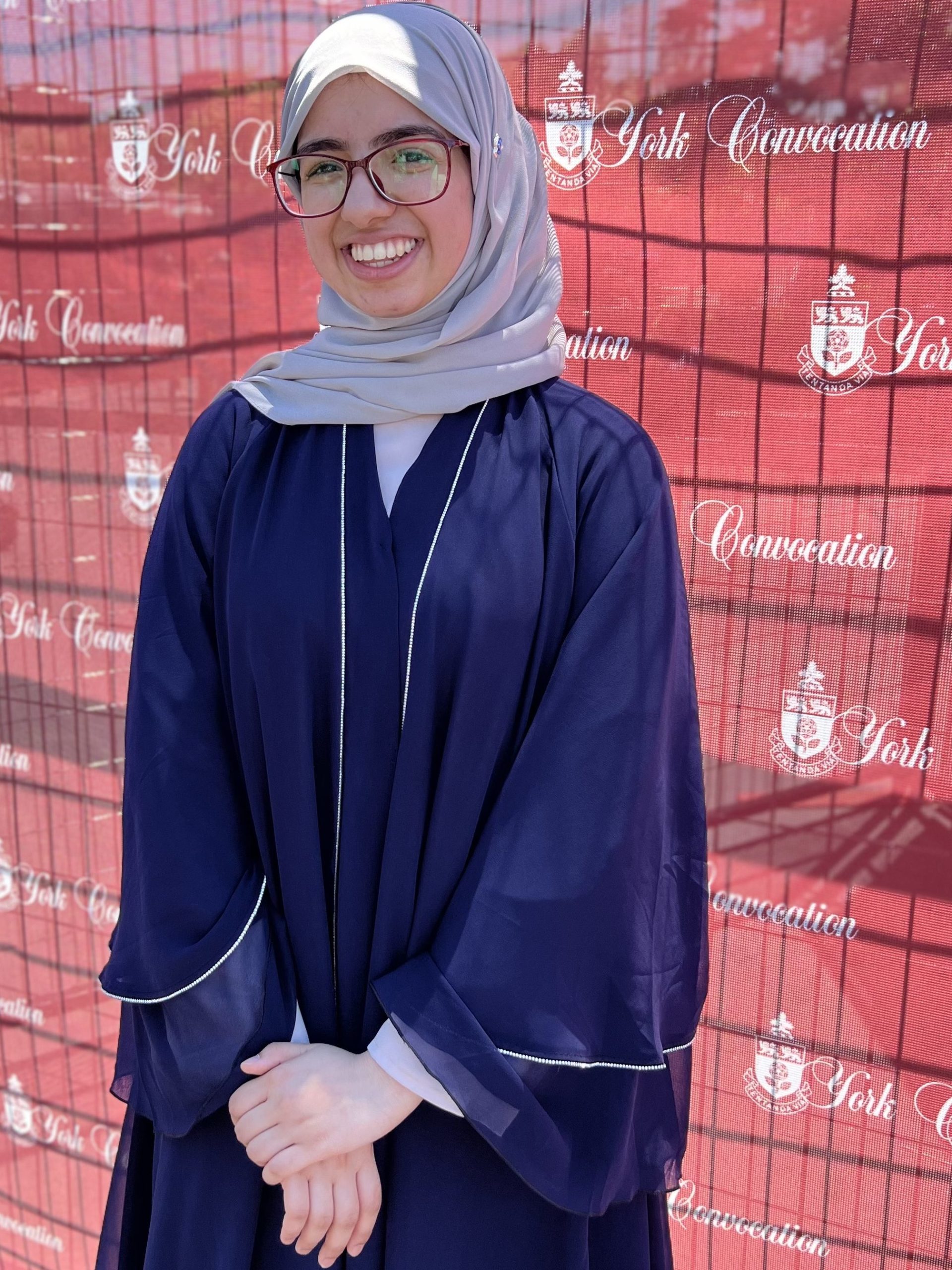 Rizvi has come a long way in a very short time, literally. She had fast-tracked her way through high school to complete a rigorous International Baccalaureate (IB) program in the UAE before joining York's four-year honours program in global politics – which she completed in three years.
"As cheesy as it sounds, my parents were my inspiration from an early age! They encouraged me to try my best in everything I do, and this principle of striving to give my 100 per cent still resonates with me today. So, in my educational journey, that's exactly what I hoped to achieve."
As an outstanding student throughout her life, Rizvi clearly had several options around the world for her post-secondary educational experience. She explains why she chose Canada and York University: "When considering which universities to apply to, I was looking into the US and Canada, but I found Canada's overall ambience to be preferable to that of the US, particularly as a visibly Muslim woman."
"I selected York because when doing my research, York's diversity and social life really stood out to me and as an international student, that's something I really valued. York's politics program is also known for being left leaning, and I really liked that."
Rizvi who had returned to the UAE and was visiting Pakistan, her country of origin, is back in Canada just in time for her graduation ceremony coming up on Thursday, June 16 at 3:30 p.m. One of the youngest to graduate with an honours degree at York this spring, Rizvi is available for media interviews on her personal achievements and educational aspirations, at the Convocation Pavilion, Sobeys Stadium (formerly Aviva Centre) following the ceremony.
Sabina Goranova – Communication Studies, BA Hons.
"I am super excited about graduating in a subject that I am so interested in. The kids are looking forward to coming to see me graduate along with my mother and sister who are flying in for the occasion. Hats off to all my fellow mature student-parents… you've got this!"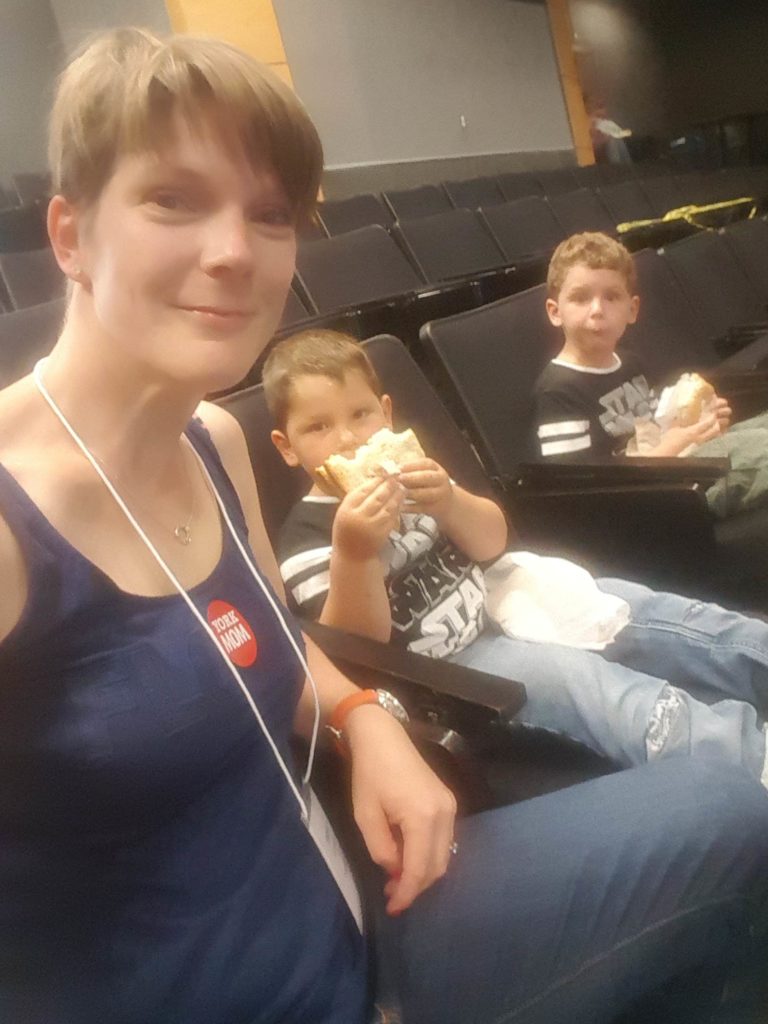 Goranova followed her husband, Goran Goranov, to wherever his job took him – even if it meant quitting her civil service job in London, UK, and relocating to another continent. The couple moved to the Middle East in 2011 and had lived in the UAE since then.
While her husband was successfully employed, there was no career advancement in Goranova's case. Goranov strongly believed it was due her lacking a post-secondary degree to support her experience. "That's when he encouraged me to pursue something that would empower me," she notes. "I found this as an opportunity to study something I was good at and passionate about. And it made sense to do this while the kids were young."
Goranova explored further and found the ideal program at York University, and as British expats, her family was happy to relocate for it in 2018, with the Canadian experience as a bonus.
"It's been quite a ride," says Goranova who faced some practical issues as she started university in a new country, with two kids in tow. "I had no help when we arrived. I had to bring my kids to orientation sessions with me and then I brought them to campus daycare. So, getting to lecture was extra fun, and stressful at times, when we had to rush in the car through the snowstorms!"
Despite her already cramped schedule and ongoing pandemic life, Goranova decided to take on work-study role to add Canadian work experience to her resume and was the website and social media assistant for York's Atkinson Centre for Mature and Part-time Students.
The last year of education has been extra strenuous for Goranova, as her husband returned to working in-person and away from home and she became the only caregiver for their kids. She thanks her understanding and supportive professors with whose encouragement she landed safely after this roller-coaster ride as a work-study student and parent.
"Looking back at it, I am frankly surprised I managed to get the grades I got whilst having a day full of kids' schooling, feeding the kids, doing laundry, tidying the house, grocery shopping, going to hospital for emergencies like (kid's) broken arms and then essay writing once the house was quiet," says Goranova with a sigh of relief.
Goranova will be available at the Convocation Pavilion, Sobeys Stadium (formerly Aviva Centre) following the ceremony on Wednesday, June 15 at 10:30 a.m., to share her experience and tips for other mothers and mature students pursuing higher education.
-30-
York University is a modern, multi-campus, urban university located in Toronto, Ontario. Backed by a diverse group of students, faculty, staff, alumni and partners, we bring a uniquely global perspective to help solve societal challenges, drive positive change and prepare our students for success. York's fully bilingual Glendon Campus is home to Southern Ontario's Centre of Excellence for French Language and Bilingual Postsecondary Education. York's campuses in Costa Rica and India offer students exceptional transnational learning opportunities and innovative programs. Together, we can make things right for our communities, our planet, and our future.
Media Contact:
Gloria Suhasini, York University Media Relations, 647-463-4354, suhasini@yorku.ca