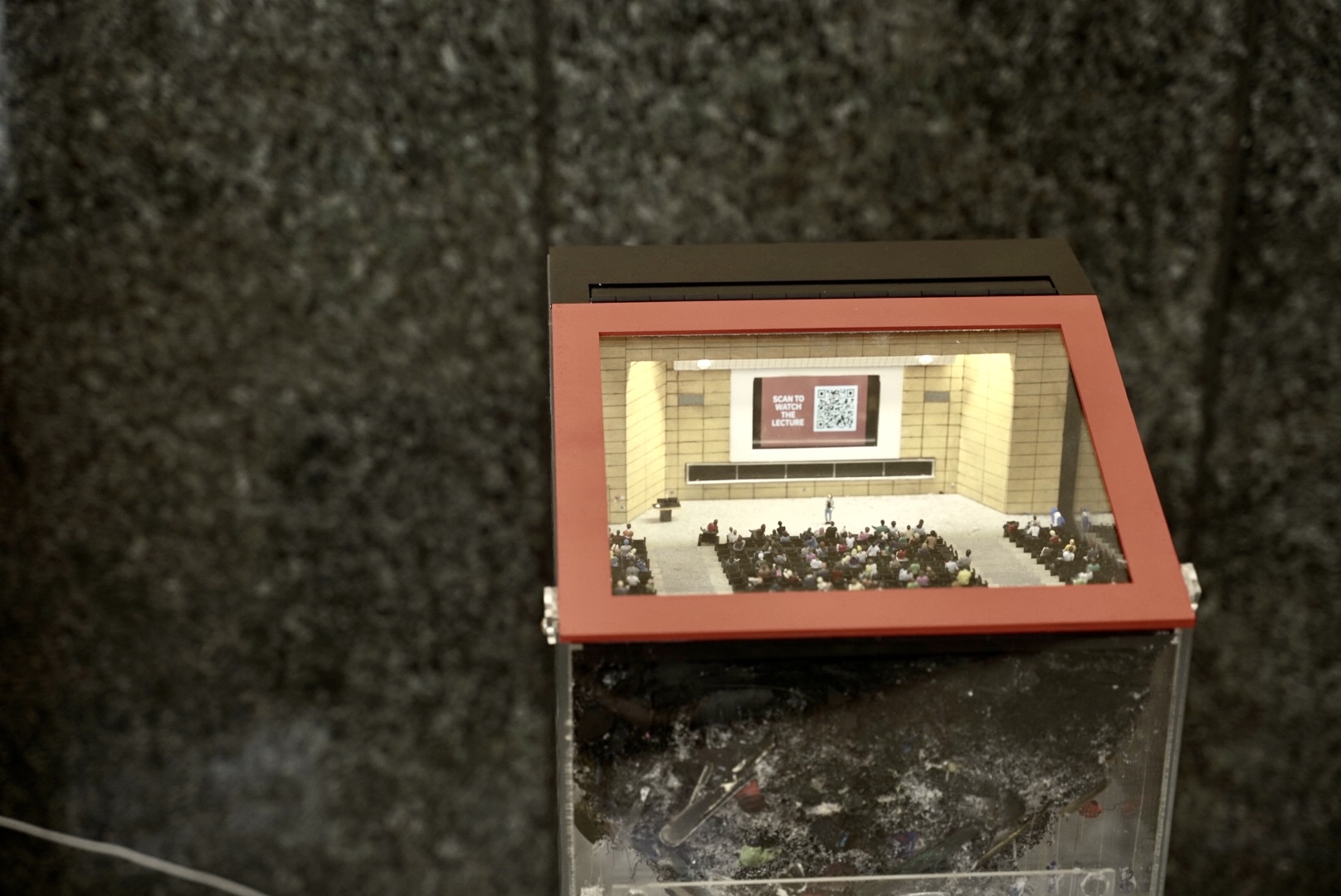 Home » Category Listing »
The world's smallest lecture hall launches at York U to tackle a macro problem across the globe
York University is launching the world's tiniest lecture hall to spur action on the giant problem of microplastics, and anyone on the planet can step inside.
The micro-lecture hall is part of a new art installation that will be unveiled at Vari Hall and the Glendon Centre of Excellence. An exact replica of a theatre-style lecture hall, the transparent plexi-glass model – made mostly from recycled plastics removed from Lake Ontario – features tiny chairs, a tiny screen and even tiny people.
By scanning a QR code, anyone can enter virtually and settle in for a six-minute micro-lecture on microplastics, ubiquitous hazardous pollutants that have been recognized as a global environmental risk.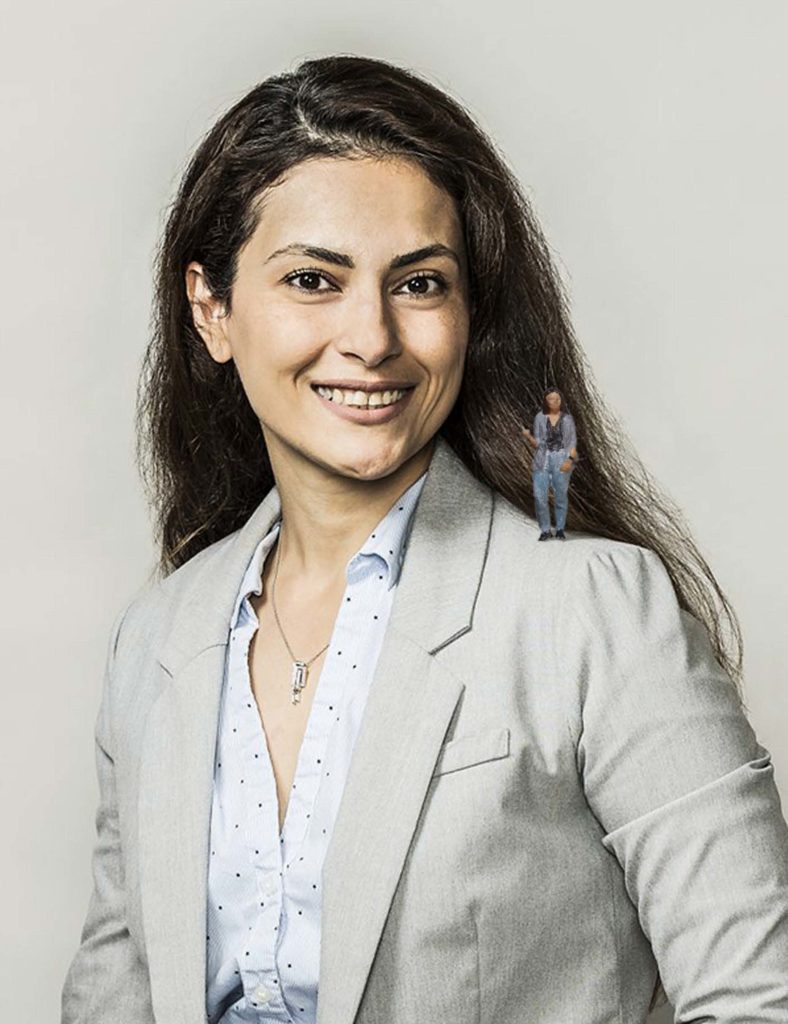 "Students today are technically savvy in using technology, and I applaud York for using state of the art technology to try to send this intricate message across," says Dr. Shooka Karimpour, assistant professor in the Department of Civil Engineering at York's Lassonde School of Engineering.
"As professors, we can get lost in the scientific language and sometimes our research does not translate to the public. This is an innovative way to fill the gap."
Karimpour, who delivers the micro-lecture, is part of an inter-disciplinary team at York whose research aims to address the problem of microplastics in Lake Ontario to support environmental policies that will benefit all Canadians.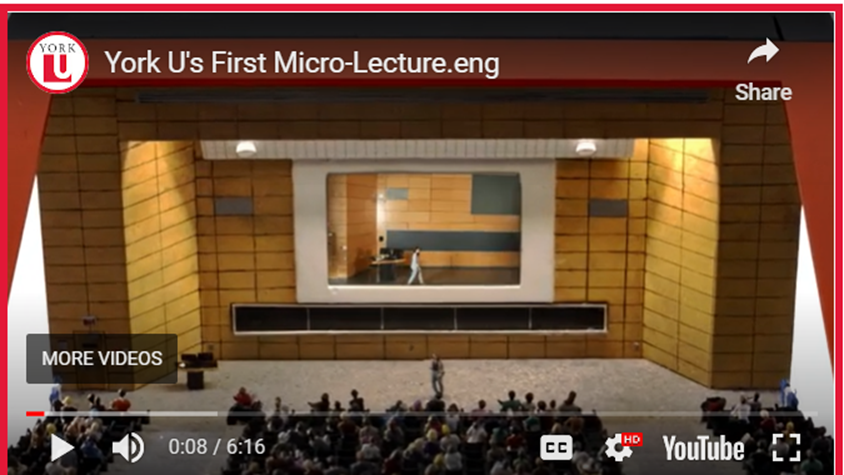 Although they pose a significant threat to the well-being of animals and humans, microplastics are everywhere. They come from the plastic water bottles we use, the gym clothes we wear and even the gum we chew.
Karimpour hopes the micro-lecture will be viewed widely, so that she can get the message out about the problem of microplastics, and ways people can help address it.
She says plastics are an innovation that have many positive uses. Strong, lightweight, and malleable, they are used in ways that keep us safe, for example for medical purposes, in bicycle helmets and car air bags.
But they come at a high cost. Ingested by animals in aquatic environments they enter human diets as well.
Karimpour says her team's research seeking to address the abundance, distribution and decomposition of micro-plastics is an example of York University's broader sustainability efforts to 'right the future' by creating positive change.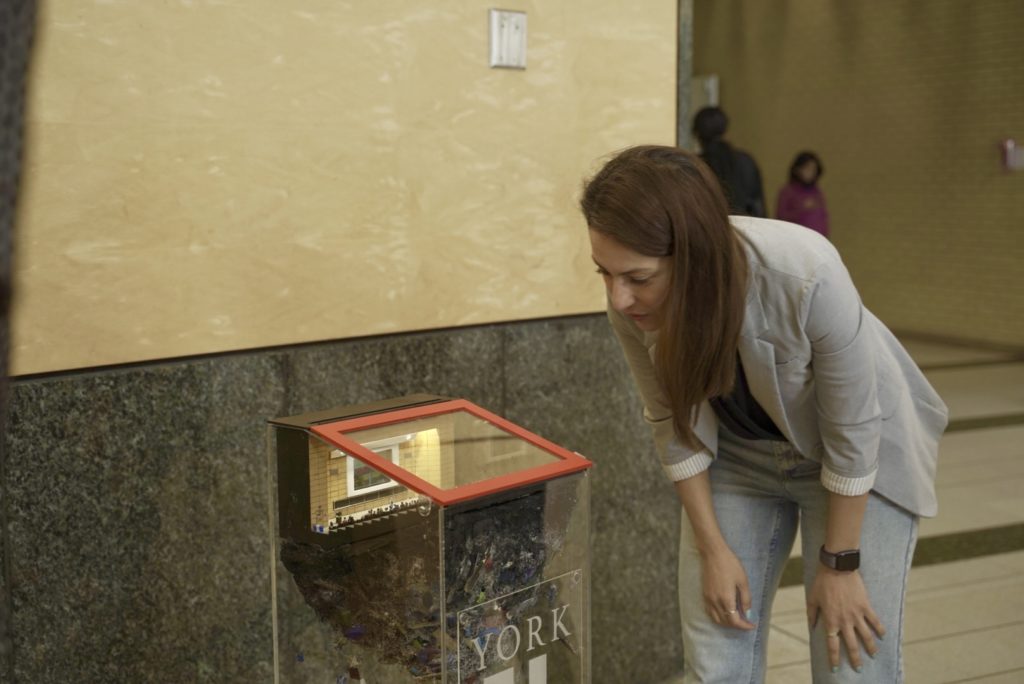 "I'm optimistic in terms of the future and the sustainability efforts we're making," Karimpour says. "Our next generation is quite aware of the things happening in their environment and conscious of the choices they make in their lives. This video will contribute to a positive change the University is building in terms of sustainability and a movement I see coming."
York U is committed to building a more sustainable world and is emerging as a sector-wide leader.
In embracing its commitment to right the future, York has been recognized internationally for ongoing work to address the Sustainable Development Goals set by the United Nations. Through the University's research, teaching, partnerships and campus practices, York has ranked 33rd in the world on last year's Times Higher Education Impact ranking.
Karimpour's micro-lecture has lots of tips on the little steps individuals can take to make a big difference in the problem of micro-plastics.
The QR code to her micro-lecture can be accessed by the York community by visiting the art installation at Vari Hall or the Glendon Centre of Excellence beginning Oct. 4. Wider audiences can find the code through social media.