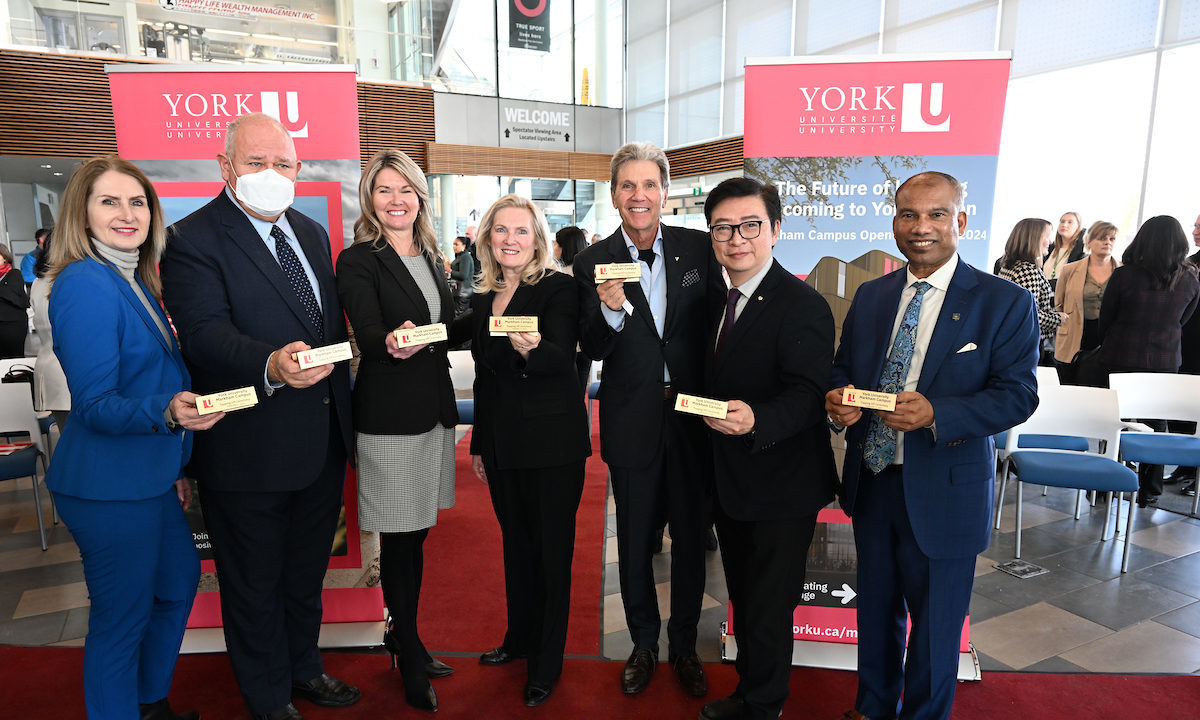 Home » Category Listing »
York U celebrates Markham Campus construction milestone and latest major gift
MARKHAM, ON, Feb. 1, 2023 – Today, President and Vice-Chancellor of York University, Rhonda Lenton, together with dignitaries, University leadership, local community members and philanthropists, marked an important phase in the building of its new Markham Campus with a 'topping-off ceremony' and the announcement of a $5-million donation toward capital construction costs from Metropia, presented by Howard Sokolowski, a York alumnus and the company's founder and CEO.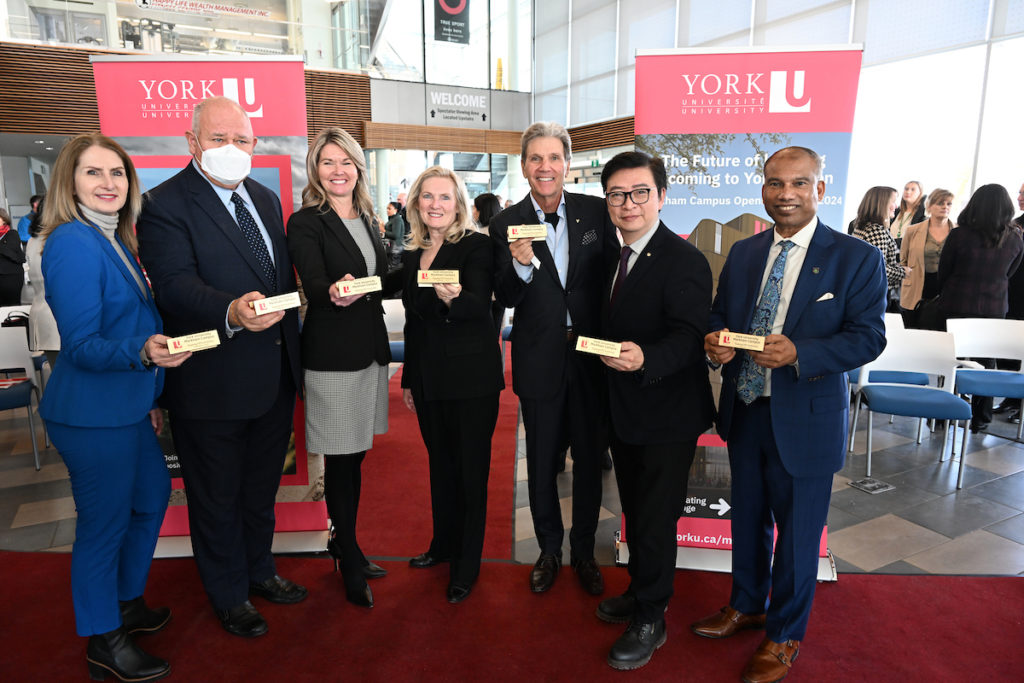 The milestone was recognized with a ceremonial signing of the final beam attended by local dignitaries, University leadership and community members. The final structural I-beam was then lifted and placed by a crane – completing the building's frame.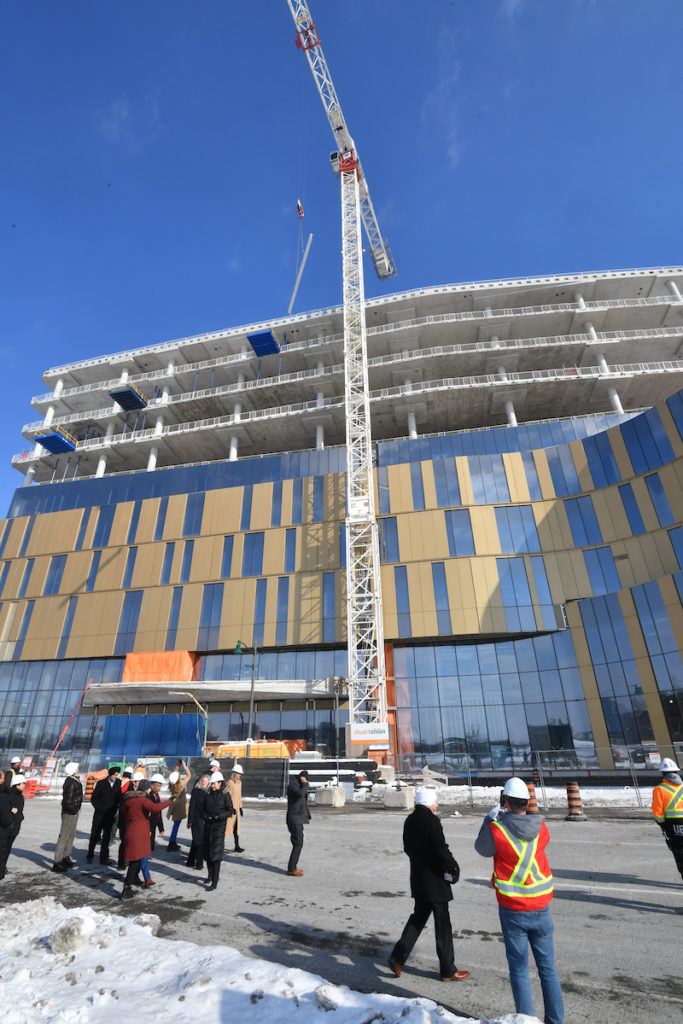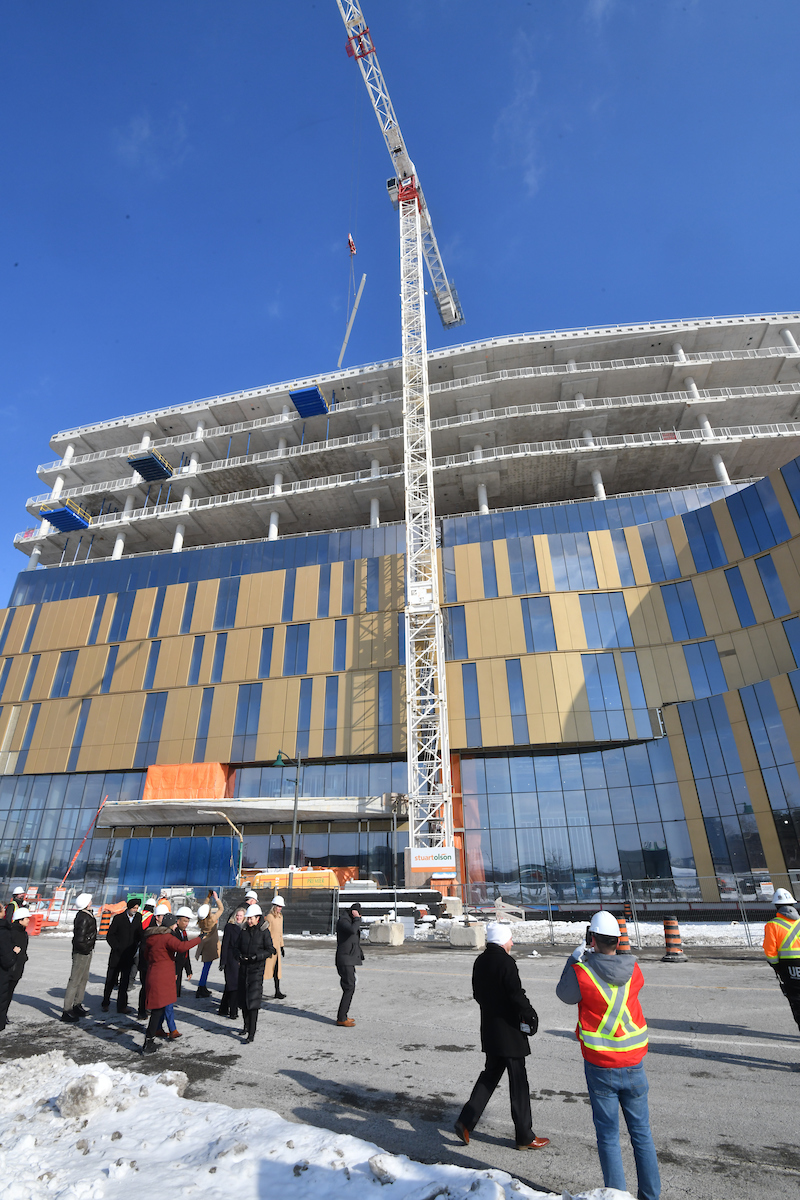 Coupled with curtainwall installation up to the fifth level and the completion of the concrete structure, this final beam placement means that interior work to support the campus's academic programs and research grounded in core themes of technology and entrepreneurship can progress.
The $5-million donation from Metropia and Howard Sokolowski, a York alumnus, will go toward the capital construction costs of the campus. In honour of this generous gift, the student success centre on the first and second floors of the new building will be named the Metropia Student Success Centre.
The Metropia Student Success Centre will be a dynamic and central hub for all student supports and services at Markham Campus. The suite will include the student success and academic advising office, an interfaith centre, multipurpose wellness studio and spaces for academic success, mentoring, counselling and student life. It will also feature areas for student organizations, including student government and clubs, to collaborate and plan events on campus and within the community.
The high-tech, research-intensive campus will embed York in the heart of one of the most diverse and dynamic urban communities in the province and country, while supporting research and academic programs that reflect the local economy – offering opportunities for students, faculty and staff to collaborate directly with employers, startups and community partners with a shared commitment to right the future.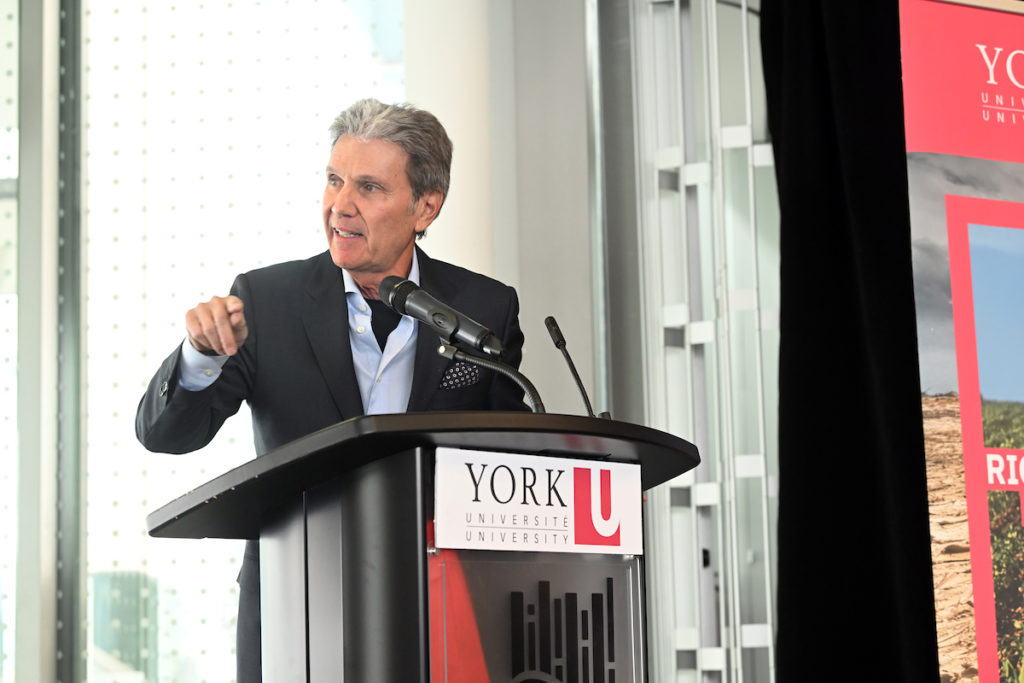 Together with YSpace, the Markham Small Business Centre, the City's Economic Development initiatives, and technology companies already based in Markham, this new campus will help foster innovation and entrepreneurship in Markham and the Regional Municipality of York. It will also attract more skilled, diverse talent to study, work and settle in Markham, further growing the city as a forward-thinking community and a leading technology and innovation hub.
Markham Campus is set to open in Spring 2024. To learn more, visit yorku.ca/markham
QUOTES
"York's mission as a progressive and modern university is to drive positive change through the transformative power of 21st century learning, research and innovation, and strong partnerships to enhance the well-being of the communities we serve. Markham Campus will be helping York do just that."
- Rhonda Lenton, President and Vice-Chancellor, York University
"I was a student at York University 50 years ago, when it was an emerging institution in North York. Since then, York has grown into an internationally recognized university, and I am so proud to be a part of York's further expansion with a campus in the heart of Markham. Markham's city centre is a thriving, rapidly growing neighbourhood that is a perfect match for York's entrepreneurial spirit and curriculum. I care deeply about this community and institution and am so excited to see this project progressing towards opening day."
- Howard Sokolowski, Founder and CEO, Metropia
"Markham Campus is more than a building. It is a tunnel of raw hope and opportunity for the city, the region and ultimately the province and country. The final beam placed on top of the building structure today is the capstone that advances this campus to be a beacon of positive change."
- Gordon Binsted, Deputy Provost, York University Markham Campus
"The City of Markham congratulates York University on this latest milestone, an important next step in realizing our dream of a post-secondary institution in Markham. The new campus will complement our growing downtown with its beautifully designed architecture and inviting entrance. We look forward to the official opening in 2024."
- Frank Scarpitti, Mayor of Markham
"Attracting high-quality post-secondary opportunities has been a long-standing priority for York Regional Council and is a key goal in our Economic Development Action Plan. As we celebrate the completion of the York University Markham Campus structure and Regional Council's $25-million capital investment in this project, we look forward to welcoming students to the City of Markham and creating new opportunities for research, innovation and business growth."
- Wayne Emmerson, Chairman and CEO, Regional Municipality of York
"Congratulations York University on reaching this significant milestone and for bringing the community, private sector and all levels of government together to support this important project. The new Markham Campus will not only serve as a physical building that provides a space for learning, but also as a foundation for knowledge and lifelong success. Together, we are creating opportunity for the people of York Region, giving students access to the best learning environment possible, where they can prepare for their careers and the jobs of the future."
- Hon. Jill Dunlop, Minister of Colleges and Universities

"I am grateful that York University has chosen Unionville, which is not only well-connected to Toronto but also embraces some vibrant and diverse communities. The York University Markham Campus will be the first publicly assisted university in the York Region. By choosing Unionville and the York Region, I have no doubt the university will be rewarded by the many talents in our strong business and tech clusters here. I can't wait to see the positive impact of the new Markham Campus for generations to come."
- Billy Pang, MPP, Markham - Unionville
-30-
Media Contact:
Kayla Lewis, News Manager & Deputy Spokesperson at lewiskay@yorku.ca or 416.452.0282
York University is a modern, multi-campus, urban university located in Toronto, Ontario. Backed by a diverse group of students, faculty, staff, alumni and partners, we bring a uniquely global perspective to help solve societal challenges, drive positive change and prepare our students for success. York's fully bilingual Glendon Campus is home to Southern Ontario's Centre of Excellence for French Language and Bilingual Postsecondary Education. York's campuses in Costa Rica and India offer students exceptional transnational learning opportunities and innovative programs. Together, we can make things right for our communities, our planet, and our future.