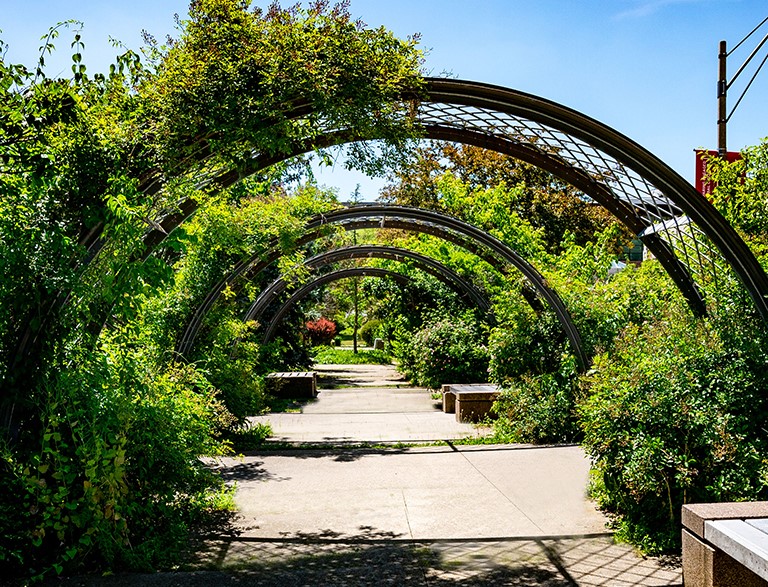 Home » Category Listing »
York U hosts Congress 2023: Creating a better world through "Reckonings and Re-imaginings"
York University is modeling its commitment to create positive change as host to Congress 2023, the annual red-circle event for social sciences and humanities scholars that kicked off on May 27. Congress 2023 will help shape the important dialogue about building a world that is safe, equitable and sustainable.
Over six days, 9,000+ scholars, graduate students, policymakers and community members will pool their expertise as part of the largest academic gathering in Canada — identifying and discussing the decisions we need to take today to build a better world for all as part of the theme 'Reckonings and Re-imaginings.'
Lisa Philipps, York U's provost and vice-president academic, says York is a natural convener for this critical conversation. The University community constantly seeks new ways to put principles of equity, diversity and sustainability into practice. "Right the Future" is the University's commitment, and it's woven into campus culture as well as this event.
"The great thing about York is we've always been known for this really strongly felt commitment to social justice and social responsibility and we've also been known for new ways of doing things," said Philipps.
"The theme of Congress this year is 'Reckonings and Re-imaginings.' We took the opportunity to infuse that into the entire event experience, from open-access programming to talks and panels organized by Scholarly Associations. We saw this as our opportunity to create a better world by taking responsibility within the academy to lead the change and commit to action together. I'm very proud of that."
Prof. Andrea Davis, academic convenor for Congress 2023, says York is the right university at the right time to provide the platform for pressing discussions about how a better world might be created. She says, while Congress will examine the most pressing issues of our times, it was also created by and for the York community.
"York is presenting a rich suite of 163 open programs including art exhibitions, a performance showcase, Indigenous walking tours and interdisciplinary panels and keynotes that will be available to our community members, students, staff, faculty, alumni and retirees, as well as members of the public who purchase a community pass," Davis says.
"We're really centering community engaged research. That's a big shift in what's happened at Congress before. I think it reflects York's strengths, as well as this unique location."
With its ethically sourced coffee, tea and chocolate, Congress 2023 has been officially designated the biggest Fair Trade Event in Canadian history.
Conscious of the potential environmental footprint of such a large gathering, York chose to go swag-free. Instead of branded souvenirs, attendees are invited to take in pop-up dance and musical performances at four outdoor Swag Stages and take home the memory of the performances and share with others on social media using #Congress. Waste sorting stations will be available across campus to divert litter from landfills. Signs will be re-used. Staff will get around campus using electric golf carts as well as the tiny three-wheeled next-gen SARIT electric cars developed at York with auto magnate Frank Stronach.
Keele Campus is set in one of Toronto's most racially diverse communities populated by a high proportion of youth, refugee and immigrant families. To reflect the community around it, York U partnered with residents of the Jane and Finch neighbourhood to work together on how they might help shape the massive gathering and be involved in it.
As a result of that partnership, community members are being welcomed onto campus to showcase their talent and expertise. The creation of a community mural will highlight the diversity of voices in the region. Congress participants can take part in walking tours of the local Black Creek watershed to explore the natural, cultural, treaty and settler history of the region and learn about thousands of years of Indigenous life in the area.
Young people from the region have the opportunity to collaborate with recognized changemakers on ideas to meet the United Nations Sustainable Development Goals and a group of diverse educators and innovators will share creative strategies for infusing sustainability goals into classrooms. Both events are in keeping with York's academic plan, which includes a university-wide challenge to elevate the University's contributions to the United Nation's 17 sustainable development goals.
Community members will be invited to attend open conference events, and high school students from the area will connect with York students who grew up in their neighbourhoods, building relationships that could lead them to imagine post-secondary education for themselves.
"There is a long-standing commitment here to creating positive change in a number of key areas, including diversity, inclusion and sustainability," says J.J. McMurtry, dean of the Faculty of Liberal Arts and Professional Studies. "I'm so proud of our researchers for bringing this work to this national and international audience."