Home » Category Listing »
York University named as one of the world's leading universities in the 2023 Times Higher Education Impact Rankings
Community commitment to sustainability underpins top 40 global ranking
York University continues to strengthen its position as a leader in creating a more sustainable and inclusive world, ranking among the world's top 40 universities for advancing the United Nations Sustainable Development Goals (SDGs), as revealed today in the 2023 Times Higher Education (THE) Impact Rankings.
This year's Impact Rankings include tougher competition with more submissions, bringing the total number of ranked universities to more than 1,500. York has demonstrated strong global standing in the following categories:
SDG 1 – No Poverty (21st in the world)
SDG 10 – Reduced Inequalities (25th in the world)
SDG 11 – Sustainable Cities and Communities (12th in the world)
"As a leader in creating positive change, York has once again been recognized by THE 2023 World Impact Ranking for advancing the UN SDGs," said Rhonda Lenton, president and vice-chancellor. "Being among the top 40 universities globally is a testament to the high quality, interdisciplinary work taking place at York bridging community members across faculties and divisions united by a commitment to make the world a better place for all. I congratulate our entire community and the many outstanding partners with whom we collaborate on this tremendous accomplishment."
The Impact Rankings were announced as York is host to the 2023 Congress of the Humanities and Social Sciences, Canada's largest annual gathering of academics. The conference theme, "Reckonings and Re-imaginings," serves to highlight many of the inequities and challenges the SDGs aim to address.
The rankings news also comes on the heels of the announcement of the largest research grant in the University's history which underpins a total of $318-million funding for Connected Minds: Neural and Machine Systems for a Healthy, Just Society. The interdisciplinary Connected Minds team will focus on how society can evolve in a socially responsible way with artificial intelligence and disruptive technologies.
"I'm grateful that members of the York community have taken up our University Academic Plan's challenge to deepen our contributions to the SDGs with such enthusiasm and dedication," said Provost and Vice President Academic Lisa Philipps. "Addressing inequality and fostering sustainable communities locally and globally are massive challenges that require all of us to act. It's exciting to see York recognized as a leader."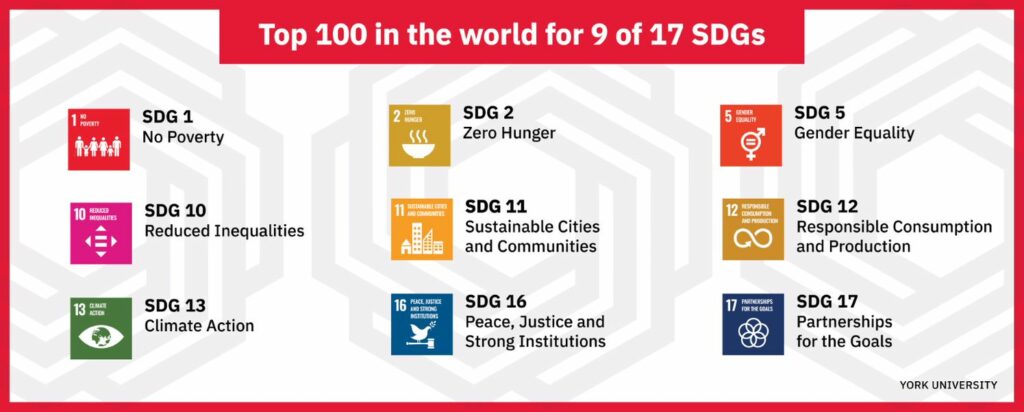 Since its founding, York has been a university committed to improving access to post-secondary education, and today, more than 11,000 York students are first in their family to attend university. York also provides a broad array of financial supports to our students including the Tentanda Via Award provides financial support for up to 60 qualified undergraduate students who overcome barriers to earn their degree or who have helped others by contributing to the SDGs.    
Home to the Canadian Observatory on Homelessness and the Homeless Hub, York's numerous initiatives toward No Poverty are reflected by a strong standing in SDG 1. York's ranking in SDG 10 toward Reduced Inequalities encompasses a wide range of initiatives that demonstrate leadership both at home and around the world, including the recently launched Decolonizing, Equity, Diversity and Inclusion (DEDI) Strategy, the first such plan to incorporate decolonization in a meaningful way.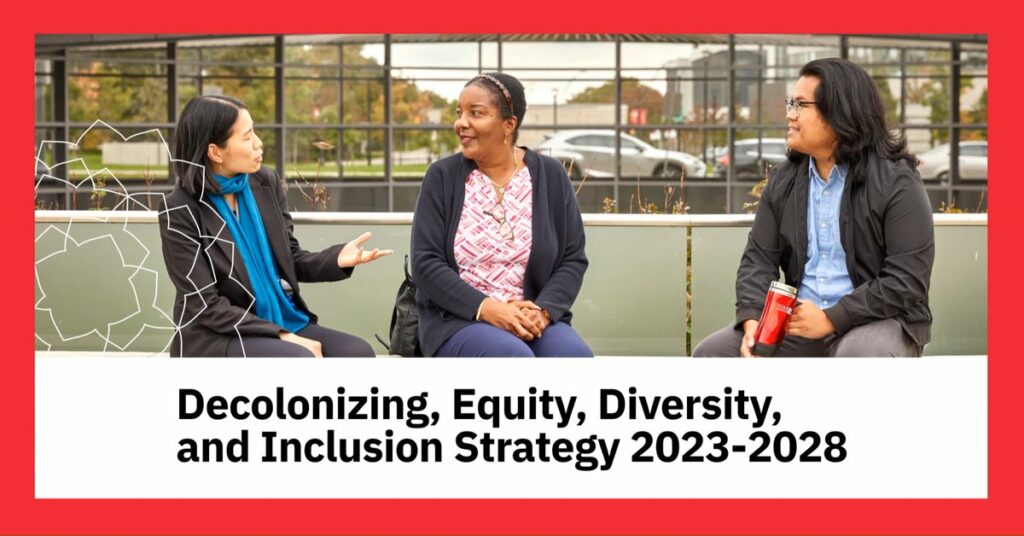 York's recognized strength in water research is helping to define the University's contributions to many SDGs, including SDG 11: Sustainable Cities and Communities. In March 2023, York was named academic lead in the UN's new global Water Academy, which focuses on delivering innovative training and building human capacities on pressing water-related issues worldwide.
OneWATER, York's Organized Research Unit, is dedicated to research and discovery of strategic, integrated solutions to water challenges faced by communities in Canada and around the world. Led by an accomplished executive team, the researchers also have a key role in the delivery of the UN Water Academy. York researchers are also supporting humanitarian field workers in refugee camps with new tools that help ensure refugees can access clean water.
While much of the University's ranking on SDG 11 can be attributed to advancing work with a global impact, the York community has made numerous contributions to sustainability in the local community. This year, as part of Earth Month and sponsored by the UN Framework Convention on Climate Change Youth Climate Report, 214 trees were planted across the Keele and Glendon campuses. York is also partnering with auto magnate Frank Stronach to transform the University's campuses into a living lab for the next generation of electric vehicles known as the SARIT (Safe, Affordable, Reliable, Innovative Transit). 
Having recently appointed its first Chief Sustainability Officer, the University is moving ahead with ambitious sustainability plans to achieve net-zero carbon emissions. York also recently celebrated its 11th consecutive year as one of Canada's Greenest Employers for 2023.
Recognizing that each of us has a role to play in creating a better future for our planet, York recently launched the free Microlecture Series in Sustainable Living, an innovative and interdisciplinary open access program that gives participants the opportunity to learn from six of York's world-renowned academic experts on a diverse range of topics related to sustainability. To earn a first-of-its-kind Digital Badge in Sustainable Living, participants must pledge to make positive sustainability-focused changes in their daily lives.
To learn more about how the York University community is advancing the SDGs, read the annual report at yorku.ca/unsdgs.