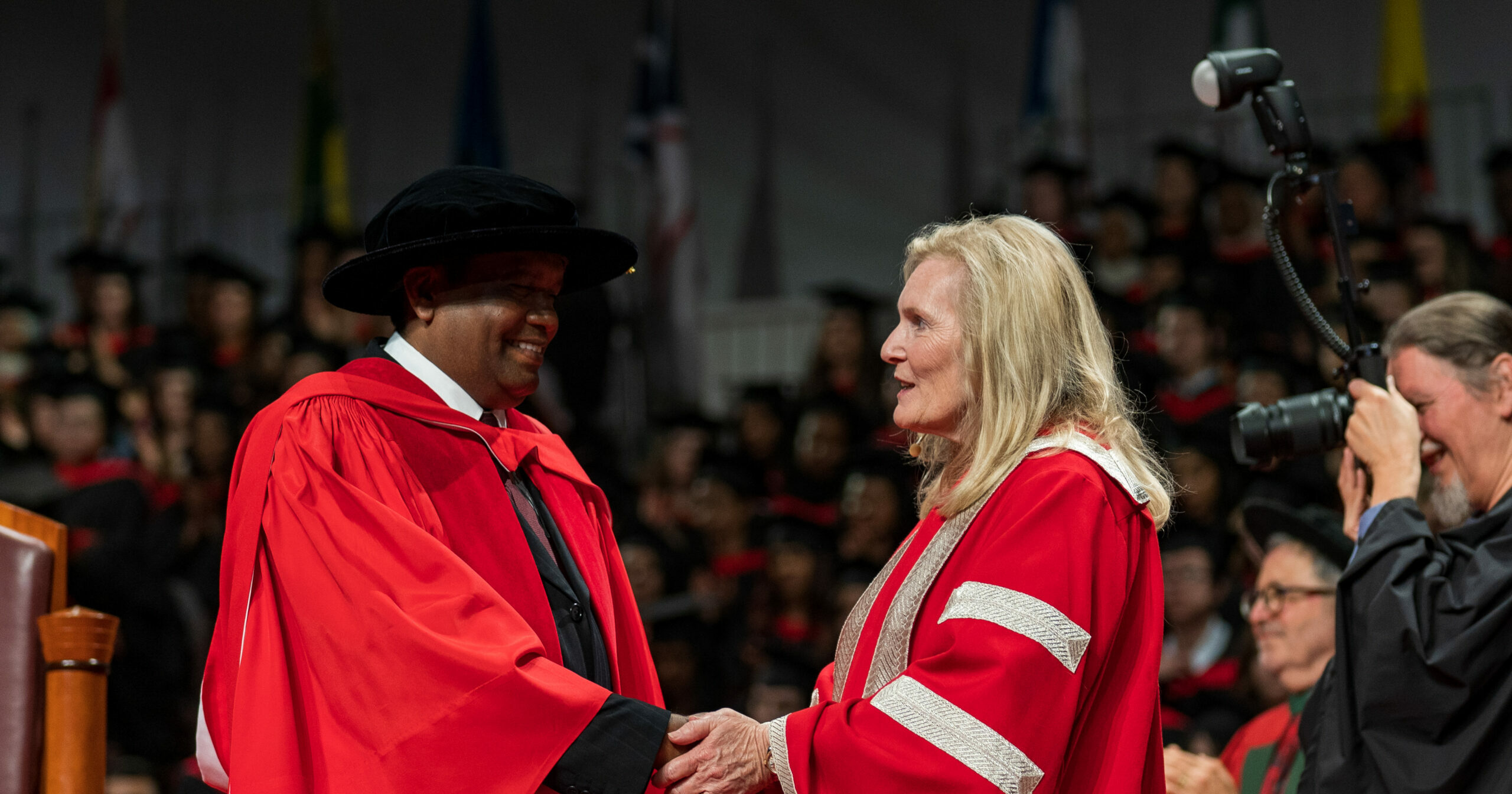 Home » Category Listing »
York community celebrates Spring Convocation as leaders of tomorrow prepare to create positive change
Throughout the month of June, the York University community is celebrating convocation, a time-honoured tradition that celebrates every student's academic accomplishments.
Spring Convocation 2023 began on June 9 with graduates crossing the stage at Glendon Campus' Glendon Green and continues from June 16 to 23 with ceremonies at the Keele Campus Convocation Pavillion located in Sobeys Stadium.
In her first public act since being installed as York's new Chancellor last month, Kathleen Taylor is conferring degrees on thousands of new graduates at this year's 13 convocation ceremonies.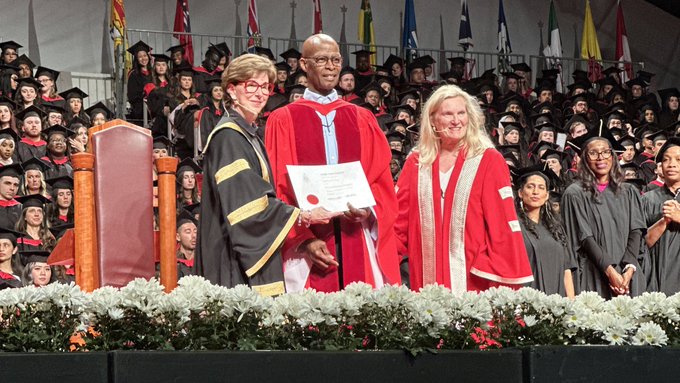 In remarks delivered at a Keele Campus convocation ceremony, Taylor reminded graduates that success is not an endpoint, but a continuous pursuit in a life-long journey.
"So embrace change, seize opportunities," Taylor said, "and continue to strive for excellence to better yourself and the world around you."
Not only a celebration of life at York, convocation is also an opportunity for new graduates to share this significant milestone with family and friends.
While in many ways York's spring convocation represents a return to the familiar, many aspects of the ceremonies have been reconsidered with the goal of creating a more inclusive and student-centered celebration.
The changes aim to advance the University's new Decolonization, Equity, Diversity and Inclusion Strategy through the culture of convocation, and more strongly align this and future years' ceremonies with York's values.
In addition to changes in the order of proceedings that see the national anthem sung following a land acknowledgement and, where relevant, an Honour Song, the University's mace has been repositioned as a symbol of university scholarship, leading the academic procession into the ceremony rather than positioned in front of the Chancellor as in previous years.
Student performers are replacing the bagpipers who traditionally play the procession into the ceremonies, and each ceremony features an alumni guest delivering a welcome message.
Communications have been updated to clarify that students, faculty and guests who identify as First Nation, Metis or Inuit are welcome to wear traditional ceremonial dress of their people and culture, and every ceremony includes either a volunteer or professional name reader.
After receiving their degree, graduates and their loved ones can celebrate with several fun and interactive features, including a Spotify playlist and graduation song, a social media wall and "360 camera," and the opportunity to view and participate in student success story videos. Those sharing their celebration on social media are encouraged to use the hashtag #YorkUConvo and can add special convocation stickers to customize Instagram stories.
There are also two new grad celebrations that have been added: The Black Grad Celebration hosted by York's Black Alumni Network which takes place on June 28 and the Rainbow Grad Celebration hosted by York's Sexuality & Gender Advocacy Alumni Network will be held on June 29.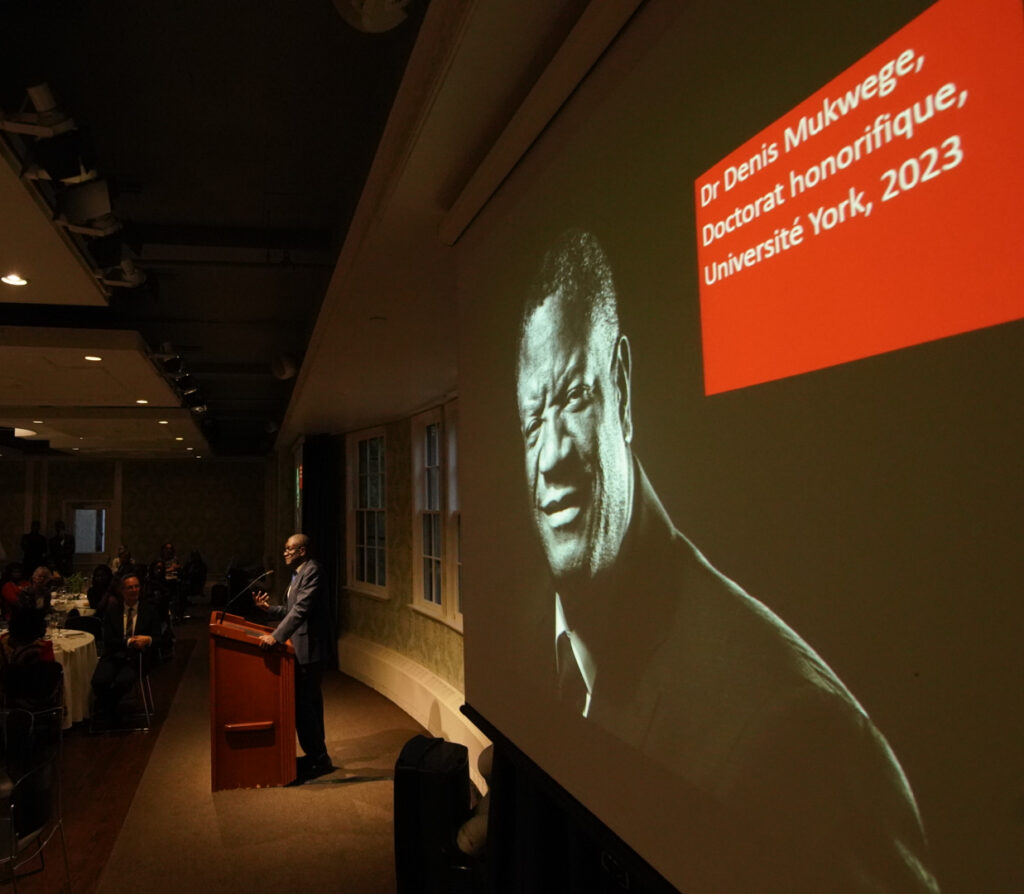 As in previous years' ceremonies, York will confer honorary degrees to prominent individuals in recognition of their contributions to community building, social justice advocacy and philanthropy. These changemakers will also offer words of encouragement and congratulations to graduates.
This year's honorary degree recipients include Chief Justice of Ontario Michael Tulloch; author, journalist and activist Cory Doctorow; Iron Chef judge and one of the "Ten Chefs of the Millennium" Susur Lee; Nobel Prize in Economics-winner Daniel Kahneman; community volunteer and retired public servant Joan Andrew; Nobel Peace Prize-winner Dr. Denis Mukwege; author and activist Ruth Lor Malloy; social enterprise leader Shaun Loney; filmmaker Nancy Archibald; and, engineering innovator and educator Thomas Lee.
In her remarks delivered at a Keele Campus convocation ceremony, university President and Vice-Chancellor Rhonda Lenton encouraged this year's graduates to use the knowledge and experience they have gained at York to create positive change in their communities and around the world.
"You are perfectly positioned to help reimagine our world into a place that is more equitable, inclusive and sustainable – values that are core to York's vision."
Lenton concluded by urging graduates to think about what matters to them, whether the fight against climate change, social justice, or something else.
"You have the tools," Lenton said, "and the world really needs your fresh ideas."