Home » Category Listing »
Water research strength recognized as York University hosts timely UN panel
Extreme weather events linked to climate change negatively impact water quality, quantity and sustainability for some of the world's most vulnerable, but the United Nations (UN) and York University along with public and private sector global partners are working toward solutions through the UN's Global Water Academy (Water Academy).
As academic lead for the Water Academy, York hosted a virtual panel discussion on July 14, 2023, titled, "Humanitarian responses to emerging water crises as a result of extreme climatic events." The virtual panel discussion was organized as part of the UN's High-Level Political Forum on Sustainable Development, taking place from July 10 to 19 in New York.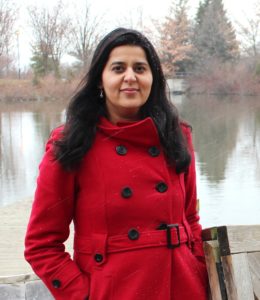 Moderated by freshwater expert Sapna Sharma, York Research Chair in Global Change Biology in York's Faculty of Science, the 90-minute panel began with welcoming remarks from Alex Mejia, director of the UN Institute for Training and Research (UNITAR) Division for People and Social Inclusion; Ambassador Luis Gallegos, chair of UNITAR's board of trustees; and, Rhonda Lenton, York's president and vice-chancellor.
The panel featured a conversation with global experts from the academic and non-profit sectors, including Jessica Vandenberghe, assistant dean, Community and Culture in the University of Victoria's Faculty of Engineering and Computer Science; Swani Keelson, founder of the Global Water Promise; Nicolas Jarraud, member of the Global Water Partnership secretariat; and Syed Imran Ali, a Research Fellow in Global Health and Humanitarianism from York's Dahdaleh Institute for Global Health Research.
Sharma welcomed the more than 150 virtual attendees and spoke about how climatic events directly impact water quantity and quality, "Water crises and extreme climate events, including heatwaves, droughts and storms, are not only getting more frequent but also more intense, and the most vulnerable are paying the highest price," Sharma said.
To support water research as a priority and a critical part of York's work to advance the UN Sustainable Development Goals, in 2022, the University launched One WATER, an organized research unit dedicated to finding strategic, integrated solutions to water challenges faced by communities in Canada and around the world.
"Extreme climate events and water crises are complex, global challenges that require diverse perspectives to identify sustainable solutions," said Lenton. "York's academic leadership role with the UN Water Academy and through our organized research unit One Water is driving the positive and sustainable change needed to improve water equity in Canada and around the world."
York is well-positioned to play a guiding role in the multi-sector collaboration that aspires to empower community-based networks, weave traditional knowledge, and inspire innovation to ensure equitable access to water for all.