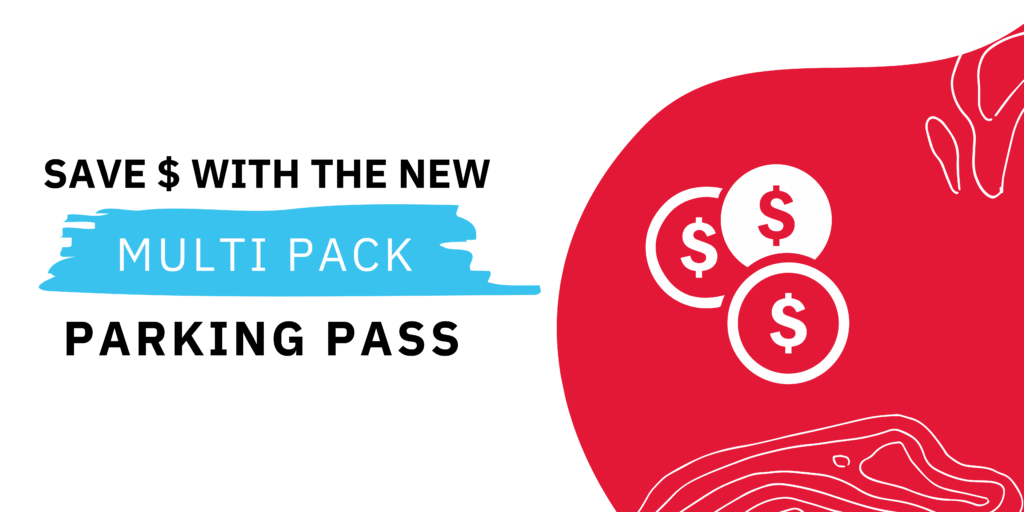 NEW Transitional Multi-Pack Parking Pass
A new transitional parking option will be offered for the fall term that provides the flexibility of daily parking at a discount to regular daily rates. The Daily Multi-Pack is a flexible prepaid pass available through the HONK Mobile App that provides 10 full-day parking sessions usable within a 30-day period, starting the first day it's purchased. Depending on the pass and the number of times it is used during the month, the Multi-Pack provides savings of up to 40% off daily rates. Two packs are available:
**Select the Long Term Parking option to purchase Multi-Pack Parking**
• The Surface Lot Multi-Pack (HONK Zone ID 7730) is valid at all hourly/daily surface lots and on-street parking areas
• The Garage Multi-Pack (HONK Zone ID 7729) is valid at the parking garages and includes all other hourly/daily surface lots and on-street parking areas.
HOW TO REDEEM A PARKING PASS
Park in the location(s) designated by your MultiPack
Open the HonkMobile App - your active MultiPack will be displayed on the front page under "Active Sessions"
Select your current MultiPack and select "redeem a pass" - your passes remaining will be displayed at the top of this screen
Select MultiPack Redemption rate ($0.00)
Adjust your vehicle plate if necessary and select "park for free"
Confirm your license plate and session details
Get on with your day!
*If you have inputted the wrong license plate, you have up to 10 minutes from redeeming a pass to change the vehicle attached to the parking session. You can change the license plate on the session complete page.
You can view all your redeemed sessions, as well as all remaining sessions, by going to the Sessions Tab in your account.
Parking Services does not offer refunds or extensions on unused portions of Multi-Packs.
Maps
*NEW* Transitional Multi-Pack
Parking Garages
Surface Lots & On Street
Glendon Campus