Reconseal Inuksuiti: Reconciliation through the Seal
A discussion about the sealing industry, food security, the art of hunting and the cultural importance of country food.
Reconseal Inuksuiti aims to promote reconciliation by celebrating both Indigenous and non-Indigenous seal hunting traditions. It was founded by Ruben Komangapik (a sculptor from Nunavut) and Yoanis Menge (an author and photographer from Quebec). Ruben's daughter, Aija Komangapik, an artist who designed the company's logo, will also join us to address the value of traditional hunting for youth.
This event will be moderated by York University AMPD professor, Anna Hudson.
Register at: http://www.tinyurl.com/31mar2023
Friday, 31 March 2023 | 13:30 to 14:30 EDT | Virtual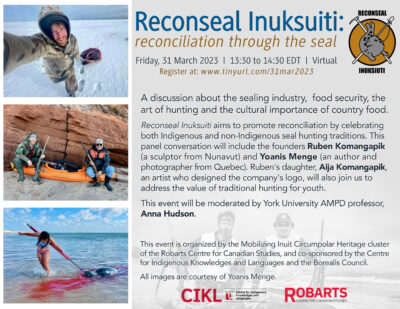 This event is organized by the Mobilizing Inuit Circumpolar Heritage cluster of the Robarts Centre for Canadian Studies, and co-sponsored by the Centre for Indigenous Knowledges and Languages and the Borealis Council.