On March 31, we celebrate National Indigenous Languages Day. This year we highlight the connection between language and water. In a dialogue moderated by Dr. Alan Corbiere, two scholars, Dr. Myrle Ballard and Dr. Stewart Hill share their research on water governance and management. The discussion begins with each speaking in their languages, Anishinaabe and Cree, followed by a discussion in English on the importance of language and water.
Overview: Introductions: 0-7:14; Myrle speaking Anishinaabemowin 7:14-9:18; Alan discussing language features with Myrle and introducing Stewart 9:18-11:20; Stewart speaking Cree 9:18-22:40; Discussion in English 22:40-end.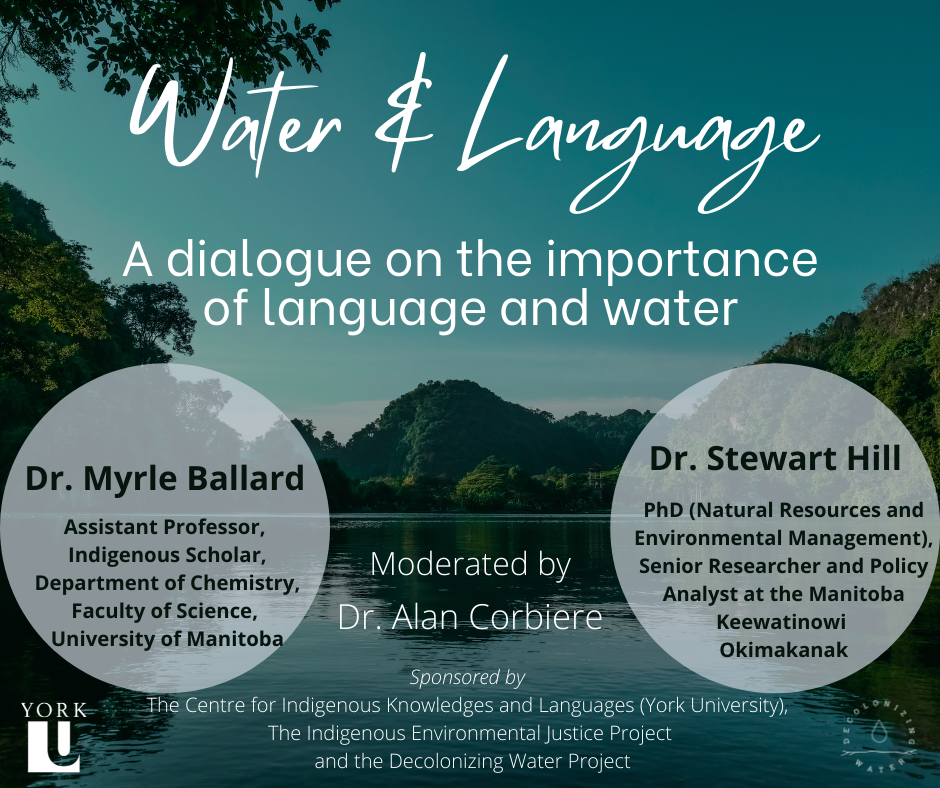 Dr. Myrle Ballard is Anishinaabe (Ojibway) and fluent Anishinaabe language speaker from Lake St. Martin First Nation. She is an Assistant Professor / Indigenous Scholar, in the Department of Chemistry, Faculty of Science, University of Manitoba. Her current research is developing baseline monitors / frameworks using Anishinaabe mowin for water management. Dr. Ballard uses the management embedded in words as the baseline which can be used for monitoring climate change and mitigating risks. She is also currently on an Interchange with Environment and Climate Change Canada where she is the first Director, Indigenous Science.
Dr. Stewart Hill has a PhD in Natural Resources and Environmental Management from the National Resources Institute at the University of Manitoba. He is currently working as a Senior Research and Policy Analyst at the Manitoba Keewatinowi Okimakanak (MKO), the Manitoba northern Chiefs organization. Dr. Hill is from the God's Lake First Nation, and was born and raised in northern Manitoba at God's Lake, and is able to speak his Cree language fluently. His dissertation examined First Nation water governance in the traditional territory of his home community of God's Lake First Nation in Manitoba.
Dr. Alan Corbiere is a proud Anishinaabe from M'Chigeeng First Nation on Manitoulin Island. He is a historian, who has made remarkable contribution to the research of the Anishinaabe language, cultural practices, and material culture for many years. Dr. Corbiere completed a B.Sc from the University of Toronto, a Masters in Environmental Studies and a Ph.D in History from York University. Previously, Dr. Corbiere was the Anishinaabemowin Revitalization Program Coordinator at Lakeview School, M'Chigeeng First Nation, where he and his team worked on a culturally based second language program that focused on using Anishinaabe stories to teach language. He has also conducted research on wampum belts with known Anishinaabe associations, and researched medals, gorgets, and other diplomatic gifts. He has recorded elders speaking in Ojibwe about their crafts and work. Additionally, Dr. Corbiere is the Executive Director at the Ojibwe Cultural Foundation and is one of the co-founders of GRASAC.
The dialogue is co-sponsored by CIKL, the IEJ Project and the Decolonizing Water Project.