Service Advisory
Please share the following update with your teams.
The Network Services team will renew the certificate for its WiFi (AirYorkPLUS and eduroam WiFi service) on Saturday, October 22nd at 12:01 a.m., with expected completion before 2 a.m.
This change should be invisible to the majority of devices that are on the University's WiFi network. However, some devices may display a popup asking the user to accept the certificate for "authenticate.yorku.ca"
For devices that require accepting this certificate, a popup that looks similar to the following screenshot will be displayed (the popup screen will vary based on device type and operating system version). Please ensure that the certificate is for "authenticate.yorku.ca" before you click Continue or Accept.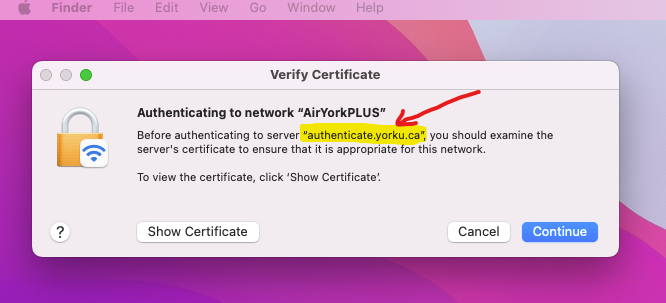 If you are experiencing problems connecting to AirYorkPLUS or eduroam WiFi after the change, please delete/forget the AirYorkPLUS or eduroam WiFi profile on your device and follow the instructions on the UIT website that describe connecting to WiFi at York: https://www.yorku.ca/uit/student-services/internet-access/wireless-access/
Contact
Client Services at askit@yorku.ca or 416 736 5800
PRIVACY POLICY | VISIT WWW.YORKU.CA
This email was sent by: York University, 4700 Keele Street, Toronto, Ontario M3J 1P3
This email is viewed best in Microsoft Outlook for web