AirYorkGUEST is for On-campus visitors to the University who require Wi-Fi access to the Internet.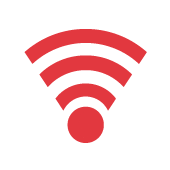 Maximum duration of a login session is 8 hours. Upon reaching this session time limit, the connection to the AirYorkGUEST network will be terminated without warning. However, you can register again for another 8 hour session.
IMPORTANT: AirYorkGUEST cannot be used by the community that normally uses either eduroam or AirYorkPLUS.
How do I get it?
Self Registration Process
Watch the AirYorkGUEST email instructional video or follow the instructions below:
AirYork Guest setup video transcript
Connect to the AirYorkGUEST network
In the list of available wireless networks, select AirYorkGUEST. See screenshot of Wifi settings on a device with AirYork Guest selected
Get redirected to the AirYorkGUEST splash screen and enter your information
You will be redirected to the AirYorkGUEST Service Registration Page. Select an authentication method - email or sms. Accept the terms and conditions. If you provide your email address then you will get 10 mins of internet access to check your mail and click on the validation link. See screenshot of authentication method choices.
Receive and confirm the the verification message and start using the Internet
Click on the validation link on the email you received to start accessing the internet or enter the verification code you received via SMS in the Service Registration Website. See screenshot of sample email for network access activation. See screenshot of access granted message.