The Toolkit will enable the pan-university interdisciplinary infusion of the SDGs into classrooms at York University which will reinforce the commitment to make positive change for students, campuses, and our local and global communities.

Using the SDGs as a pedagogical framework for the student learning experience strengthens its application to education, links purpose with impact, and encourages students to take the first step to right the future. Every program and faculty member will be able to identify how their classrooms can welcome an SDG discussion, activity, or lesson.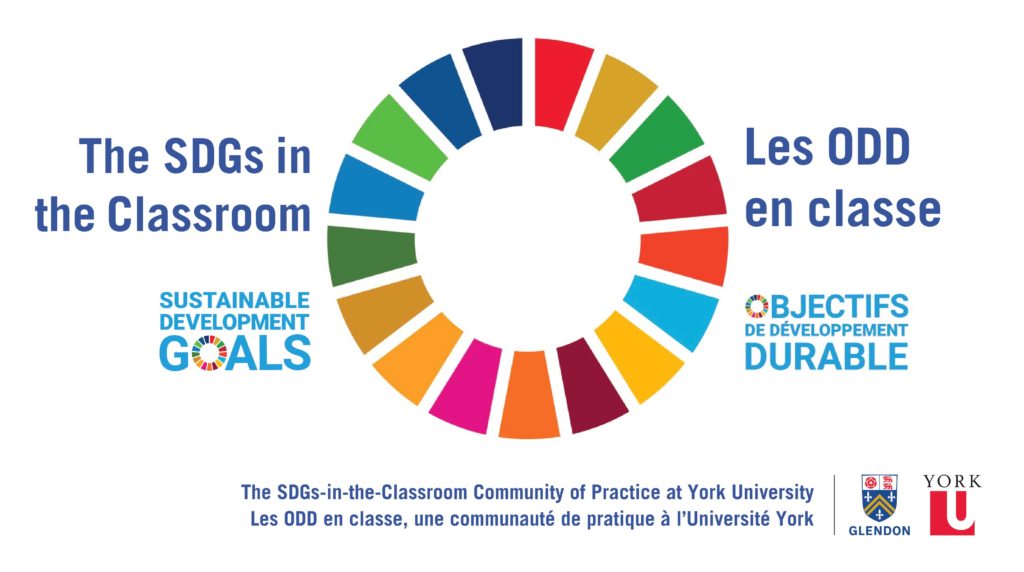 In 2021-22 Provostial Fellow, Cheryl van Daalen-Smith had a vision to infuse the UN Sustainable Development Goals into diverse classrooms across York. "More than Bees and Trees: Seeing the SDGs in our Curriculum – A Pan-University Community Development Initiative," sought to inspire and amplify curricular SDG initiatives and advance York University's commitment to interdisciplinarity. With a 60+ (and growing) community of practice of educators interested in infusing the SDGs, this toolkit became the necessary next step. Instead of the assumption that the SDGs are about 'Bees and Trees', ie the environment alone, our community of practice and this toolkit shows the interdisciplinary relevance of the SDGs and the many creative ways colleagues at York and abroad are infusing them.
For the support, empowerment and encouragement necessary to accomplish our goal of bringing this Toolkit to life for instructors interested in infusing the SDGs into their diverse classrooms, profound appreciation and acknowledgement must be expressed to The Office of the Provost, Provost Lisa Philips, The Office of the VP Teaching and Learning, VP William Gage and Provostial Fellow, Dr. Cheryl van Daalen-Smith.

The Toolkit leaders, Tracy and Nitima, also gratefully acknowledge the contributions of the UNESCO Chair at York University, Charles Hopkins and Executive Coordinator to the UNESCO Chair, Katrin Kohl, the Sustainable Development Solutions Network, the Community of Practice members along with the guidance of the Teaching Commons Educational Developers team.
This toolkit was created by:
---
Tracy Bhoola
BSW, MEd, TESL
---
Nitima Bhatia
BSc, BEd, MSc, MTech, MES and Diploma in Environmental/Sustainability Education
Doctoral Student, Faculty of Education.
Land Acknowledgement
We recognize that many Indigenous Nations have longstanding relationships with the territories upon which York University campuses are located that precede the establishment of York University. York University acknowledges its presence on the traditional territory of many Indigenous Nations. The area known as Tkaronto has been care taken by the Anishinabek Nation, the Haudenosaunee Confederacy, and the Huron-Wendat. It is now home to many First Nation, Inuit and Métis communities. We acknowledge the current treaty holders, the Mississaugas of the Credit First Nation. This territory is subject of the Dish with One Spoon Wampum Belt Covenant, an agreement to peaceably share and care for the Great Lakes region.