5th Summer Global Health Intern Symposium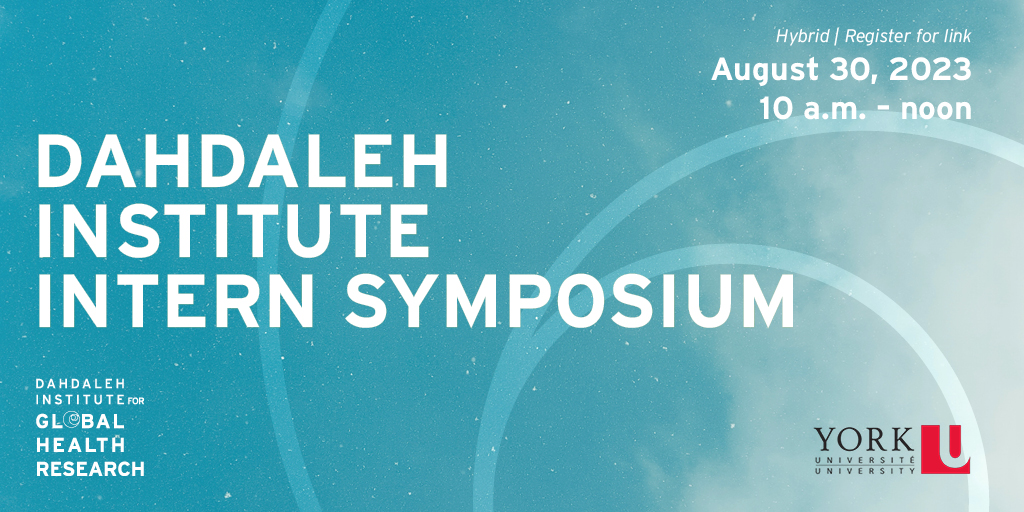 Please join us at the 5th Summer Global Health Intern Symposium to celebrate the work of interns participating in the Dahdaleh Institute Internship Program.
Our global health interns will be giving a short presentation about their experience working on research and global health projects under the guidance of Dahdaleh Institute faculty staff and fellows. They will provide insight on the findings and results of their specific research or projects in a short, exciting, five-minute presentation. The presentation topics is as follows:
| | |
| --- | --- |
| Presentation Title | Presenter |
| Contributions to the World Health Assembly Simulation and Investigating the Importance of Experiential Simulation-Based Learning | Megan George |
| Impact of Human Behaviour on Antimicrobial Resistance | Stephanie Hychar |
| Gendered Differences in the Relationship Between Housing Insecurity and Diarrheal Diseases in the Informal Settlements in Kenya | Mirianna Georges |
| The Effect of Housing and Energy Insecurity on Psychosocial Health Outcomes Amongst Those Living in Urban Informal Settlements in Ghana | Richard Wu |
| Mental Health of Agricultural Workers in Costa Rica | Kanako Isobe |
| Global Health: Wellness Impact Lab | Shamim Samadi |
| Experiences and Emotions of People With Chronic Pain | Laura Logan |
| Post-Pandemic Public Health Reforms | Sepinoud Siavoshi |
RSVP
Registration for this event has closed.