Post
Published on 6 September 2023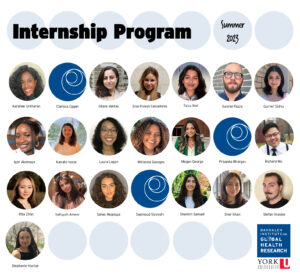 This summer, the Dahdaleh Institute has worked with wonderful students through our dynamic, experiential education Global Health Internship Program. The program offers students to contribute to exciting research projects by working on literature reviews, data synthesis, cataloguing, content development, stakeholder engagement, and much more. They supported research projects studying experiential-based simulation learning; effects of resource insecurity on health outcomes; mental and emotional health and wellness; post-pandemic public health reforms; and impact of human behaviour on AMR.
Congratulations, and thanks to all the interns for a job well done!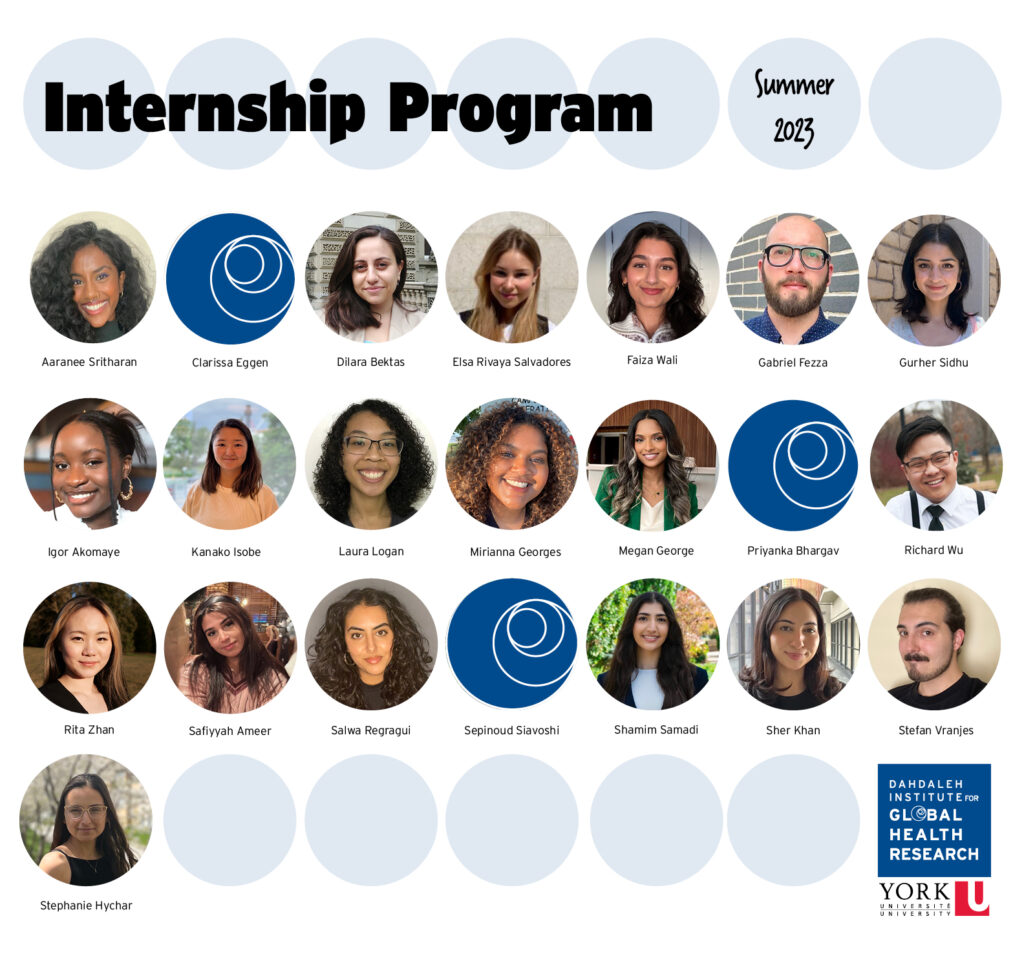 The Dahdaleh Institute's 5th Summer Global Health Intern Symposium, held on Wednesday, August 30, showcases the work of nine of these remarkable student interns who shared their experience working under the mentorship of Dahdaleh faculty and fellows. Interns delivered a five-minute presentation on the following topics:
Stephanie Hychar (13:10): Impact of Human Behaviour on Antimicrobial Resistance
Laura Logan (19:13): Experiences and Emotions of People With Chronic Pain
Kanako Isobe (25:06): Mental Health of Agricultural Workers in Costa Rica
Megan George (31:47): Contributions to the World Health Assembly Simulation and Investigating the Importance of Experiential Simulation-Based Learning
Gurher Sidhu (1:02:34): Expanding on Social Science and Health Innovation for Tuberculosis Research
Sepinoud Siavoshi (1:06:46): Post-Pandemic Public Health Reforms
Shamim Samadi (1:15:01): Global Health: Wellness Impact Lab
Mirianna Georges (1:24:19): Gendered Differences in the Relationship Between Housing Insecurity and Diarrheal Diseases in the Informal Settlements in Kenya
Richard Wu (1:32:20): The Effect of Housing and Energy Insecurity on Psychosocial Health Outcomes Amongst Those Living in Urban Informal Settlements in Ghana
Themes

Global Health & Humanitarianism, Global Health Foresighting, Planetary Health

Status

Active

Related Work

N/A

Updates

N/A

People

Megan Ann George

, Research Coordinator, Global Health Research

Theresa Dinh

, Institute Coordinator

Stephanie Hychar

, AMR Human Impact, Global Health Intern

Shamim Samadi

, Global Health: Wellness Impact Lab, Global Health Intern

Richard Wu

, Global & Environmental Health Lab, Global Health Intern

Mirianna Georges

, Global and Environmental Health Lab, Global Health Intern

Kanako Isobe

, Planetary Health, Global Health Intern
You may also be interested in...