Research Coordinator, Global Health Research
Research Team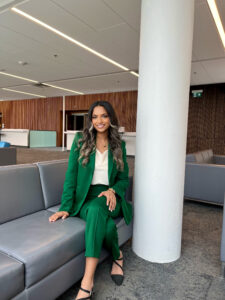 Megan George is a driven and ambitious individual who recently completed her undergraduate studies at York University and received a biomedical science degree. Currently, under the supervision of Dr. Ahmad Firas Khalid and Dr. A.M. Viens, she plays an instrumental role as a research coordinator in facilitating and overseeing the ongoing research study pertaining to the analysis of the inaugural Global Health Stimulation in Canada that took place at York University. Her expertise in coordinating research activities and managing project logistics ensures the smooth execution of this ground-breaking initiative.
With unwavering dedication, Megan is coordinating the second experiential simulation-based learning conference and hopes to empower students with the skills necessary to analyze and address intricate global health challenges. Her passion for attaining health equity drove her to expand her educational journey. Megan is currently pursuing a Master of Science degree at the University of Toronto within the Institute of Medical Sciences at the Temerty School of Medicine, with a focused specialization in oncological research. This academic pursuit not only highlights her commitment to advancing global health but also showcases her determination to contribute significantly to the field of oncology.
You may also be interested in...