Post
Published on November 14, 2023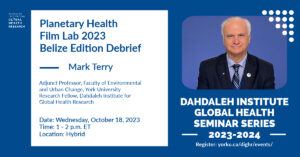 On October 24, 2023, Dahdaleh research fellow Mark Terry presented the films created at the fourth annual Planetary Health Film Lab by Indigenous youth in Belize. Dr. Terry and the participants created six films within the Institute's themes of planetary health, global health and humanitarian and global health foresight. This year, six Indigenous youth from Belize participated and made films in their native languages of Q'egchi and Mopan. These ancient languages are originally Mayan and are rarely spoken outside of Belize and Guatemala.
The first documentary screened was titled "Climate Change and Action," created by Ernesto Pow. The film provided an insight into the challenges faced by the Maya people in Nala because of climate change. It portrayed their deep connection to the land, emphasizing that farming is a way of life and the essence of their existence. Climate change has disrupted traditional planting seasons, causing droughts, severe floods, and crop germination problems. These environmental changes have significantly impacted food security and livelihoods.
In addition, the event featured the second film, "To Be Maya To Be Well," created by Nazario Peck. The film described thatch houses as a crucial cornerstone within the Maya community, fulfilling social and cultural needs. The community members build these traditional structures to provide essential shelter and weave together the threads of community unity and cultural heritage, contributing significantly to the Maya people's well-being. Thus, the collective approach accelerates the construction process, facilitates knowledge-sharing between generations and allows for more time to be spent on farming.
Dr. Terry shed light on the impact of climate change on the Maya people's way of life, emphasizing the vital role of traditional practices and structures in their well-being. Lastly, the films showcased at this event and four other documentaries will also be presented at the upcoming COP 28 in Dubai and will continue to raise awareness about the role of Indigenous communities in response to climate change.
Watch the seminar presentation below:
Connect with Mark Terry
You may also be interested in...