---
---
Planetary Health Film Lab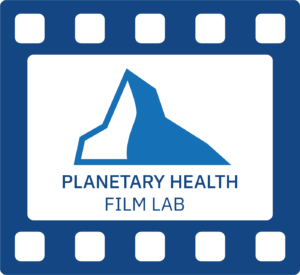 2021 Summary
This year's Planetary Health Film Lab saw a group of Indigenous youth from the Canadian north work on telling stories related to environmental issues in their communities. They worked throughout the summer shooting interviews with local residents, researchers, planetary health experts, and elders as well as capturing some stunning photography of their beautiful lands.
The stories that emerged share a common theme: water. Serra Black's film, The Price of Gold, addresses the careless disposal of arsenic into the local drinking water supply and the mighty Mackenzie River in Yellowknife, NWT. Christopher Akiwenzie's film, Adikameg and Ice, addresses the decline in fish populations due to warming water temperatures, which is impacting the food supply in his community in Georgian Bay, Ontario. Emily McCallum's film, Will There Be Another Rainy Day?, examines the impacts of a drought experienced in and around Barrie, Ontario. Emily interviews local residents about declining fish populations in local lakes and shows dramatic footage of dried-up vegetation, mills, and rivers. Jessie Yakeleya's film, In the Future, That's What's Going to Happen, I Think, shows both past and present images of the tradition and importance of launching communal canoes in Tulita, NWT, and suggests that climate change may drastically alter this community practice.
All participants benefitted from online training with project co-lead Mark Terry, who ran a series of Zoom meetings every two weeks throughout the summer. This online training provided technical support and creative guidance leading up to a four-day remote workshop held in mid-August, which featured 12 presentations from experts in the fields of Indigenous studies, documentary filmmaking, impact producing, planetary health, and United Nations youth engagement.
The films produced this year have been added to the UNFCCC's Youth Climate Report GIS map, a database of more than 560 short films produced by youth around the world. The films will be screened at the United Nations climate conference, COP26, taking place from November 1 to 12 in Glasgow, Scotland; at the Association of Canadian Universities for Northern Studies Conference at York University from November 3 to 5, 2021; and at the UNESCO World Higher Education Conference, May 18 to 22, 2022, in Barcelona, Spain.
View all four films screened at this year's Planetary Health Film Lab below:
---
Program Overview
Learning Outcomes
By the end of the program, participants are expected to have learned:
how the documentary film is used as an influential communications tool for environmental activism
to produce digital media projects and GIS maps
the value and process of collaborative filmmaking
to conduct professional interviews with researchers and practitioners
oral presentation skills
Planetary Health research and how research can influence policy and practice
Stories
Participants will create short documentary films about planetary health and the impacts of climate change on human health and wellbeing in their community. General themes are Planetary Health, Global Health and Humanitarianism, Global Health Foresighting, and the Sustainable Development Goals. The films may tell a narrative and/or communicate research which touches on any of the following:
the relationship between environmental and human health
specific issues created or exacerbated by climate change such as water safety, displacement, conflict, food shortages, changing patterns of infectious diseases, floods and droughts
how the humanitarian sector is responding to climate change
innovative or creative solutions to climate change
innovative or creative health adaptations to climate change impacts
visions for a healthier future and how to get there
how the participants' community is adhering to one or more of the United Nations' 17 Sustainable Development Goals.
---
Organizers
People
Mark Terry, PhD is a documentary filmmaker, polar explorer, ecocinema scholar and executive director of the Youth Climate Report. He co-leads the Planetary Health Film Lab.
James Orbinski, MD is the director of the Dahdeleh Institute for Global Health Research. He is the founder and co-lead of the Planetary Health Film Lab.
Kate Tilleczek, PhD is the Canada Research Chair, Young Lives, Education & Global Good, Scientific Director (and founder), Young Lives Research Lab. She is the educational Co-Investigator for the Planetary Health Film Lab.
Deborah MacDonald, BA, MA is the Senior Research Associate and Manager for the Young Lives Research Lab (CANADA). She is the research Co-Investigator for the Planetary Health Film Lab.
Organizations
The Planetary Health Film Lab is a collaboration between the Dahdaleh Institute for Global Health Research, the Young Lives Research Laboratory, Planetary Health Alliance, and the Youth Climate Report.
Funding
The 2021 edition of the Planetary Health Film Lab is made possible by a grant from the Hunter Family Foundation.

---
Winter 2020 Films
Seven emerging filmmakers from six countries came to the Dahdaleh Institute in Toronto from 16 - 22 February 2020 to participate in the Planetary Health Film Lab. The Film Lab took these young filmmakers through an intensive five-day process to create a film which tells a story about the health impacts of climate change.
The Winter 2020 cohort of youth were the workshop's first. The group includes environmental activists and emerging filmmakers from Canada, Australia, Ecuador, Colombia, India, and Italy.
Thierry Toto (Italy)
Karla Cajas (Ecuador)
Ishika Mitra (India)
Kai Millen (Australia)
Monica Monrroy Botero (Colombia)
Vivian Guido (Canada)
Jacquelin Montoya Hidalgo (Ecuador)
---
---
You may also be interested in...
---