Yes! We Can #EndTB! Shifting Attention to the Structural Drivers of Tuberculosis, with Kelsie McGregor and Amrita Daftary
Every year, on March 24, World Tuberculosis (TB) Day is celebrated to raise awareness about TB and to step up efforts to end this present-day pandemic that affects over 10 million people. The World Health Organization's theme for World TB Day 2023 is Yes! We can #EndTB!
The Social Science & Health Innovations for Tuberculosis (SSHIFTB) Centre is a global network of social science scholars and advocates that works to amplify attention to the neglected social dimensions of tuberculosis.
Please join us for this exciting webinar to hear about the recent achievements made in unveiling and addressing the social drivers of TB as a pathway to #EndTB.
Keynote presentation by Kelsie McGregor, Assembly of First Nations
Highlights from the latest Standards of TB Care seeking to improve cultural competence in the Canadian TB health workforce
Additional presentations and discussions with:
Stephanie Law, McGill University — Mobilizing and engaging Nunavik youth through a TB video project
Pushpita Samina, SSHIFTB, McMaster University — Updates on the TB social sciences from around the world
Facilitated by Amrita Daftary, SSHIFTB and School of Global Health, York University.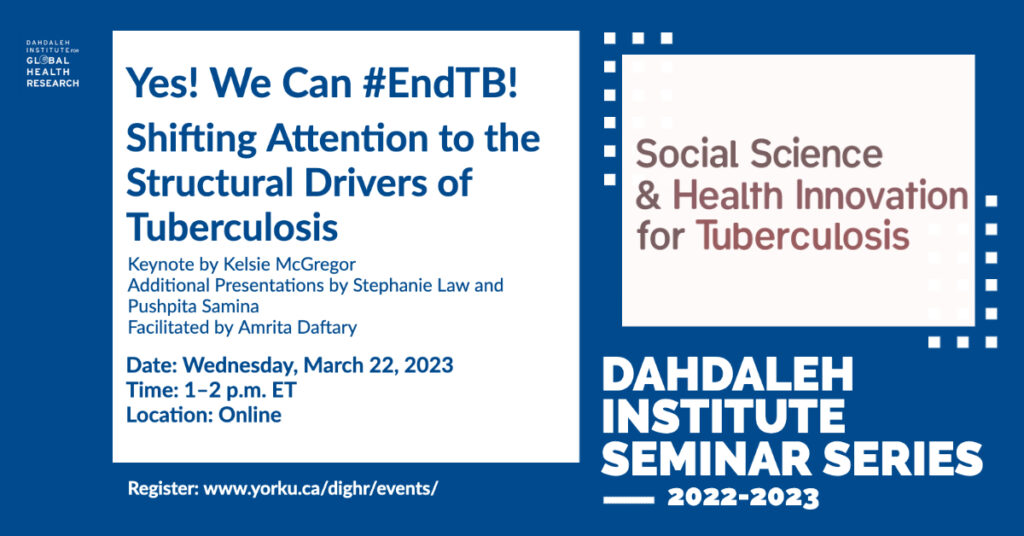 RSVP
Registration for this event has closed.