Post
Published on 7 June 2023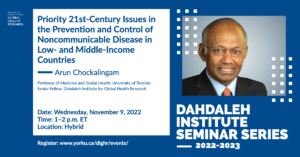 In this November 9, 2022, Arun Chockalingam, professor and Dahdaleh senior fellow, analyzed the correlation between planetary health and human health. Noncommunicable Diseases (NCDs) on the rise since the mid 1900s. Professor Chockalingam advised that everyone should look inwards to assess their approach towards health and their lifestyle. As well as look outwards at the status of the environment because the state of the environment can also be reflected in our health.
Many people are at risk to more than one NCDs, known as multi-morbidity, because the factors that contribute to developing NCDs largely the same across all NCDs. These factors include smoking, obesity, high blood pressure, diabetes, physical inactivity, alcohol consumption. Evidently, the risk of developing one or more NCD is connected to lifestyle and behaviour habits.
The global burden of disease accounts for over 53.5 million deaths every year. NCDs comprises roughly 40.5 million. The leading cause of death is a result of human activities such as pollution, chemical exposure, the effects of climate change such as extreme weather patterns or food insecurity. Luckily, the effects of NCDs can be mitigated through taking a society wide approach to policy change, advocating for healthcare accessibility, and minimizing determinants.
Rather than focusing on the cost of secondary healthcare treatment, which would cost over $47 trillion dollars over the next 25 years and $500 billion per year for low- and middle-income countries (LMICs), a WHO study suggests investing in prevention measures at the primary and secondary prevention would cost a total of $13 billion annually, (2 billion for primary and $11 billion for secondary prevention and treatment), which would be the more viable option in the long run.
In conclusion, Professor Chockalingam reminded us that human health is interconnected with planetary health. While lifestyle and behavioural patterns towards maintaining health is critical, it is also equally important to remember that everyone has a role to play in protecting the health of their own self, communities, nation, and planet through health and climate change advocacy. 
Arun Chockalingam is chair to the third World Non-Communicable Diseases Congress (WNCD 2023), taking place from June 25 to June 30, 2023, at the Metro Toronto Convention Centre. Researchers, academics, health care professionals, policy developers, health system managers, and international experts will convene to share knowledge, expertise, and perspectives to address the management of non-communicable and chronic diseases from the origin to treatment.
Learn more about Congress here
Watch the seminar presentation below:
Connect with Arun Chockalingam
You may also be interested in...