Post
Published on 2 June 2023
The Dahdaleh Institute for Global Health Research is a proud sponsor of the third World Non-Communicable Diseases Congress (WNCD 2023), taking place from June 25 to June 30, 2023, at the Metro Toronto Convention Centre in Toronto, Canada.  Researchers, academics, health care professionals, policy developers, health system managers, and international experts will convene to share knowledge, expertise, and perspectives to address the management of non-communicable and chronic diseases from the origin to treatment. This year, there will be a specific focus on the impact of infectious diseases on low to middle income countries. Congress will cover major NCDs (cardiovascular, cancer, diabetes, respiratory, and mental illness) through the lenses of traditional health sciences (basic research, clinical, epidemiology, physiology, neurosciences, public health, social and behavioural sciences). The WNCD 2023 will also discuss the role of innovative modern application tools such as Big Data, Machine Language and Artificial Intelligence, Wearable Technologies to assess NCD, and more.
On Wednesday, June 28, Dahdaleh Faculty Fellow Prof. Godfred Boateng will be chairing a session on The Impact of Global Environmental Change on Non-Communicable Diseases with presentations topics, including:
Gendered and geographical effects of environmental degradation on non-communicable diseases: Evidence from global atmospheric emissions and WHO Sage data - Godfred Boateng
Exposure to carbon monoxide is associated with reduced lung function among adults in informal settlements in Accra - R. Qansah
Predictive qualitative model: Climate change impacts on ocean and non-communicable diseases - Byomkesh Talukder
Impaired kidney function among coastal population in Bangladesh: Current status and future direction - M. Salwa
Psychometric properties of tools to assess eco-anxiety and solastalgia among coastal Bangladesh - M. Salwa
An exploration of prevalence and risk factors of diabetes in the costs of Bangladesh. A cross sectional study - A. Tasnim
Non communicable diseases and risk factors in coastal areas of Bangladesh. A cross sectional study on saline affected people - M. Haque Khan
Exposure to smoke and the risk of anemia among slum dwellers in Accra, Ghana - E. Acheampong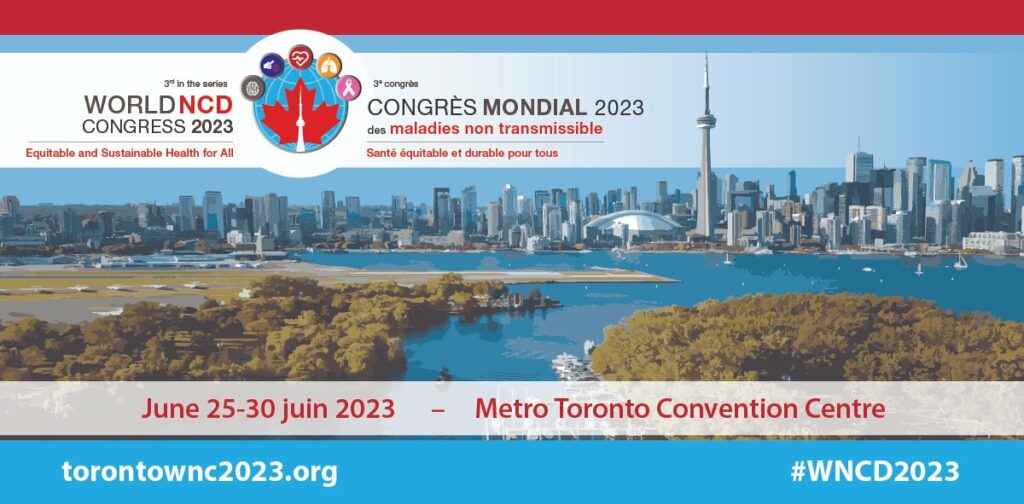 Who Should Attend?
Non-communicable disease remains the greatest cause of human mortality, morbidity, disability and suffering in all regions of the world. The 3rd World Congress on NCDs will be of interest to researchers, academics, health care professionals, policy developers and makers, research funders, health system managers and governors, consumer advocates from around the globe concerned with knowledge, innovation, and the exchange of ideas and perspectives to address the origin, prevention, detection, diagnosis, treatment, and management of non-communicable or chronic diseases (e.g., cardiovascular disease, lung disease, cancer, diabetes, kidney disease, neurological conditions including dementia, mental health, addiction, muscular-skeletal conditions, chronic inflammatory conditions, metabolic and autoimmune conditions) across the human lifespan.
Why Should You Come?
This is an opportunity to interact both within and beyond your usual networks as well as explore divergent and convergent knowledge and practices. Meet, contribute to and learn from a full spectrum of people and professionals from researchers to physicians, nurses, rehabilitation specialists, public and community health, health promotion specialists, environmental health and planetary health specialists, health policy developers, health economists, health and healthcare managers and administrators, to name a few.
Participants will have the opportunity to learn about and contribute to:
Emerging and next generation ideas, determinants, policies, treatments, technologies, and techniques for reducing the burden of NCDs.
How climate change, environmental degradation and inequalities are influencing our understanding of noncommunicable disease causes, prevention, detection, diagnosis, treatment and management.
How advances in one type of disease, discipline or determinant can help us understand and respond to non-communicable diseases.
Alternate perspectives, challenges and successes in addressing NCDs in different parts of the world. How high and low income jurisdictions can learn from each other.
Flexible Attendance Options
To reduce barriers to participation, the 3rd World Congress on NCDs will use a hybrid design. Participants are invited to attend the proceedings in person at the Toronto Convention Centre in downtown Toronto, Canada. The Convention Centre is a world class, barrier free facility conveniently located near major hotels and attractions, a major international airports, a
train station, and parking for automobiles. Those unable to travel to Toronto may also register to participate in plenary and concurrent sessions through synchronous videoconferencing connections or by downloading session recordings at a time and location convenient to you.
Learn more about WNCD 2023 here
You may also be interested in...