Post
Published on 1 June 2023
17th World Congress on Public Health in Rome
Director of the Dahdaleh Institute, Dr. James Orbinski, and Dahdaleh graduate scholar Nilanjana Ganguli participated at the 17th World Congress on Public Health (WCPH) held in Rome from May 2 to 6. The World Congress on Public Health (WCPH) is held every two to three years by the World Federation of Public Health Associations (WFPHA). This time the Congress was organized by WFPHA together with the Association of Schools of Public Health (ASPHER) and the Italian Society of Hygiene, Preventive Medicine and Public Health (SItI). The theme of the Congress was "A World in Turmoil: Opportunities to Focus on the Public's Health".
Nilanjana (Nell) presented her research in a poster presentation titled "Gender-Specific Variables of Climate-Change Related Health Impacts: A Global South Perspective." She stated gender is critical for assessing the economic and social costs associated with climate change. Because of complicated social circumstances and adaptive capacities, the health effects of climate change on women differ from those on men. This research is linked to the Wellcome Trust Project titled "Modelling health impacts of climate change in the Lake Chilwa Basin in Malawi," which is led by Dr. Orbinski, and sought to discover relationships within and across four subsystems—food security, communicable and noncommunicable diseases, ecological services, and extreme weather—as well as their impact on gender-specific health outcomes.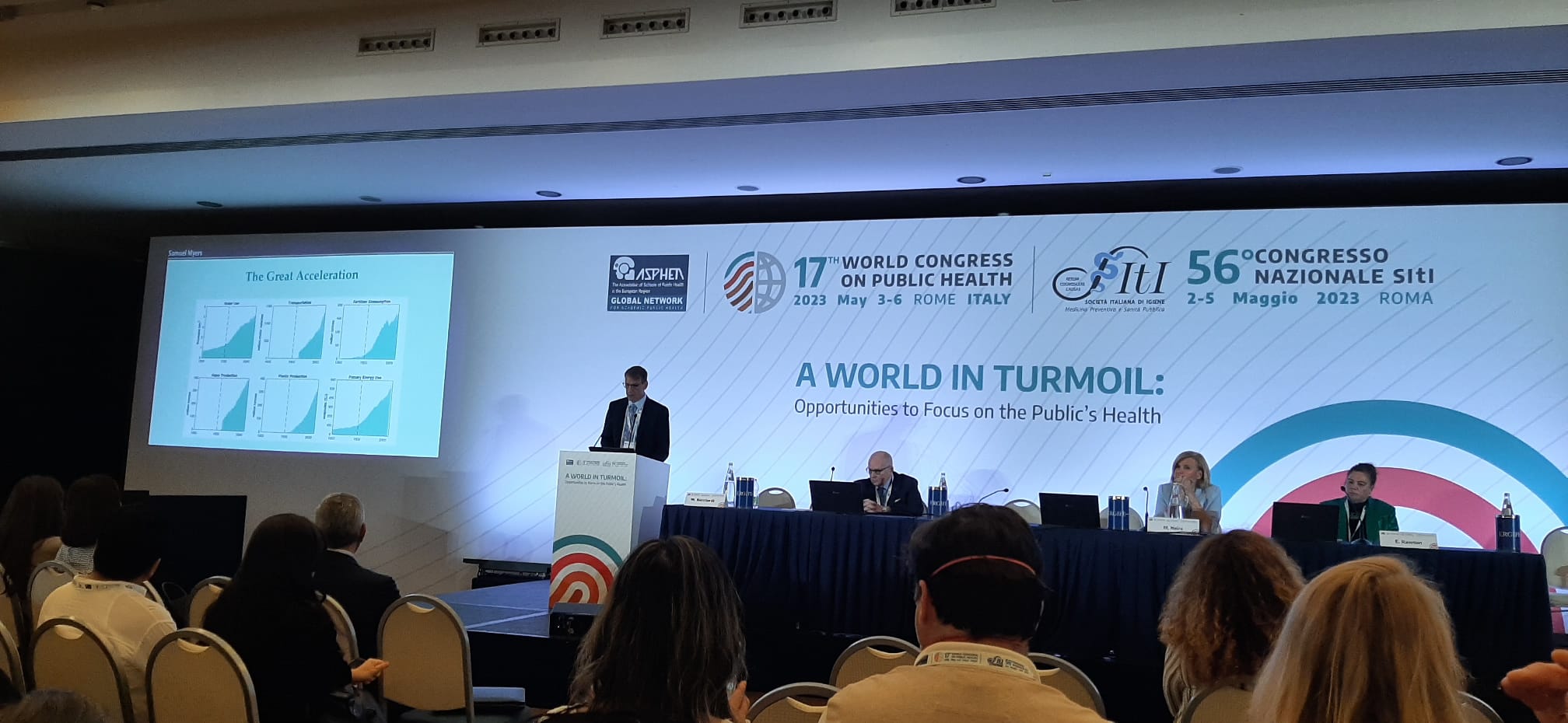 17th Annual Organisation for the Study of Sex Differences in Calgary
Nell, also delivered a poster presentation titled "Gender-Specific Variables of Climate-Change Related Health Impacts: A Global South Perspective" at the Organisation for the Study of Sex Differences (OSSD) 2023 Annual Conference, held in Calgary from May 7 to 11.
She explained that the process of secondary data collection was gathered from 62 publications using a systematic literature review on health-related variables, climate-induced change in the variable (positive or negative), exposure pathways, and their consequent health implications. Then, an Influence Diagram was then created to better illustrate the change in variables over time by visualising the cause-and-effect interactions within variables. Following, a bibliometric study was performed to better understand the state of gender-focused research.
Through this process 53 gender-specific variables were identified, with socioeconomic characteristics dominating over environmental variables. She found that gender was considered the most prevalent in terms of food security and the least in terms of infectious and noncommunicable diseases. The bibliometric analysis revealed an upward trend in studies on gender and climate change after 2015, with 53% of the publications co-authored by male and female writers. In conclusion, while women and girls were found to be more vulnerable to climate change in the Global South, men were found to be more vulnerable in some conditions than women. As a result, generalising women as the most vulnerable group in all climate change-related scenarios should be avoided, and comprehensive and context-specific study methodologies are required.
Nell received a CIHR Institute of Gender and Health (IGH) Travel Award for her participation in this conference. OSSD aims to improve understanding of sex and gender differences by encouraging multidisciplinary communication and collaboration among scientists and clinicians from various backgrounds.
You may also be interested in...