Director (On sabbatical Sept 2023 – Feb 2024)
Leadership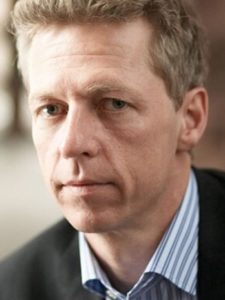 Dr. James Orbinski is a professor and the inaugural Director of York University's Dahdaleh Institute for Global Health Research. As a medical doctor, a humanitarian practitioner and advocate, a best-selling author, and a leading scholar in global health, Dr. Orbinski believes in actively engaging and shaping our world so that it is more just, fair and humane.
A champion of health and humanitarianism throughout his career, Dr. Orbinski has extensive leadership, advocacy, and research experience in global health. He has worked providing medical humanitarian relief in situations of war, famine, epidemic disease and genocide with Médecins Sans Frontières / Doctors Without Borders (MSF). He was elected International President of MSF from 1998-2001, accepted the Nobel Peace Prize awarded to MSF in 1999, and co-chaired the founding of the  Drugs for Neglected Diseases Initiative  in 2004, which has since launched six new drug treatments for tropical diseases, and has 17 others in its research and development pipeline. He also co-founded Dignitas International, which researched health systems and clinical care, trained more than 12,000 Health Workers, and supported more than 370,000 people with full treatment for HIV and AIDS in Malawi. Dignitas also worked with First Nations communities in Northern Ontario on community based interventions for diabetes.
Dr. Orbinski is a board Member of Grand Challenges Canada, and has been a member of several bodies committed to improving health equity both in Canada and around the world. These include the  Global Alliance for TB Drug Development, the  Stephen Lewis Foundation, Canadian Doctors for Medicare, and the Climate Change and Health Council. He is an invited member of the Davos World Economic Forum's  Global Agenda Council on Health Care Systems and Cooperation.  He was an invited member to the Canadian Academy of Health Sciences 2011  Expert Panel on Canada's Strategic Role in Global Health.  He is the author of the award-winning and best-selling book An Imperfect Offering: Humanitarianism in the 21st Century. In 2016-2017, as a Fulbright visiting professor to the University of California-Irvine, he worked on modelling the health impacts of climate change.
As the inaugural Director of the Dahdaleh Institute, Dr. Orbinski aims to make the institute a leader and catalyst in addressing global health issues, reflecting York University's commitment to equity and trans-disciplinary research. The Dahdaleh Institute focuses on 1) Global Health and Humanitarianism 2) Planetary Health and 3) Global Health Foresighting.
Dr. Orbinski holds a BSc from Trent University, an MD degree from McMaster University, and an MA in International Relations from the University of Toronto. He is an Officer of the Order of Canada, and has received the  Meritorious Service Cross  for his leadership in providing direct medical relief in Kigali during the 1994 genocide in Rwanda. He is a member of the College of Family Physicians of Canada. An avid canoeist, Dr. Orbinski lives in Guelph, Ontario, with his wife and their three children.
Themes

Global Health & Humanitarianism, Global Health Foresighting, Planetary Health

Status

Active

Events

Modelling the Health Impacts of Global Warming in Malawi, with James Orbinski

Related Work

Enabling incremental adaptation in disadvantaged communities: polycentric governance with a focus on non-financial capital

|

Library, Research

---

Defeating COVID-19 calls for global solidarity, not a vaccine power play

|

Library, Research

---

Addressing structural racism and violence within global health

|

Library, Research

---

Think 7 USA 2020: Report of the Think 7 Summit

|

Library, Research

---

Global solidarity requires addressing the structural drivers of inequities

|

Library, Research

---

Lancet Countdown 2018 Report: Briefing for Canadian Policymakers

|

Library, Research

---

Partnership for Youth and Planetary Wellbeing

|

Project

---

Africa-Canada Artificial Intelligence and Data Innovation Consortium

|

Project

---

Humanitarian Water Engineering

|

Education, Project, Research

---

CommunityFirst COVID-19 Roadmap

|

Project, Research

---

COVID-19 Global Health & Humanitarianism Portal

|

Project, Research

---

Digital Technologies and Local Food Security

|

Project, Research

---

Digital Global Health and Humanitarianism Lab

|

Project, Research

---

Critical Perspectives in Global Health

|

Project, Research

---

Improving Humanitarian Needs Assessments through Natural Language Processing

|

Project, Research

---

Complex Adaptive Modelling of the Health Impacts of Climate Change in Malawi

|

Project, Research

---

Health Emergency Data Science

|

Project, Research

---

Safe Water Optimization Tool

|

Project, Research

---

Lancet Countdown: Tracking Progress on Health & Climate Change Policy Briefs

|

Project, Research

---

Design and Global Health

|

Project, Research

---

Updates
You may also be interested in...