Research Fellow, Planetary Health
Research Fellow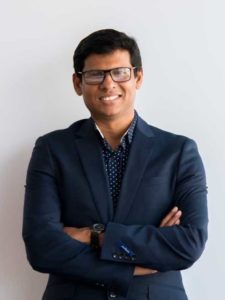 Dr. Byomkesh Talukder is the inaugural Planetary Health Fellow at the Dahdaleh Institute for Global Health Research (York University), where he works at the intersection of health, sustainable development, climate change, food and agriculture. He will be working with the Faculties of Health and of Environmental Studies to develop health indicators associated with the Ecological Footprint. Dr Talukder will also be working on modelling the health impacts of climate change related extreme weather events. His past research applies a complexity science approach to designing sustainability assessment models of food and agricultural systems in Bangladesh. Dr. Talukder also has over 15 years of interdisciplinary field and training experience, including the supervision of over 2,000 emerging leaders in sustainable development programs and policy design in Bangladesh. Since 2016, he has been a Mitacs Postdoctoral Fellow at Parmalat Canada and the Desautels Faculty of Management, McGill University. Dr. Talukdar holds a PhD in Geography and Environmental Studies (Wilfrid Laurier University), a MSc in Environmental Studies (Queen's University), a MA in Development Science (Hiroshima University), and a MSc in Geography and Environmental (Jahangirnagar University).
Themes

Planetary Health

Status

Active

Related Work

COVID-19's impacts on migrant workers from Bangladesh: In search of policy intervention

|

Library, Research

---

Modeling Resource Allocation for the Achievement of Sustainable Development Goals

|

Library, Research

---

Towards Complexity of Agricultural Sustainability Assessment: Main Issues and Concerns

|

Library, Research

---

Diagnosis of Sustainability of Trans-Boundary Water Governance in the Great Lakes Basin

|

Library, Research

---

Planetary Health Initiatives in Bangladesh

|

Project

---

Digital technologies and local food security: Smallholder farmers in Odisha, India, in the context of COVID-19

|

Project, Research

---

Mapping Imported Food Supply Chains to Identify Climate Change-Related Health Risks

|

Project, Research

---

Ecological Footprint Health Indicators

|

Project, Research

---

Complex Adaptive Modelling of the Health Impacts of Climate Change in Malawi

|

Project, Research

---

Climate Change, Salinity & Public Health in Bangladesh

|

Project, Research

---

Updates
You may also be interested in...