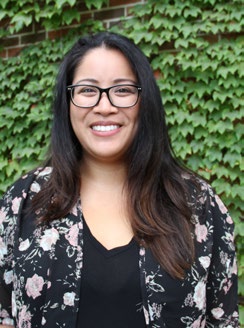 While other universities' labs were closing during the pandemic, York University's Nursing Simulation Centre (NSC), which mimics a real-life healthcare setting in a controlled learning environment, remained open throughout – thanks to a proposal approved by the Ministry of Colleges and Universities and supported by the Faculty of Health.
By wearing full PPE and following all safety COVID-19 protocols, "none of our undergraduate students' knowledge and skill development labs had to close – which was fabulous," saysNSC Director, assistant professor Laura Nicholson. She estimates that over four semesters 11,760 students visited the centre.
Except for these NSC classes, COVID restrictions required all other courses to be moved online. Suddenly, instructors needed to find innovative ways to keep their students engaged …. and that's exactly what they did.
As a welcome alternative to the monotony of digital breakout rooms, assistant professor Kristine Pedernal channeled her "inner techie" to improvise a virtual escape room scenario. Presented with a series of puzzles, students in her fourth-year lab on client-centred acute care had to solve patient problems cooperatively to "unlock" their online rooms.
A cross-institutional collaboration, funded by SSHRC research granted and led by associate professor Celina Da Silva, supported virtual simulation learning. Called "Person-Centred Serious Games for Mental Health Education", the project's design incorporates the lived experiences of persons with mental illness. This unique initiative helped students practice caring skills on patients from diverse social and cultural environments in simulated clinical scenarios.
Another successful School of Nursing initiative was pioneered by assistant professor Brenda Orazietti. Supported by the York Academic Innovation Fund and Colleges & Institutes Canada, she created five video simulation games on topics ranging from post-partum assessment of a new mother to addressing end-stage liver failure. Orazietti's nursing peers collaborated in writing, filming and acting in the games. These videos are available at no charge to nursing faculty across Canada.
When debating the merits of virtual teaching and learning, "In the end, a tool is just a tool," notes School of Nursing Director, Dr. Shahirose Premji. "How it is applied depends on the skill of the user – and our faculty have been phenomenal! They demonstrated extraordinary skill and judgement in selecting appropriate, innovative solutions that provided the competencies students needed to move on in their programs and graduate."
"We should celebrate our faculty's ingenuity, and our students' willingness and ability to adapt," Dr. Premji adds. "These are qualities that will serve them well in the post-pandemic world."