Home » Category Listing »
How Eric Kennedy embraces the complexity of fire to spark inspiration for the next generation of change-makers
As part of York University's free Microlecture Series in Sustainable Living, Eric Kennedy is helping to dispel misconceptions about "natural" disasters. Many disasters aren't natural at all, Kennedy discusses in his Microlecture, but are instead the outcomes of our collective choices when facing hazards.
An associate professor in the University's Disaster and Emergency Management program, and associate director of its Y-EMERGE research institute, Kennedy unpacks the interconnected causes of risk we must address, the institutions that will help protect us, and the tools we can use to build safer communities.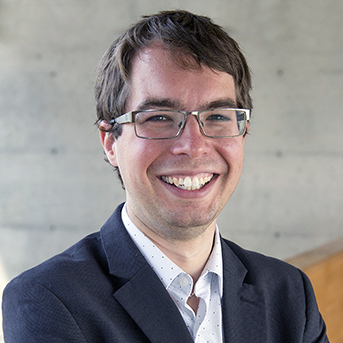 Kennedy has dedicated his career to understanding the potential of disasters to shape communities and ecosystems, which has led him to unravel the complexities and possibilities of fire as both a destructive and beneficial force.
"I do have a special place in my heart for fire," explains Kennedy, who worked previously as a volunteer emergency medical responder. He lists fires that survive the winter underground, fire tornadoes, and Black Kite birds known to "throw" fire as examples that ignited his fascination with the topic.
"Fire is a really interesting example of a hazard and disaster that can be both good and bad at the same time," he says.
Kennedy's research delves into the human social dimensions of hazards and disasters, looking beyond firefighting techniques to consider how choices are made about effectively dispatching technology and resources. He is currently leading a project to identify wildfire research needs from stakeholders across North America, which will be used to shape a strategic research plan for the next decade of fire science.
These considerations inform essential conversations about what it means to meaningfully integrate reconciliation with Indigenous communities and challenging questions about who gets a say and who is involved in managing a disaster.
For Kennedy, being an academic also means being a public servant. He is driven by the desire to serve communities and collaborate with practitioners. He aims to contribute to safer, equitable, and more resilient communities by responding to their needs and challenges. His projects, rooted in real-world demands, demonstrate the significance of bridging academic expertise with practical solutions.
Along with his academic work, he occasionally finds himself in Emergency Operations Centres, collaborating with experts to make informed decisions during emergencies. He can also be found observing prescribed burn programs, like the recent High Park burn, which demonstrate the importance of restoring beneficial fire practices to maintain healthy ecosystems.
"One of the big myths or misconceptions is this notion that all fires are bad or that the right response is to put every fire out," Kennedy clarifies. "Many of us grew up in the Smokey Bear era – 'Only you can prevent forest fires' – where the narrative perpetuated the idea that all fires are evil and should be suppressed."
He also challenges the perception that firefighting is the only solution to fire-related problems. Instead, a holistic approach, considering different tools and strategies, is vital for effectively managing fire and building resilient communities.
Kennedy advocates for a more nuanced approach, acknowledging that some fires can be beneficial and even necessary for ecological health. "There have been lots of changes over the last forty years," he notes, as communities increasingly understand the importance of restoring good fire practices. 
This approach led Kennedy, originally from southwestern Ontario, to teach and conduct research at York after studying knowledge integration at the University of Waterloo and completing his Master of Science and Ph.D. at Arizona State University.
As home to Canada's only disaster and emergency management program, with an institutional commitment to creating positive change aligned with his values, the University's openness to interdisciplinary work and critical studies resonated with him deeply.
"York is such a powerhouse when it comes to social science and humanities research that it really is a perfect fit for the kind of work that I do," Kennedy says.
Kennedy feels a deep sense of pride in being part of the York community, one defined not by exclusivity but by celebrating the collective contributions of its diverse student body. 
While disaster and emergency management is a relatively unknown field with incredible potential, Kennedy stresses the importance of realizing that it's an area of study that can make a significant difference in our communities and around the world.
As disasters and their consequences increase, the demand for professionals in this domain grows. Kennedy says graduates in this field will be able to play a crucial role in addressing complex global challenges.
The desire to build a more sustainable future and mitigate the threats facing people and the Earth underscores York's core values and goals, as emphasized by the University's Sustainability Action Commitment and community challenge to advance the UN Sustainable Development Goals.
By igniting passion in the minds of future disaster and emergency management professionals and academics, Kennedy is giving the next generation of change-makers the tools and knowledge to make a difference.