Home » Category Listing »
Shared commitment to a more inclusive, sustainable and prosperous future recognized during Desjardins President's visit to York U
La version française suit la version anglaise.
Desjardins partnership in support of critical York accelerator programs highlighted during university tour event
When Guy Cormier, President & CEO of Desjardins Group, spoke with students, aspiring entrepreneurs and members of the York University community about his personal and professional journey, he professed a life-long love for hockey, and admitted he could connect any topic in management and leadership to an analogy of the sport.
"You're losing the game, there's 30 seconds left on the scoreboard, you have to do something," said Cormier, responding to a student question about the value of resilience in cultivating leadership capacity.
He also reminded students about the importance of calling a time-out, noting that even elite superstars need a moment to rest, reset and get on the same page.
Cormier shared these and other insights that helped him on his journey from cashier to the youngest president in his organization's history, during a public event at the Schulich Executive Learning Centre on York's Keele Campus, on his tour of Quebec and Ontario universities.
Cormier discussed the history of Desjardins, his journey from lecture halls to boardrooms, and how his personal approach to leadership has empowered him to make decisions in the best interest of society, and the planet, in the long run.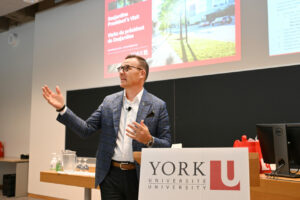 York University President and Vice-Chancellor Rhonda Lenton, who introduced Cormier at the event, noted how the Desjardins CEO's story served as a guide for burgeoning leaders who want to create positive change.
"This kind of progressive leadership and passion for collaboration and innovation has never been more crucial," said Lenton.
Lenton also spoke about Desjardins and York's ongoing partnership in support of innovation and entrepreneurship.
"In today's rapidly changing economy, there is a greater need for public, private, and non-profit sectors to work together on building a brighter future for everyone," Lenton said.
Earlier this year, Desjardins and York announced a combined sponsorship for Innovation York, in support of expanding two critical accelerator programs; the Glendon Entrepreneurial et Innovation à l'international (GENIAL) and Entrepreneurial & Learning Alliance (ELLA).
GENIAL is a bilingual initiative offering training, extracurricular activities and a research program in entrepreneurship and innovation to faculties, Ontario francophones and students at York's Glendon Campus. Launched in 2017 by associate professor of management and entrepreneurship Angelo Dossou-Yovo, GENIAL has been working to foster economic growth, equity, diversity, and inclusion.
"GENIAL provides Glendon students with invaluable training in entrepreneurship and innovation." says Marco Fiola, Principal of Glendon College, "This partnership will allow GENIAL to scale up its bilingual Entrepreneurial Skills Passport (ESP) program and exemplifies some of the exciting experiential education projects that are being developed at Glendon. Students with global aspirations will acquire professional skills in French, in keeping with Glendon's mission to train culturally agile entrepreneurs and community leaders."
Over the next two years, Desjardins' gift will also support the sustainability of ELLA, a program at York's entrepreneurship hub – YSpace – and Ontario's first accelerator focused on supporting women-led product and service-based businesses from ideation to growth, providing women entrepreneurs with access to the community, knowledge and resources they need to scale their business.
"The gift is an example of how higher education institutions and industry can successfully work together to expand the positive impact of these critical accelerator programs in ways that not only support training and innovation but catalyze positive change for diverse communities," said Lenton.
Une volonté commune d'assurer un avenir plus inclusif, plus durable et plus prospère est mise en avant lors de la visite du président de Desjardins à l'Université York
Le partenariat de Desjardins en faveur des programmes accélérateurs de York est mis en évidence lors de sa tournée des universités
Lorsque Guy Cormier, président et chef de la direction du Mouvement Desjardins, s'est adressé aux étudiantes et étudiants, aux chefs d'entreprise en devenir et aux membres de la communauté de l'Université York pour leur parler de son parcours personnel et professionnel, il a professé un amour de longue date pour le hockey et a admis qu'il pouvait trouver une analogie avec le sport pour n'importe quel sujet relatif à la gestion et au leadership.
« Vous êtes en train de perdre le match, il reste 30 secondes au tableau d'affichage, vous devez faire quelque chose », a déclaré M. Cormier, en réponse à une question d'un étudiant sur la valeur de la résilience dans le développement des capacités de leadership.
Il a également rappelé aux étudiants et étudiantes l'importance de prendre un temps d'arrêt, notant que même les grandes vedettes ont besoin d'un moment pour se reposer, se ressourcer et se mettre sur la même longueur d'onde.
Lors d'un événement public au Executive Learning Center de l'École Schulich des hautes études commerciales sur le campus Keele de York, dans le cadre de sa tournée des universités du Québec et de l'Ontario, M. Cormier a partagé ces idées et d'autres, qui l'ont aidé à passer du statut de caissier à celui de plus jeune président de l'histoire de son organisation.
M. Cormier a évoqué l'histoire de Desjardins, son parcours des amphithéâtres aux salles de conseil d'administration, et la manière dont son approche personnelle du leadership lui a permis de prendre des décisions dans le l'intérêt supérieur de la société et de la planète, à long terme.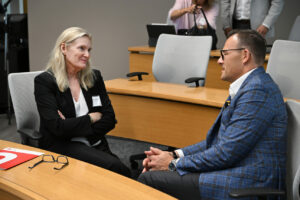 Rhonda Lenton, présidente et vice-chancelière de l'Université York, qui a présenté M. Cormier lors de l'événement, a souligné que l'histoire du PDG de Desjardins servait de guide aux leaders en devenir qui souhaitent susciter des changements positifs.
« Ce type de leadership progressif et de passion pour la collaboration et l'innovation n'a jamais été aussi crucial », a déclaré Mme Lenton.
Elle a également évoqué le partenariat permanent entre Desjardins et York pour soutenir l'innovation et l'entrepreneuriat.
« Dans l'économie actuelle en rapide évolution, les secteurs public, privé et à but non lucratif ont davantage besoin de travailler ensemble à la construction d'un avenir meilleur pour tout le monde », a ajouté Mme Lenton.
Plus tôt cette année, Desjardins et York ont annoncé un parrainage combiné pour Innovation York, afin de soutenir l'expansion de deux programmes accélérateurs essentiels : le Glendon ENtrepreneuriat et Innovation À L'international (GENIAL) et Entrepreneurial & Learning Alliance (ELLA).
GENIAL est une initiative bilingue qui offre de la formation, des activités para-universitaires et un programme de recherche en entrepreneuriat et en innovation aux facultés, aux francophones de l'Ontario et aux étudiantes et étudiants du campus Glendon de l'Université York. Lancé en 2017 par le professeur agrégé de gestion et d'entrepreneuriat Angelo Dossou-Yovo, GENIAL favorise la croissance économique, l'équité, la diversité et l'inclusion.
« GENIAL offre aux étudiantes et étudiants de Glendon une formation inestimable en matière d'entrepreneuriat et d'innovation, a déclaré Marco Fiola, principal du Collège Glendon. Ce partenariat permettra à GENIAL de développer son programme bilingue de Passeport compétences entrepreneuriales (PCE) et illustre certains des projets passionnants d'éducation expérientielle qui sont développés à Glendon. Les étudiants ayant des aspirations mondiales acquerront des compétences professionnelles en français, conformément à la mission de Glendon de former des entrepreneurs ouverts aux différences culturelles et des leaders communautaires. »
Au cours des deux prochaines années, le don de Desjardins soutiendra également la durabilité d'ELLA, du programme du centre d'entrepreneuriat de York YSpace et du premier accélérateur de l'Ontario axé sur le soutien des entreprises de produits et de services dirigées par des femmes, de l'idéation à la croissance, offrant aux entrepreneuses l'accès à la communauté, aux connaissances et aux ressources nécessaires pour faire croître leur entreprise.
« Ce don est un exemple de collaboration fructueuse entre des établissements d'enseignement supérieur et l'industrie pour accroître l'incidence positive de ces programmes accélérateurs essentiels, de manière à soutenir la formation et l'innovation, mais aussi à catalyser des changements positifs pour diverses communautés », a déclaré Mme Lenton.