Workers' Stories in the COVID-19 Era: Installment #5
August 6, 2021
Written by Suzanne Spiteri (PhD Candidate, Sociology)
Edited by Christina Love (Undergraduate Student, Indigenous Studies and French)
In the fifth installment of the Workers' Stories in the COVID-19 Era dialogue series, we interviewed a line cook who has been working at a high-traffic GTA restaurant throughout the COVID-19 pandemic. In the dialogue below, Damian shares his experiences working through the many changes faced by Ontario restaurants throughout the pandemic. He describes how management's shift to reducing labour costs throughout the pandemic increased responsibilities for restaurant employees, thereby increasing worker anxiety and fatigue.
For privacy, all names have been changed to protect the identities of our interviewees.
Interview
Suzanne: Can you tell me about your job and how long you have worked there?
Damian: I'm a line cook at a pub/restaurant in the Greater Toronto Area. I have worked there for just over two years now. I started as a dishwasher and then got promoted to being a line cook.
Suzanne: What are your responsibilities as a line cook, and how things have changed due to COVID?
Damian: Basically, as a line cook before COVID, I would work with the other line cooks and we would be at our stations cooking and plating food, we'd work with the kitchen manger, and at the end of the night we were responsible for cleaning our stations and maybe doing some basic cleaning of the kitchen.
Everything changed as soon as COVID hit in Ontario. The first thing that happened back in March 2020, when we had the first shutdown and restaurants had to close, was that the two owners got an early heads up and freaked out. That night, they wouldn't let any of us leave until we had deep cleaned the whole restaurant and packed, froze, or threw out all the meats and produce that was in the fridge. It was me, another cook, and the dishwasher, and after closing, we spent four extra hours just cleaning everything and sealing and putting the perishables in the freezer.
Suzanne: Did the restaurant stay closed for the duration of the pandemic?
Damian: No, within a couple days we re-opened for take-out and delivery. It was so awful. I completely understand that it was a brand-new situation, and no one really knew what was going on or what was going to happen, but the owners, who were already cheap as fuck, just lost it.
They laid off everyone they could and basically just kept me and this other guy as line cooks. All they could think about was "cutting labour costs" so basically, I worked four days a week and the other guy worked the three days a week I couldn't work. All of a sudden, we had to work completely alone, and they had partnered with Skip the Dishes and Uber Eats and every other service they could think of so they could keep making money while everything else was shut down.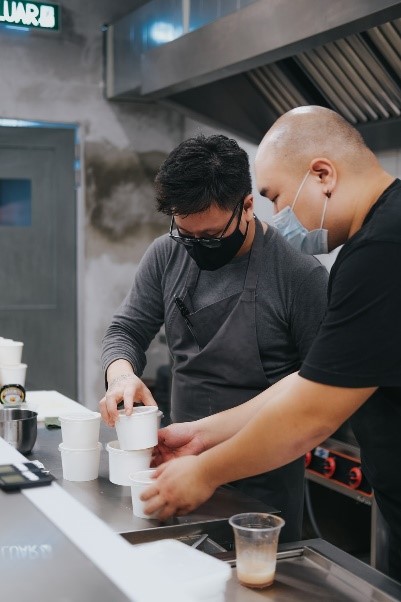 They kept telling us over and over again that their insurance wouldn't cover their rent and that there was no pandemic clause, so basically their plan was to lower their labour costs as much as possible and make as much money as they could through pick up and delivery.
At first, I was so glad that I wasn't one of the guys that got laid off, but after a while I wished that they had let me go, too.
[B]asically, their plan was to lower their labour costs as much as possible and make as much money as they could through pick up and delivery.
It was just too hard. We had all these new 'COVID' changes in place to reduce labour costs, which severely limited our kitchen staff, let alone the adaptation to online ordering. With Uber Eats and Skip the Dishes, you get a "ding ding ding order request" and you have to accept it and prepare the order superhumanly fast, and the orders just keep coming in, like "ding ding ding ding," fucking constantly. You're constantly stressed, constantly behind, and with absolutely no help.
Suzanne: Do you think this experience was the case everywhere?
Damian: Definitely not. I know that line cooks have experienced many difficulties because of the pandemic, but I think I work at a shitty restaurant. The owners are just obsessed with keeping their labour costs as low as possible. If we had more staff, the online ordering and kitchen upkeep would've been more manageable.
We had a ton more responsibilities, keeping up with the dishes was in itself a huge task, and of course it didn't matter what time we were scheduled to close, we left when the work was done. Another new thing introduced was this 'cook it at home' program, which was basically a pre-portioned meal kit that I'd have to prep as well.
There was always this fear that somebody from Public Health was going to come in and make sure that we were following all of the COVID restrictions that they wanted us to. So, in addition to all the new systems and adaptations, I had to make sure the place was spotless all the time. I was doing stuff way outside of my job description, but they had let everybody else go so it all fell to me. I had to clean the bathrooms, deep clean the inside of the fridge and freezers, and wipe all high-contact surfaces over and over. They had me scrubbing the ceilings at one point and I got burnt pretty badly cleaning out the deep fryer.
Now we're open for patio dining, so they've had to bring back wait staff and they've had to hire back a couple of the line cooks and the dishwashers. There's less stress now, but some of the new responsibilities have stuck. For example, we now have to wipe down the walls and the celling over the fryer with disinfectant.
Suzanne: What changes have you noticed to health & safety guidelines because of the pandemic and what has been the role of Public Health at your workplace?
Damian: There have been a couple of things I've noticed. First, it started off with staff having to enter through the back door and making sure that we were never face-to-face with customers. Soon after that, we had to start wearing masks, which has been a huge struggle, especially when you're in a hot kitchen and you can't drink water or breathe easily anymore. The ventilation in our restaurant is really bad too and the owners haven't done anything to increase ventilation, which is awful both from a comfort and a safety stance.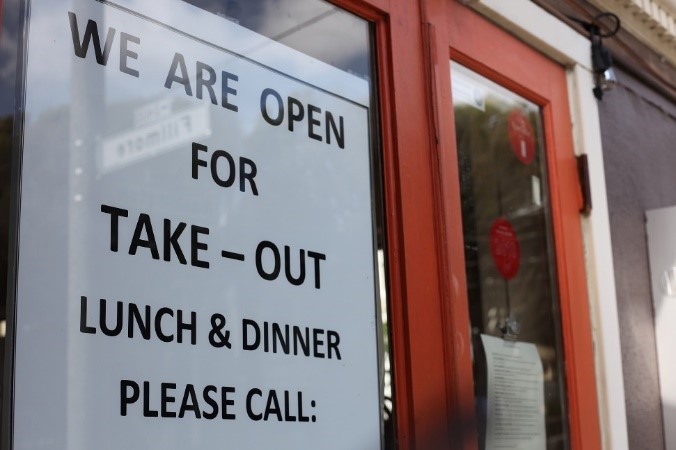 Another thing that we had to start doing when we came in was filling out this logbook detailing our names and if we were experiencing any COVID-19 symptoms along with our current temperatures. That would've been fine and all, but the way they went about it was such bullshit. One time the other line cook called me on one of my days off and he was like, "Can you take my shift today? I'm not feeling well." I couldn't take his shift for whatever reason so he calls in and talks to one of the owners and he's like, "Hey, I'm feeling really sick and I don't think I can come in" and they were like, "Well, its your job to replace yourself" – which is untrue because even part-timers are legally entitled to some unpaid sick time. The owners basically told him to go in to work and that they would try and figure it out when he got there, which was obviously bullshit. He went in, checked his temperature, and recorded that he had a fever and checked off 'yes' in the log for having COVID symptoms. They literally just sent him to the kitchen and erased his entry from the logbook.
In the end, he was so sick that I felt bad and left what I was doing to go take over for him. He actually left after that experience; it was that bad. We had this work group chat, and he was just like, "I can't do this anymore" and quit after that. So, I had to take all his shifts for the next bit until they hired a new guy, too.
He went in, checked his temperature, and recorded that he had a fever and checked off 'yes' in the log for having COVID symptoms… [The owners] just sent him to the kitchen and erased his entry from the logbook.
Suzanne: Did it seem to you that your employer took your health seriously during the pandemic?
Damian: No, these guys are really awful, but to be completely honest I wasn't really scared of catching COVID from work. Like I said, it was just me in the back by myself and I didn't come into contact with any customers. If I did get sick though, the owners definitely wouldn't have cared – look at how they treated the other line cook.
To be honest, this type of treatment is nothing new with restaurant work. It's the same way they didn't care when I burnt myself cleaning the deep fryer, and the same way they didn't care when I hurt my back carrying in beer kegs, and the same way they've treated the staff all throughout COVID. The only thing they care about is making money, that's it.
The only thing they care about is making money, that's it.
Suzanne: I am sorry to hear that. Were you ever compensated for all the extra work that you had to do?
Damian: We did get an extra $4/hour from the government for frontline workers for a few months, but after that stopped, I ended up making less money than I would have before, and I lost my staff meal. Basically, after the wage subsidy ended, the amount of money we took home was lower than it was pre-pandemic because we completely lost our tips.
At the restaurant I work at we do shared tipping, so whatever the waitresses collect in tips from customers is shared equally by everyone. Every bi-weekly 'tip out' before COVID I'd get an extra $200-$240. Once we were doing pickup and takeout-only, we didn't make tips anymore. Sure, the food delivery apps allow customers to tip their driver, and then there was a special feature of "tip the restaurant one dollar" through Uber, but the owners just kept all of that money. So, I'm back-of-house killing myself, and they were just taking people's tips like they were personal donations.
And then I lost my staff meal, which really pissed me off. We used to be entitled to one meal per shift for free. When you're cooking for eight hours and can't take any of your breaks because of backlog, the staff meal is something you can look forward to, you know? You used to be able to just cook yourself something, and either eat it if you got a chance or you could take it home. Then, the owners decided that they were "so hard hit by the pandemic" that they had to lower food costs, so they took away the staff meals. In one sweep I lost my tips and my meal. It wasn't the end of the world for me since I live with my family and could just go home to eat. But I know that some of the staff really depended on that meal to eat, and how could anyone take that away from us just to save a couple bucks? Especially after everything we've done for them.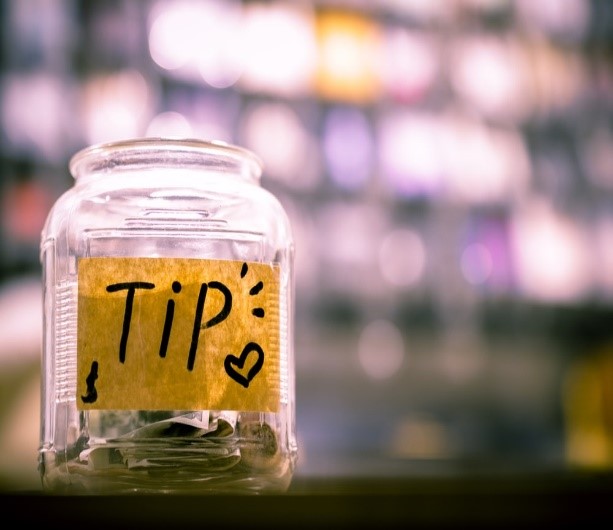 I'm back-of-house killing myself, and they were just taking people's tips like they were personal donations.
Suzanne: Do you think your employer ever appreciated how hard you worked during the pandemic?
Damian: They didn't care then, and they don't care now. They would say, "Half the world is unemployed, if you don't like it, leave and we'll replace you by tomorrow's shift". Or they would go on a rant about how we're ungrateful and should count our blessings that we even have a job.
After a while its just like, "Oh, they think I'm a worthless piece of shit." It's just a messed-up feeling because not only are you literally giving these people your blood, sweat and tears, but you're also spending eight to 10 hours a day with these guys. You're with them more than you're with your own family and they just don't care about you at all. It's disheartening, I guess.
You're with them more than you're with your own family and they just don't care about you at all.
Suzanne: Is there anything else that you would like to say about your work and COVID?
Damian: One major thing I realized through this whole experience is that, as workers, we need to realize that without us they literally couldn't run their businesses. In my case, for example, the owners were always talking about how we could leave if we didn't like it, but really and truly if we did leave, they would have been screwed. They don't know how to cook, they can barely clean, they aren't waiters. They could not do this job, so basically without us they are nothing – not the other way around.
Sometimes I would just daydream about quitting in the middle of a rush or something, with a full board of orders and the "ding ding ding ding" of the online order systems and just walking out…but I need the money.