Carsharing is a program which offers cars by the hour or by the day for errands, meetings or just having fun. It is intended to substitute for private vehicle ownership, making occasional use of a vehicle affordable.
York University has partnered with two carsharing companies: Enterprise CarSharing (formerly AutoShare) and Zipcar who provide service to students, staff and faculty on campus.
Enterprise CarShare
Join Enterprise CarShare for $1 and launch your adventure today!
Have the freedom to go where you want, when you want, with Enterprise CarShare. Whether you're running errands off campus, going home to see your family, or visiting friends at another university, Enterprise CarShare gives you all the benefits of owning a car, without any of the stress!
Why Should I Join?
It's light on the wallet – get a full year membership for only $1 and drive starting at $6/hour
Booking is super easy - book a car in seconds through our mobile app (at any time of day)
On-campus – vehicles are located in the Sentinel & York Blvd parking lots
Flexibility – access to all CarShare vehicles at more than 200 locations across the GTA
Adulting – build an insurance record while you drive
You must be 18 or older, with a minimum "G2" license, or equivalent. International licenses are accepted.
Faculty or staff? You can also join for $1 and drive for $6/hour!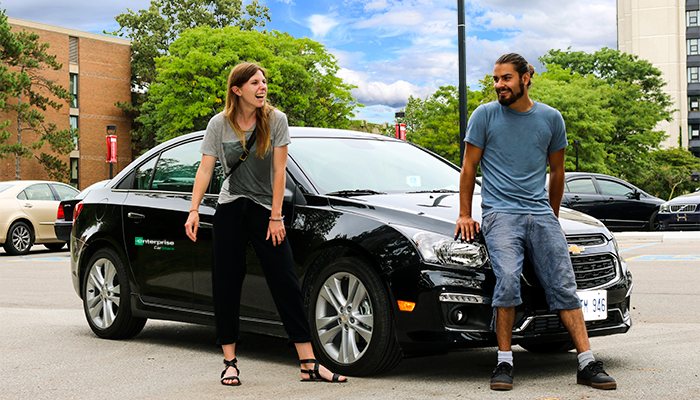 Zipcar
York University and Zipcar, North America's largest on-campus car sharing service, enjoy a continued partnership to provide Zipcars to campus faculty, staff, and students, as an environmentally-friendly alternative to the costs and hassles of keeping a car on campus. The partnership continues York's commitment to provide sustainable transportation options. Self-service Zipcars are available for use 24 hours a day, seven days a week, currently located in the Sentinel Road and Albany Road Parking Lots at York University's Keele Campus.
As a leading urban lifestyle brand, Zipcar provides a convenient and cost effective transportation alternative.
Self-service access to cars 24/7
Low hourly and daily rates which include gas and insurance
Reserve online or using your mobile device - in seconds
Cars located right on campus
Good for the environment
Faculty, staff and students will be able to join Zipcar at significantly discounted rates.  You only have to be 18 years or older, and all international drivers are welcome!