We are informing our Faculty IT partners the clean up exercise described below was completed successfully this morning per schedule.
Thank you for your continued cooperation and support.
University Information Technology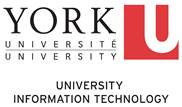 ---
Please share the following with your teams.
Please note UIT has made adjustments to Central Active Directory servicing Domain and LDAP/LDAPS services.​
​
UIT has deleted DNS records of domain controllers no longer in service.​
​
We will continue the clean up exercise on Monday June 8th at 10:30am during which we will be deleting their AD computer objects.​
​
These adjustments do not impact systems and services that follow best practices, where the fully qualified domain name of yorku.yorku.ca is used.​
​
If you have systems and services that do not follow such best practice, please inform us by sending an email to askit@yorku.ca
Please direct any questions or concerns to UIT Client Services.
Email: askit@yorku.ca
Self Serve Portal: http://askit.yorku.ca

Thank you,
University Information Technology