The YU-card is your VIP pass to campus life. Take good care of it, but know we've got your back. In the event that you lose your YU-card, freeze your account immediately to protect your funds. You are responsible for all card activity until the account is frozen, so be sure to act quickly.
Deactivate a Lost or Stolen card
Deactivate your YU-card online at any time using eAccounts
Notify the YU-card Office at yucard@yorku.ca or call (416) 736-5674 during business hours
If your card is authorized for secure door access please notify doorcard@yorku.ca.
Be sure to double and triple check for your YU-card before getting it replaced. Replacement fees are non refundable and old cards are retired permanently once they are replaced.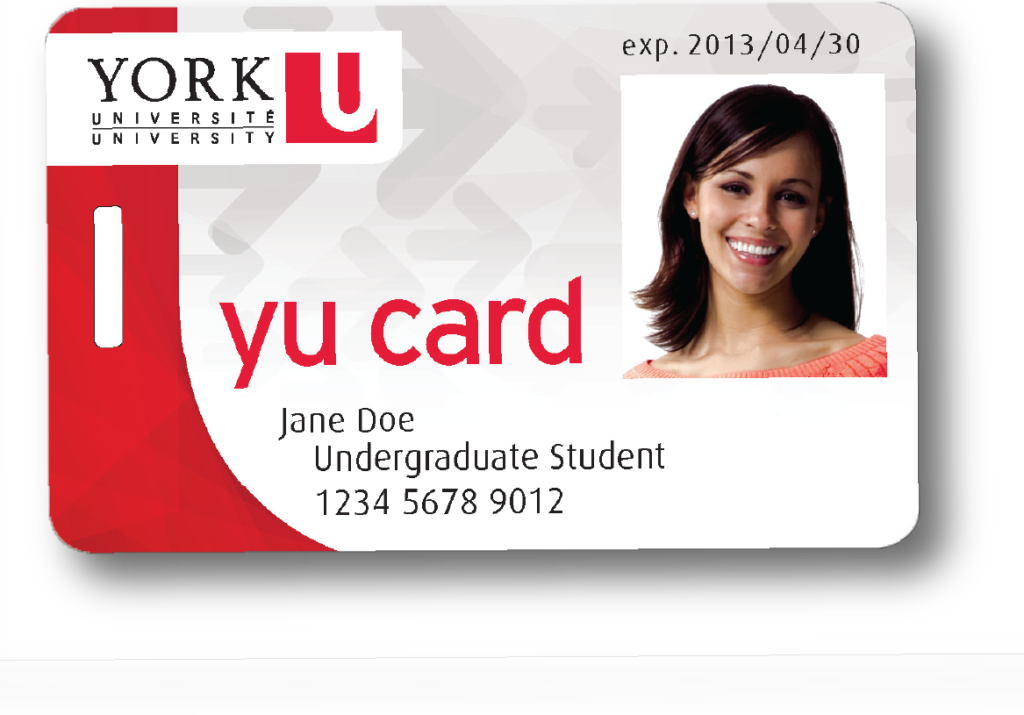 ---
Replacement
Visit the YU-card Office to obtain a replacement card. If your card was turned in to our office, we'll return it to you. If not, a new card will be printed.
There is a $30 replacement fee to obtain a new student YU-card
To protect your identity, please be sure to bring government issued photo ID and present your student/employee number
An updated photo will be taken on site if the one on file is greater than 12 months or no longer reflects your current appearance

---
Renewal
If your YU-card has an expiry date of April 30 of this year printed on the front, and if you are continuing your studies in the next Summer or Fall/Winter sessions, you may obtain a free replacement card. To protect your identity, please be sure to bring government issued photo ID.
Please note that your Library privileges will continue to function with your current YU-card until August 30 of the year of expiry.

To obtain an updated YU-card:
Enroll in courses in either the upcoming Summer or Fall/Winter sessions. You cannot obtain a new YU-card until you've enrolled.*
Bring your current YU-card and government issued photo ID to the YU-card Office 24 hours after you've enrolled.
New photo taken in our office (required, if the photo on file is over 12 months old or no longer reflects your current appearance).

*You may be asked to provide your course time table to verify enrollment.
---
NOTE:
For employee YU-card replacements and renewals, the YU-card Office must verify your information with HR Records before issuing. Please email yucard@yorku.ca before visiting.
For student YU-cards, the legal name shown on your government issued photo identification must match our records. If you have changed your name or your name is not correct, please update your official name through the Office of the Registrar.
If you had door access on your previous card, please contact doorcard@yorku.ca with your new card information to transfer privileges.
YU-card Office
Keele Campus
222 William Small Centre

4700 Keele Street
Toronto, ON M3J1P3
416-736-5674
Office Hours:
Monday to Friday 8:45 a.m. - 4:15 p.m.
Closed Every 3rd Friday of each month at 1:15 p.m.
---
During peak periods (beginning of semesters), our queuing system (QLess) may reach max capacity in the early morning. Therefore, we cannot assist clients who arrive after the daily limit is maxed. We apologize for any inconvenience that this may cause.
Glendon Campus
Glendon Housing & Ancillary Services, Greenhouse 1

2275 Bayview Ave
Toronto, ON M4N 3M6
416-487-6798
Office Hours:
Monday to Wednesday 9:00 a.m. - 3:00 p.m.
Thursday & Friday Closed