In an attempt to further understand one of the most entrenched forms of racism, the Centre for Feminist Research's Spotlight on Islamophobia Series focuses on key aspects of the social forces that shape and reinforce contemporary practices of Islamophobia. The Spotlight on Islamophobia event series aim at gaining a better understanding of the multiple forms of Islamophobia currently prevailing in multiple societies, grasping their historical origins in specific national contexts, and their intersections with other regimes of inequality and oppressive forces structuring contemporary human experiences.
---
Past Events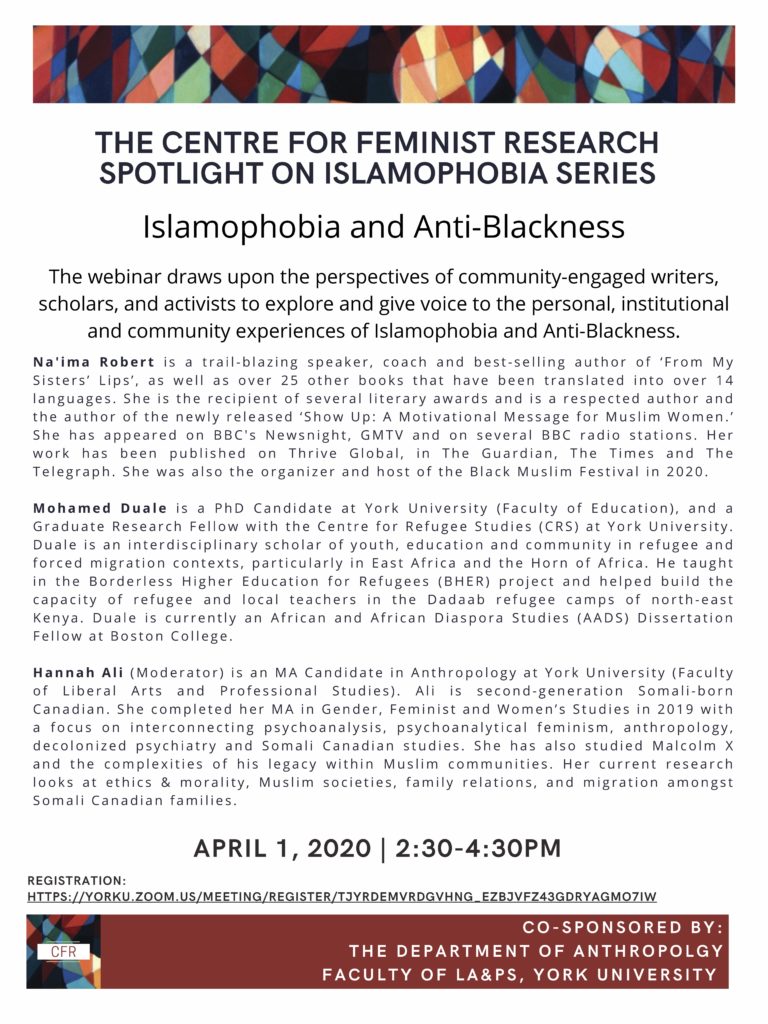 Islamophobia and Anti-Blackness
Following from the deep insights gained at CFR's 2019 Spotlight Series' seminar on "Anti-Blackness, Islam and Islamophobia", the 2020 webinar draws upon the perspectives of community-engaged writers, scholars, and activists to explore and give voice to the personal, institutional and community experiences of Islamophobia and Anti-Blackness. The speakers will address ways in which Muslim communities of colour are responding to issues of racialization, profiling, and systemic discrimination in different local, national and international contexts and how they and other Muslims of colour are working to shape new narratives with communities impacted by Islamophobia and Anti-Blackness, and mitigating the impacts of these harmful discourses and enactments.
Speakers:
Na'ima Robert 
A trail-blazing speaker, coach and best-selling author of 'From My Sisters' Lips', as well as over 25 other books that have been translated into over 14 languages. She is the recipient of several literary awards and is a respected author and the author of the newly released 'Show Up: A Motivational Message for Muslim Women.' She has appeared on BBC's Newsnight, GMTV and on several BBC radio stations. Her work has been published on Thrive Global, in The Guardian, The Times and The Telegraph. She was also the organizer and host of the Black Muslim Festival in 2020.
Mohamed Duale
Ph.D. Candidate at York University (Faculty of Education), and a Graduate Research Fellow with the Centre for Refugee Studies (CRS) at York University. Duale is an interdisciplinary scholar of youth, education and community in refugee and forced migration contexts, particularly in East Africa and the Horn of Africa. He taught in the Borderless Higher Education for Refugees (BHER) project and helped build the capacity of refugee and local teachers in the Dadaab refugee camps of north-east Kenya. Duale is currently an African and African Diaspora Studies (AADS) Dissertation Fellow at Boston College.  
Moderator:
Hannah Ali
MA Candidate in Anthropology at York University (Faculty of Liberal Arts and Professional Studies). Ali is second-generation Somali-born Canadian. She completed her MA in Gender, Feminist and Women's Studies in 2019 with a focus on interconnecting psychoanalysis, psychoanalytical feminism, anthropology, decolonized psychiatry and Somali Canadian studies. She has also studied Malcolm X and the complexities of his legacy within Muslim communities. Her current research looks at ethics & morality, Muslim societies, family relations, and migration amongst Somali Canadian families.
---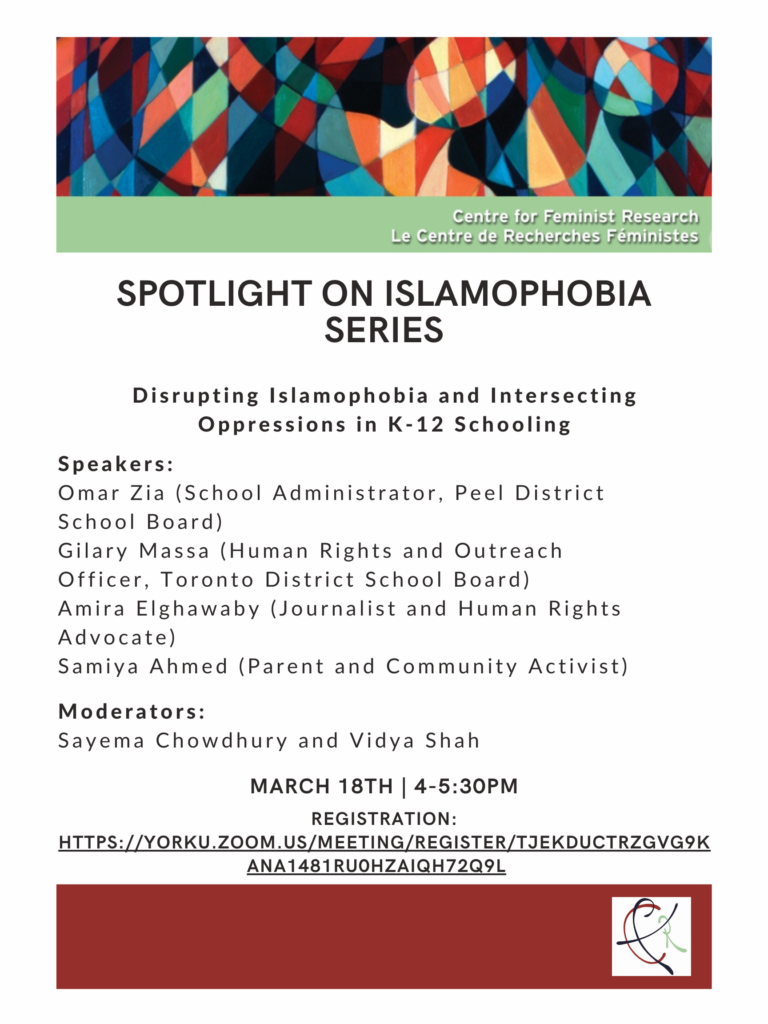 Disrupting Islamophobia and Intersecting Oppressions in K-12 Schooling 
Despite a diversity of histories and lived realities, this webinar explores Muslim students' and families' experiences of Islamophobia and intersecting oppressions including anti-Black racism in K-12 schooling contexts and beyond. Islamophobia and gendered Islamophobia manifest in the absence of policies and structures that acknowledge its existence or respond to its presence in Ontario classrooms. Transformative education has the possibility to disrupt and dismantle these harmful discourses and enactments in service of justice. Join us for a conversation with educators and community partners as they speak to possibilities for humanizing the diverse experiences of Muslim students in Ontario schools.  
Speakers:
Omar Zia (School Administrator, Peel District School Board)
Gilary Massa (Human Rights and Outreach Officer, Toronto District School Board)
Amira Elghawaby (Journalist and Human Rights Advocate)
Samiya Ahmed (Parent and Community Activist)
Moderators:
Vidya Shah and Sayema Chowdhury
---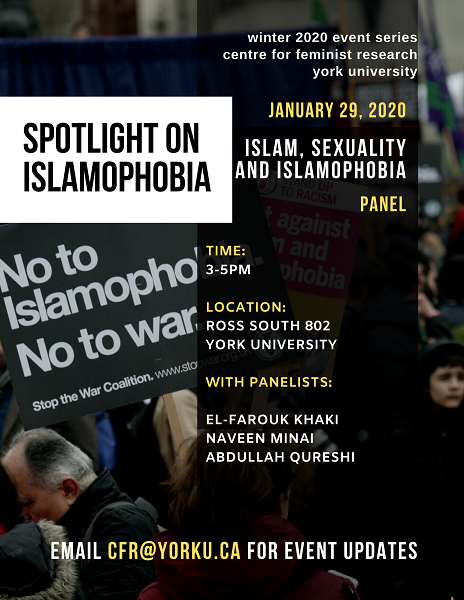 Islam, Sexuality and Islamophobia
The ground-breaking work of Puar (2005) has illustrated that the discourse of the homophobic 'other' has been central to legitimizing the war on terror and justifying post 9/11 racial politics. Dominant narratives construct Western societies as accepting of homosexuality, whereas Islam and Muslim subjects are constructed as homophobic. Contesting such narratives, this panel will explore the ways in which Muslim communities in Canada and Europe are contesting homophobia.
with panelists:
El-Farouk Khaki, co-founder of the Toronto Unity Mosque
Dr. Naveen Minai, Visiting Scholar in Sexuality Studies at the Centre for Feminist Research
Abdullah Qureshi, CFR Visiting Graduate Student