Post
Published on 19 April 2022
The Dahdaleh Institute for Global Health Research recently held its 3rd annual Workshop on Critical Social Science Perspectives in Global Health. Attended by researchers from York and around the world, the event showcased an exceptional range of critical global health research being pursued at York across diverse Faculties and disciplines.
Watch a full recording of the two-day workshop here.
The two-day workshop began with an introduction by Prof. Eric Mykhalovskiy, a member of the Critical Perspectives in Global Health (CPGH) steering committee and professor in the Department of Sociology. Prof. Mykhalovskiy provided an overview of the aims of critical global health research, noting that "critical perspectives to global health require a willingness to challenge taken-for-granted ways of knowing" and seek to "destabilize entrenched power." As such perspectives are frequently excluded from mainstream funding, he welcomed the CPGH program as an important commitment to fostering cooperation and dialogue from critical health researchers across disciplines.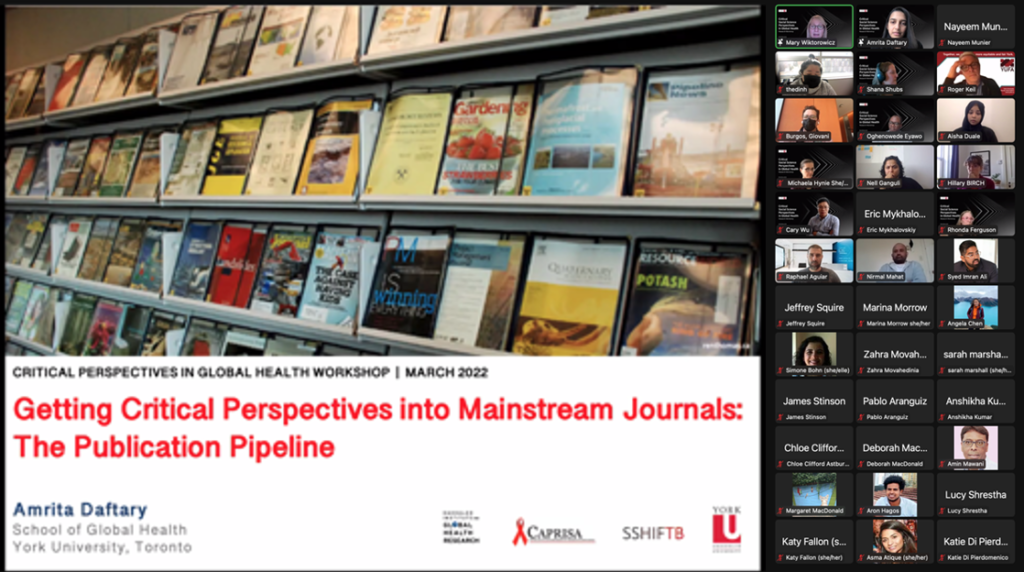 Prof. Amrita Daftary, a Dahdaleh Institute faculty fellow and assistant professor in the School of Global Health, delivered the keynote address for the workshop, discussing the challenges scholars face in getting critical perspectives into mainstream journals. Lamenting the "appalling lack of diversity and stink of neocolonialism in global health publishing," she advised the keenly interested audience that commentary and perspective sections can be good avenues for overcoming the marginalization of critical research in mainstream journals and offered concrete suggestions for targeting the right editor and emphasizing the impact of the research and findings.
Both days of the event featured updates from last year's CPGH Seed Grant recipients on their work in progress as well as brief pitches on critical global health research projects from members of York's research community. See the full workshop agenda here.
Fittingly, many presentations focused on pandemic-related issues, asking critical questions about misguided epidemiological expectations in sub-Saharan Africa (Eyawo and Duale); how mistrust among refugees in South Africa affects access to services (Hynie and Tesfai); how the pandemic has affected healthcare waste management in the global South (Squire); what community-based solutions to health crises can look like (Corbett-Thompson); and what Twitter can tell us about unemployment during the pandemic (Movahedin Nia) and about public sentiments toward vaccines (Ogbuokiri).
Other presenters shared insights and research questions about decolonizing the social determinants of health (Vortstermans); the health impacts of sanctions (Chaufan and Yousefi); the effects of structural violence on health equity for Quilombola women in Brazil (Bohn); notions of deservingness of access to health care among advocates (Marshall); and shifts in conservation policy that make communities the target of surveillance (Stinson and Dykstra). Yet other presentations focussed on urban political ecology, including the urban political ecology of governance related to antimicrobial resistance (Aguiar) and on the urban political ecologies of Ebola in Monrovia (Birch) and in West Africa (Treffers). A separate Seed Grant presentation on April 12 focussed on a literature review exploring neuroscientific infrastructure in Kenya (Elliott and Charette), illuminating complex global health dynamics through this lens.
This year's CPGH workshop showed once again that York is home to engaged scholars pursuing critical global health research agendas and collaborating meaningfully with communities. The CPGH Program continues to encourage and support these endeavours and is once again pleased to offer five seed grants to support the development of research projects in line with the Dahdaleh Institute's research themes. This year's recipients will be announced by early May.
Read more about the Dahdaleh Institute's Critical Perspectives in Global Health program.
Sign up for the Dahdaleh Institute monthly newsletter.
You may also be interested in...