Post
Published on August 23, 2023
As the 2023 recipient of the Canadian Institutes for Health Research (CIHR) Undergraduate Student Research Award (USRA), Mirianna Georges had the opportunity to complete a research project on the gendered differences in the relationship between housing insecurity and diarrheal infection in Kenyan informal settlements under the supervision of Professor Godfred Boateng. 
She received invaluable training and experience in evaluating scientific literature, using statistical software STATA, analyzing data output and formulating an academic manuscript. The culmination of this research occurred towards the end of the summer when she had the opportunity to present her research findings at the annual Summer Undergraduate Research Conference, where she created a poster to present her project findings to conference attendees. 
The conference began with a keynote presentation from Professor Sapna Sharma, associate professor in the Department of Biology at York University, the York Research Chair in Global Change Biology, and a member of the College of the Royal Society of Canada. Prof. Sharma presented the effects of rapid ice loss in lakes, and how this change can affect both the social and biological elements of the world. Freshly inspired by the keynote, it was then time for presenters to share their poster presentations. Mirianna explained, summarized, and discussed her project findings and answered questions from different judges, peers and attendees. She could not have asked for a better experience for her first conference presentation. Mirianna truly looks forward to future conferences and presentations.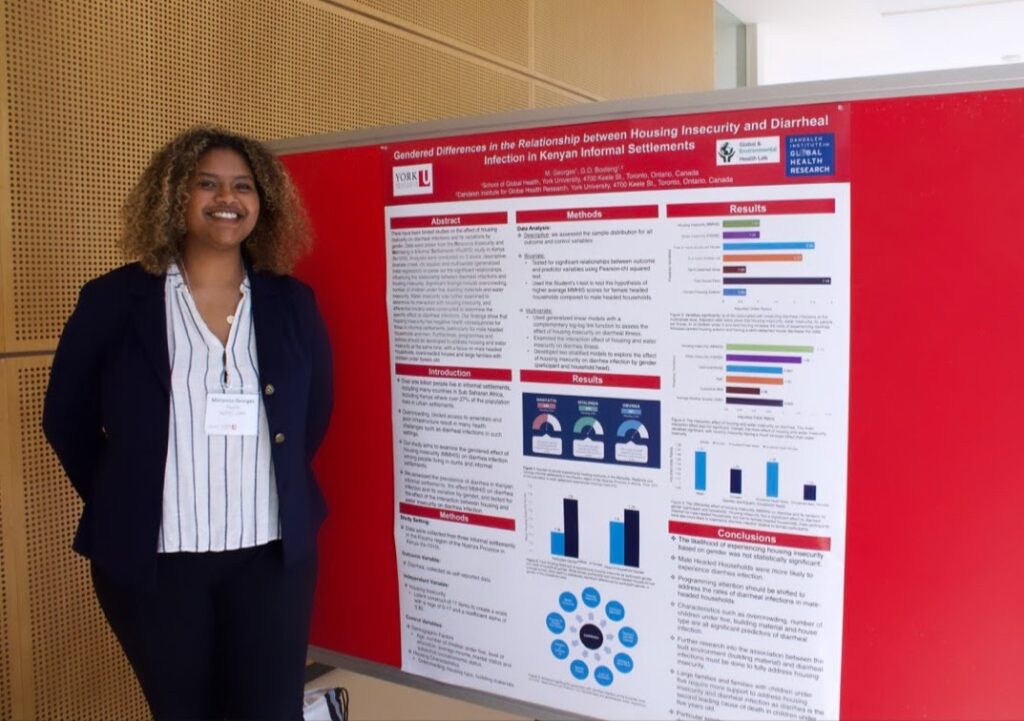 In addition to presenting her research, Mirianna was able to connect with other students and attend presentations relating to neurobiology, theoretical mathematics, machine learning, and many other fields. Being surrounded by like-minded students with a passion for research was a fantastic way to end the summer, especially as she transitions into her graduate studies at McMaster University in the fall, where she will complete a master's degree in Global Health. Mirianna provided this testimonial, "I am tremendously grateful to the Canadian Institutes for Health Research, The Dahdaleh Institute for Global Health Research, The Global and Environmental Health Lab and my supervisor, Prof. Godfred Boateng, for providing me with the opportunities, resources and guidance to successfully complete this project."
You may also be interested in...