Post
Published on December 17, 2019
At the UN Conference of the Parties (COP25), Postdoc Mark Terry premiered Happening to Us alongside the student filmmakers, a group of Inuit youth from Tuktoyaktuk in the Northwest Territories of Canada. The film was screened to international delegates attending the climate change conference in Madrid.
During the first week of COP25, Dr. Terry and the young filmmakers held a press conference, where they spoke to the impact of climate change on their community. They also participated in the Youth Climate Awards Ceremony. Dr. Terry presented one of three awards to the winners of the Global Youth Video Competition. Nathan, a member of the team from Tuktoyaktuk, delivered a passionate speech at the Opening Ceremonies, concluding with a dance performance that left the audience of climate ambassadors from six continents in awe.
Following the climate protest led by Greta Thunberg, members of her team met with Dr. Terry to plan the premiere of four videos made by Greta and her team of her sail across the Atlantic Ocean to attend COP25. The videos will be featured on YCR's interactive map of climate change-related films. There was also interest in adding the map to the EUROCLIMA website, as a data resource for its members. EUROCLIMA is a European Commission programme which aims to encourage cooperation between Latin America and the EU on climate change issues.
Dr. Terry also met with the Canadian ambassador to Spain, Matthew Levin, to discuss the use of geo-doc projects for diplomatic missions, before meeting officials of UNDP, UNFCCC, and Earth Day organizers who expressed great interest in geo-media approaches to policy influence and education.
Read below for Dr. Terry's reports from the event.
---
Below are updates Mark Terry wrote from COP25.
December 2
We hit the ground running as we landed in Madrid for Day 1 of the UN climate summit, COP25. The Youth Climate Report's Inuit students from Tuktoyaktuk premiered their film "Happening to Us" today to a packed auditorium at the convention's Indigenous People's Pavilion. The screening was followed by circle discussions with the young filmmakers who spoke directly to delegates of the impacts of climate change on their community.
Team Tuk
These young filmmakers travelled nearly 5,000 miles from Tuktoyaktuk on the shores of the Arctic Ocean to show their film "Happening to Us" to delegates attending the UN climate summit in Madrid. The Youth Climate Report is proud to present them at a press conference tomorrow morning at 10:00 in Press Conference Room MOCHA in the Blue Zone.
December 3 - Press Conference
Our press conference this morning was a huge success. The young filmmakers from Tuktoyaktuk handled themselves like pros and provided keen insight into the impacts of climate change on their community.
December 4
A day focused on science and economics saw the emergence of a new hashtag: #makethempay in reference to fining/taxing corporations found to be responsible for environmental damage. Greta Thunberg still a no-show and her dance card is getting full. Met with her Belgium counterparts who want to provide some #FridaysForFuture video to the Youth Climate Report project. More packed screenings for the Inuit youth.
December 5 - World Youth Day & Greta Arrives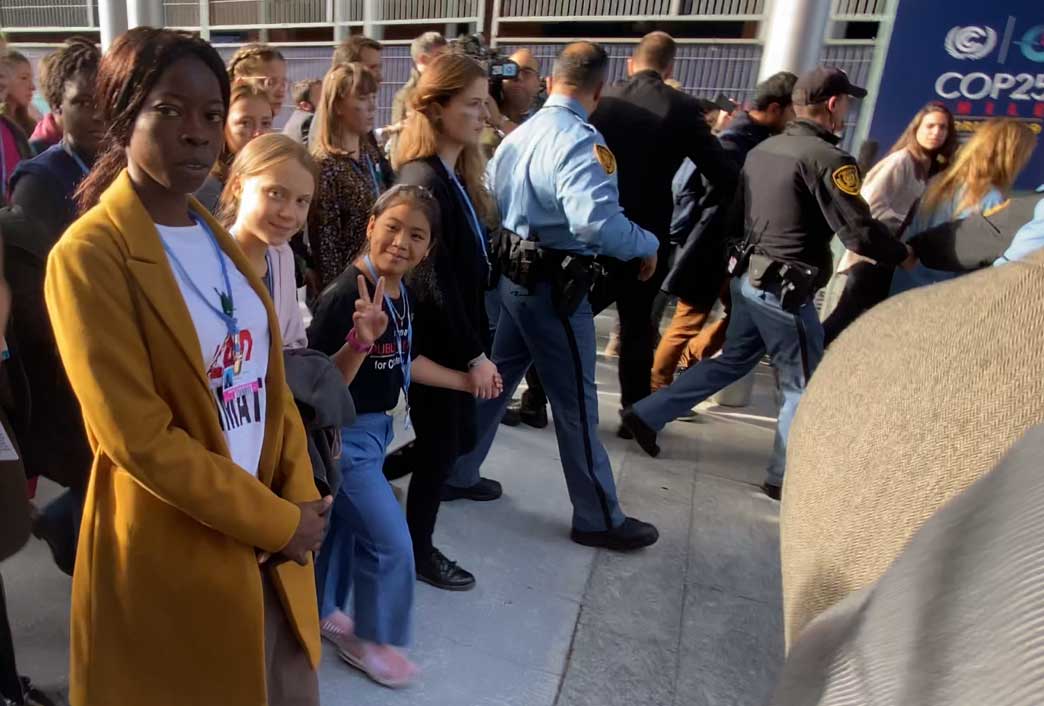 Our busiest day yet: We led a march of young people through the conference halls with the Youth Climate Report banner and chanted to the tune of Queen "We want, we want...ACTION!".
Climate ambassadors representing six continents gave a talk at the official opening ceremonies this morning. I couldn't be more proud that Nathan, Eriel and Carmen - three Inuit youth on Team Tuk - represent the continent of North America! They capped off Nathan's speech with a dance that brought the house down - in tears. Such a wonderfully emotional experience at an event that is frequently all business.
And lastly, the Youth Climate Awards for the Global Youth Video Competition were handed out during a lavish event that began with an orchestra of youth using familiar musical instruments made from recycled garbage. It was a classical orchestra. I was a presenter for one of the three awards and more pics of that will come when the photographers send them to me. Incredible opportunities galore after meetng with UNDP, UNFCCC, Earth Day organizers, and more. Great interest in geomedia approaches to policy influence and education and outreach.
On top of all that, Jaro Malanowski, a member of Team Tuk and our Youth Climate Report delegation, snapped an amazing picture of Greta Thunberg making her arrival at COP25.
December 6
Greta Thunberg arrives and thousands march through the streets of Madrid as part of her #FridaysForFuture climate protest marches. I met with her Belgium counterparts to coordinate adding her videos to the Youth Climate Report. Met with European leaders to present the YCR GIS map project. They will be adding the map to their EUROCLIMA website as a data resource for its members.
December 7
Had a great meeting today with one of Greta Thunberg's team. The Youth Climate Report will premiere the footage of her sail across the Atlantic Ocean to attend COP25 in Madrid. Up to four videos made by Greta and her team of youths will debut on our GIS map by the end of COP25 next week. Also met with Canada's ambassador to Spain Matthew Levin to discuss how geo-doc projects can serve diplomatic missions. In other news, I toured Madrid this afternoon and visited the famous Mercado de San Miguel (St. Micheal's Market).
December 8
COP25 is closed today as most businesses and government offices regularly are on Sundays in Spain. Today, I was invited by the Spanish government to visit the Royal Palace, mainly a tourist centre now, although it does serve as a location for many official functions still. It is the biggest palace in all of Europe and very ornate and beautiful as well.
You may also be interested in...
No items found