Research Assistant, Digital Global Health & Humanitarianism Lab [S20]
Intern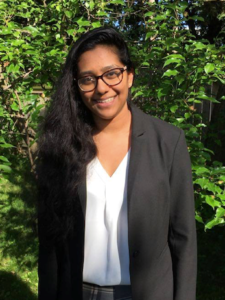 Laksmiina Balasubramaniam completed her Bachelor of Science specializing in Psychology at the University of Toronto. Throughout her undergraduate degree she worked on teams to design and conduct studies on well-being and its intersection with social media use, relationships, and ageing. She was also actively engaged in advocacy efforts with various non-profit organizations including the U of T Chapter of the Heart and Stroke Foundation and Roots of Empathy.
Laksmiina is currently entering her second year of the combined JD/Master of Public Policy Program at the University of Toronto. In her first year at law school she was an active member of the International Human Rights Program (IHRP) Global Health Working Group. After working at Amnesty International Canada as an IHRP fellow over the summer of 2020, she plans to continue working in public interest law with a focus on health and privacy issues.
At the Dahdaleh Institute, Alisha assists Research Fellow Jennie Phillips' research on the digital response to COVID-19.
You may also be interested in...