York University's commitment to the dissemination of knowledge has been the foundation of many exciting and innovative programs and partnerships. One recent example of this is gaining traction from universities across the nation and, in doing so, solidifying York's role as a trailblazer in knowledge mobilization.
Krista Jensen, knowledge mobilization officer in Innovation York's Knowledge Mobilization Unit, helps connect academic research with public policy and practice. She runs MobilizeYU, an engaging and hands-on program to support researchers in mobilizing their research and making it accessible.(Note: The course is called MobilizeYU, but for audiences outside of York the name is adapted to MobilizeU.)
"A lot of research is publicly funded, and we feel there's an obligation to bring that research back to community," she explains. "It's really all about making research useful."
Jensen sat down with Laila Sheather, a work/study student in the Office of the Vice-President Research & Innovation, to discuss MobilizeYU.
Q: Please describe MobilizeYU and its key audience.
A: Our mandate is to connect academic research with people outside of the University. We've been in operation since 2006, and something we've been hearing over the last couple years is the desire to learn more about what knowledge mobilization is – it's not a very intuitive term – and people might not be sure how to do it.
Three years ago, we decided to put together an eight-week course to come up with something more comprehensive. We wanted to give people some hands-on skills that they could use for research projects or when developing grant applications.
MobilizeYU is aimed at all faculty members, postdocs, grad students, staff, recent alumni (graduating in the last two years) and community partners. We have accepted people outside of York to come, but we often charge them for it. It's free for anybody at York and their community partners.
Q: How has it expanded recently to Making the Shift, Research Impact Canada and other universities?
A: Some of our partners at Research Impact Canada, a network of universities committed to maximizing the impact of academic research for the public good, come from smaller institutions that don't have the capacity to develop a whole course. When we were planning this summer, we decided this would be a good opportunity to see if some of them could join us. Every university has its strengths, and we thought there might be some modules they'd be able to provide some information for.
About 15 members from Making the Shift are going to be taking the course this summer and they come from all different universities and organizations across Canada. Making the Shift contributes to the transformation of how we respond to youth homelessness through research and knowledge mobilization specific to youth homelessness prevention and housing stabilization.
For this summer, we launched a pilot working with the University of Winnipeg and Memorial University, so that's been pretty exciting because we've really expanded the reach and offered new content to participants. Last summer we had 85 people register and this summer we've had just over 140.
These collaborations have also created innovative content in other universities, such as the University of Winnipeg's new focus on Indigeneity, by creating a module on Respectful Knowledge Mobilization with Indigenous communities.
In addition to our participants from York, the University of Winnipeg and Memorial University, we've had diverse participants from organizations such as the Manitoba Research Alliance, Lawson Health Research Institute, Kenora Chiefs Advisory, Gambling Research Exchange Ontario, Arthritis Society and voicED Radio Canada. Participants also come from Western University, Saint Mary's University, University of Manitoba, University of Alberta, Carleton University, University of Windsor, Ontario Tech University, Queen's University, University of Victoria, MacEwan University, Dalhousie University and Maskwacis Cultural College.
We've reached a wide scope of participants and supported more than 280 internal stakeholders over the span of three years, including those from Making the Shift.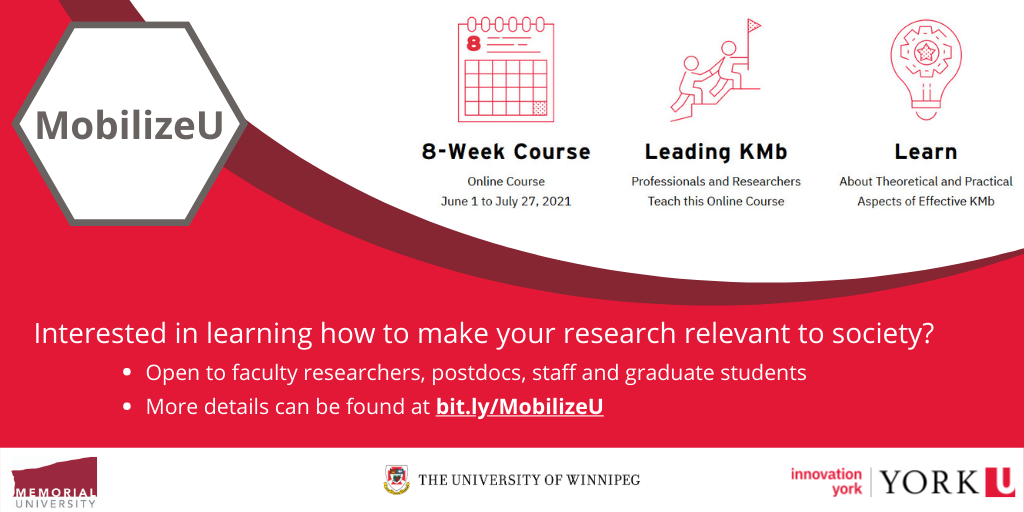 Q: What's next for the program?
Recently, we've been working on customized versions of the course for people outside of York. Last fall, the Student Association of Gerontology – Student Connection @ York – worked with us to put together an eight-week course and pick topics specifically related to gerontology. About 80 students had taken the course and we got great feedback. We featured gerontology researchers who discussed their knowledge mobilization strategies, which allowed students to gain more specific knowledge. We also wrote a paper with them that was just submitted to a journal.
We also designed a customized course with the Pacific Forest Centre in early 2021, which is part of the Canadian Forest Service within Natural Resources Canada. We showcased forestry experts as guest speakers who shared more knowledge mobilization info that was specific to forestry.
These customized courses have given us access to a wide audience beyond York where we can showcase York's strengths. In the future, we hope to do more customized programs because they're a good way to grow the program and help York become further recognized as a leader in knowledge mobilization.
To learn more about the Knowledge Mobilization Unit (KMb), visit its page. To learn more about MobilizeYU, click here. For specific questions, contact Krista Jensen at kejensen@yorku.ca.
To learn more about Research & Innovation at York, follow @YUResearch; watch the new animated video, which profiles current research strengths and areas of opportunity, such as artificial intelligence and Indigenous futurities; and see the snapshot infographic, a glimpse of the year's successes.