Critical Femininities is an emerging field of study that seeks to examine femininity unhinged from "woman" (Dahl, 2012). In addition to elucidating and theorizing feminine and femme identities, Critical Femininities scholars follow traditions in non-academic femme writing and feminist and queer scholarship to understand femininity as subversive (Hoskin & Taylor, 2019), understand femme-ininity as a theoretical framework and a mode of knowledge production (Hoskin, 2017; Schwartz, 2018, 2020a), and understand femininity beyond identity as affective, assemblage, and lineage (Brightwell & Taylor, 2019; Dahl, 2017; McCann, 2018; Schwartz, 2020b).

If you would like to get involved in the Critical Femininities research network at York University, please contact us at criticalfemininities@yorku.ca.
---
News
---
Liminal: Proceedings of the Second Annual Critical Femininities Conference is now live!
The Critical Femininities Research Cluster's first publication is now available. The works included in this collection were all originally presented at Liminal: The Second Annual Critical Femininities Conference at York University in the summer of 2022 and they all respond to notions of liminality.
---
Upcoming Events
---
Still Brazen: Twenty Years of Queering Femininity
Launch and Listening Party
Date: October 21, 2023
Time: 1:00pm - 4:00pm EDT
Location: The ArQuives (34 Isabella Street, Toronto)
RSVP: https://arquives.ca/store/still-brazen-twenty
The foundational femme anthology Brazen Femme: Queering Femininity was published in 2002. Editors Chloë Brushwood Rose and Anna Camilleri curated a collection of prose, poetry, visual art, and theory that explored femme on its own terms and brought us new, complex understandings of femme experience that changed the conversation about queer femininities. Now, twenty years later, original contributors to the collection and emerging femme writers and scholars come together on this podcast to talk about femme's past, present, and future.
Join us in person at The ArQuives on Saturday, October 21, to celebrate the launch of Still Brazen: Twenty Years of Queering Femininity. Come out for the chance to listen to all six podcast episodes before they're online, see ephemera from the early days of Brazen Femme, and share your memories of the book and visions of femme's future.

Find out more about the podcast here.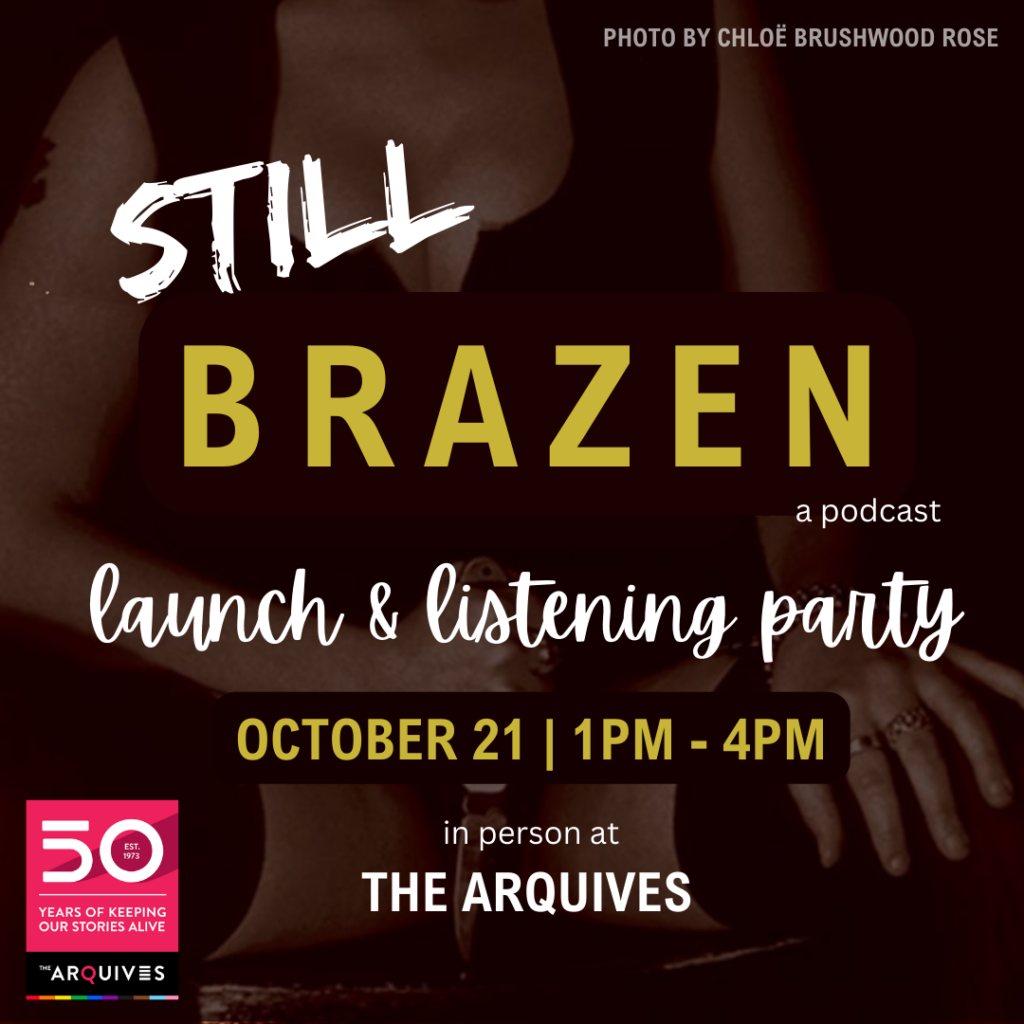 ---
Past Events
---
Irreverence: The Third Annual Critical Femininities Conference
August 17-19, 2023 | Online

The Centre for Feminist Research at York University will host the third annual Critical Femininities Conference on the theme of "Irreverence." The conference will take place virtually on August 17-20, 2023.
To be irreverent is to show disrespect where respect is demanded, to be flippant in the face of serious situations, and to satirize what others hold sacred. In western culture, the mother, the virgin, and the queen are figures of femininity that are often held sacred, exemplifying the entrenchment of idealized feminine characteristics such as domesticity, piety, and (hetero)sexual or moral purity. But for decades, irreverence has been woven into camp and poststructuralist approaches to femme theory, which insist that femme is an intentionally ironic performance of this idealized white, cis-heterosexual femininity (Albrecht-Samarasinha 1997; Case 1988; Duggan & McHugh 1996). Irreverent attitudes toward femininity—especially white, heterosexual, and colonial femininities—are also integral to other queer cultures and modes of critique: in recent years, hypersexual and outrageous impersonations of the sacred feminine figures the Virgin Mary and Queen Elizabeth (I and II) have been presented on the mainstage of TV's Rupaul's Drag Race. In this way, irreverence has wrought countercultural styles of femininities that relate to punk, drag, sex work, working-class, Indigenous, and racialized sensibilities (Bailey 2014; Chepp 2015; McCann 2016; Padaan 2023).
See the full CFP here. If you have any questions, please contact us at criticalfemininities@yorku.ca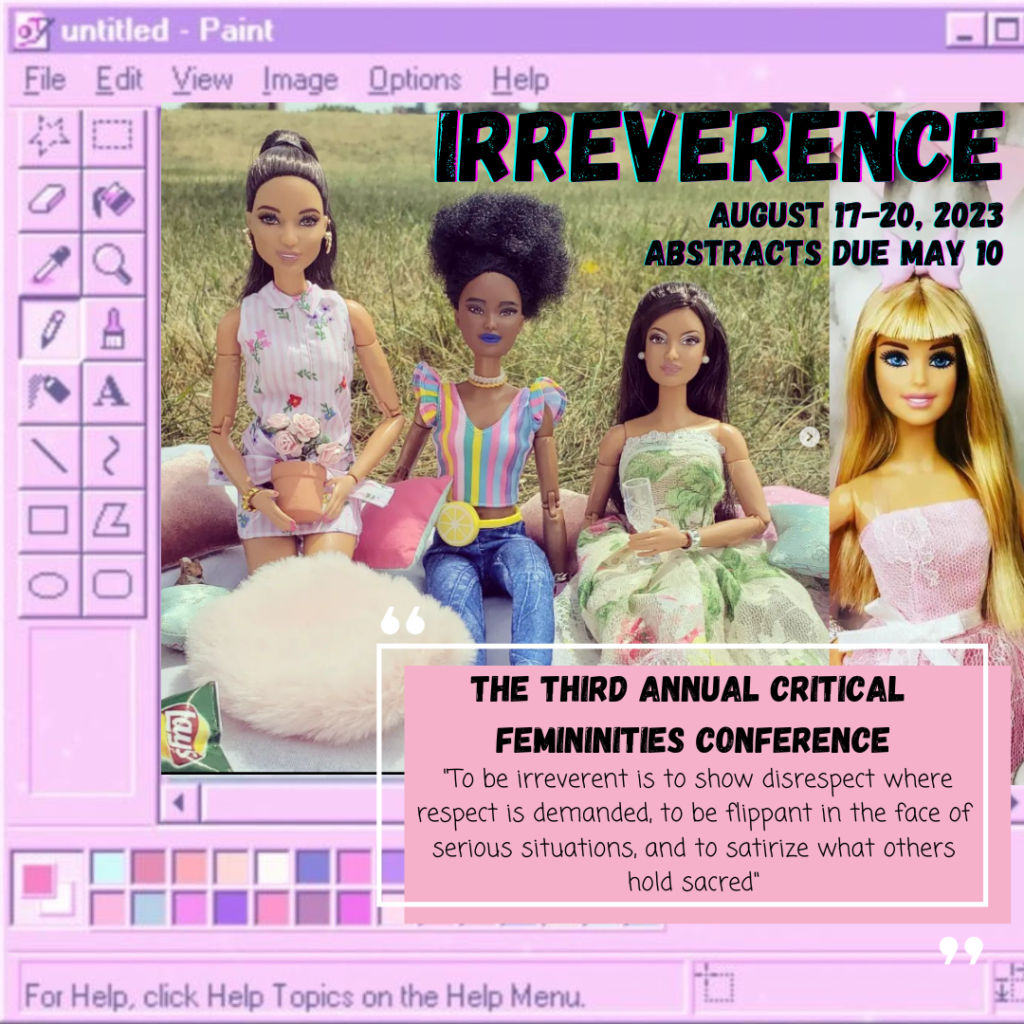 ---
Dying But Fine: Memeing the Void
A Workshop with Kristel Jax
Date: Friday, August 18, 2023
Time: 1:30pm - 3:00pm EDT
Location: Online via Zoom
How can one infiltrate the zeitgeist with stealth, accuracy, and grace? In this Zoom workshop artist Kristel Jax of niche online humour operation @DyingButFine (rumoured to be indirectly inspirational to 2023 box office smash Barbie) will aim to answer any question you've ever had about making, and sharing, memes.
Kristel Jax runs Instagram meme account @DyingButFine, a parody retreat where trademarked dolls are free to embody chaos, nihilism, and catharsis. Jax aka Brigitte Bardon't is the host of Drone Therapy Podcast, and shares the only real estate she'll ever own, a once-curbed, 2015 era Barbie Dream House, with her mini pug, Lana.
This workshop is part of the Irreverence conference and open to all. Click here to register for the conference.
---
Femme Fiction: Irreverence, Resistance, and Intersectionality
Keynote Address by SJ Sindu
Date: Saturday, August 19, 2023
Time: 1:30pm - 2:30pm EDT
Location: Online via Zoom
What does it mean to write and create stories from a femme perspective? As a queer, genderqueer femme Tamil diaspora writer, I approach my art from a heritage of resistance. In this talk, I'll trace the histories, theories, and politics that inform and interact with my creative practice, with a focus on irreverence as a technique to subvert expectations in the publishing industry.
SJ Sindu is a Tamil diaspora author of two literary novels (Marriage of a Thousand Lies, which won the Publishing Triangle Edmund White Award; and Blue-Skinned Gods, which was an Indie Next Pick and a finalist for the Lambda Literary Award), two hybrid chapbooks (I Once Met You But You Were Dead and Dominant Genes), two graphic novels (Shakti and the forthcoming Tall Water), and one forthcoming collection of short stories (The Goth House Experiment). Sindu holds a PhD in English and Creative Writing from Florida State University and is a co-editor for Zero Street, a literary fiction series featuring LGBTQ+ authors through the University of Nebraska Press. Sindu is an assistant professor at Virginia Commonwealth University. More at sjsindu.com or @sjsindu on Twitter/Instagram/Threads.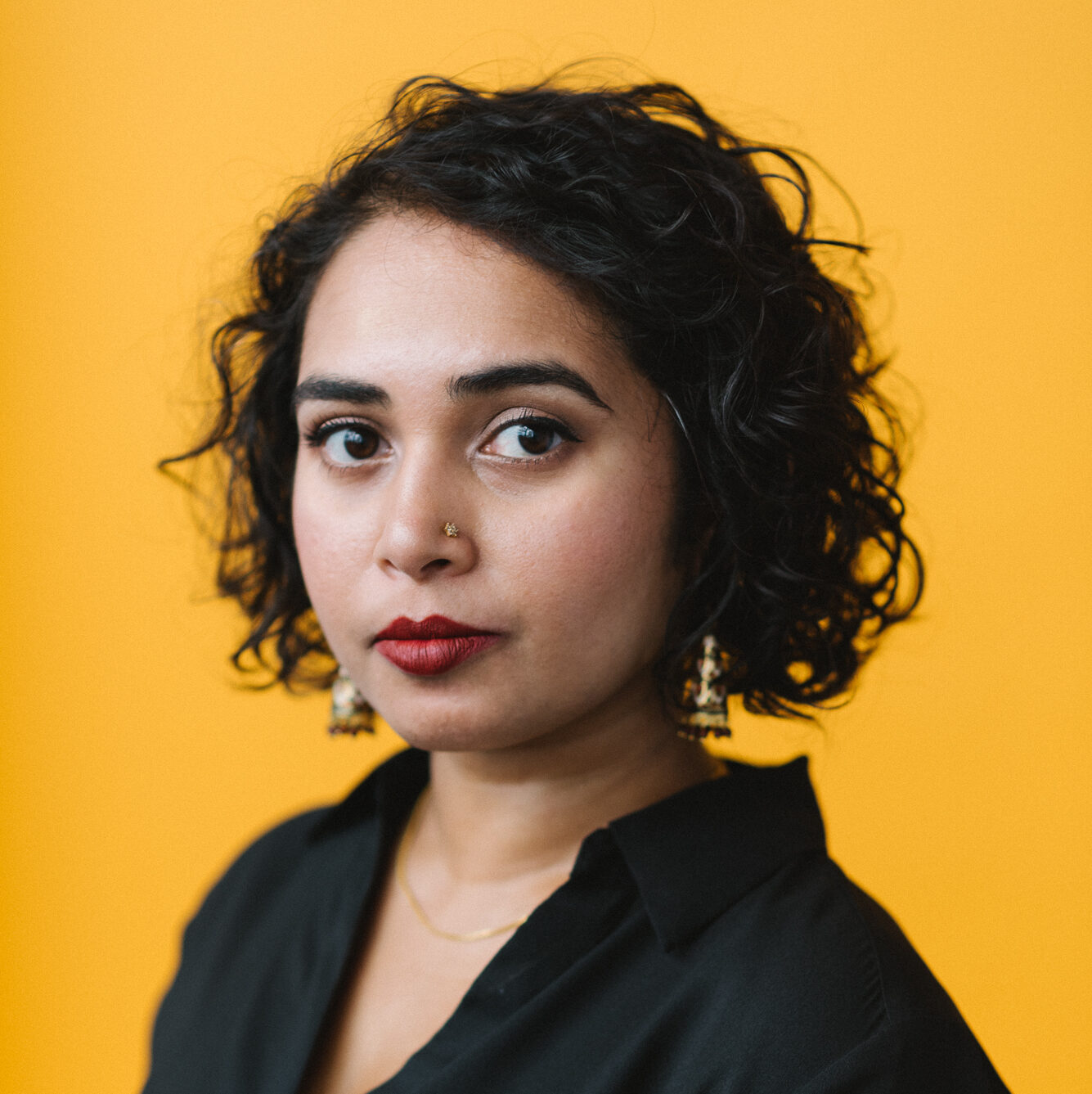 ---
The Critical Femininities Research Cluster at Congress 2023 | Critical Femininity Studies: Current Questions and Future Directions
Roundtable with Andi Schwartz, Jade Da Costa, Laura Brightwell, Hannah Maitland, Cassie Osei, Jessie Taieun Yoon & Lindsay Cavanaugh | Presented at SSA | 9:00AM - 10:30AM EDT | CLH K
In 2012, Ulrika Dahl began to define the field of critical femininity studies. Calling for an analysis of femininity beyond its ties to femaleness and its critique as a source of oppression, Dahl suggested we consider femininity as a genre "in all its variations, representations, and materializations (p. 61)." Dahl argued considering femininity's many genres enables us to theorize affective and power relations between femininities, especially as demonstrated in antiracist and postcolonial inquiries on femininities. For example, many scholars in these fields have considered femininities that diverge from white norms, in particular with regards to racialization, colonialism and transness (Aizura, 2009; Cheng, 2019; Huang, 2022; Keeling, 2007; Panuska, 2019; Reddy, 2016; Zuo, 2022). Now, ten years after Dahl's initial sketch of the field was published, this roundtable will illuminate the directions the field has already taken—and where it still needs to go.
---
---
Cluster Members
---