September 17, 2021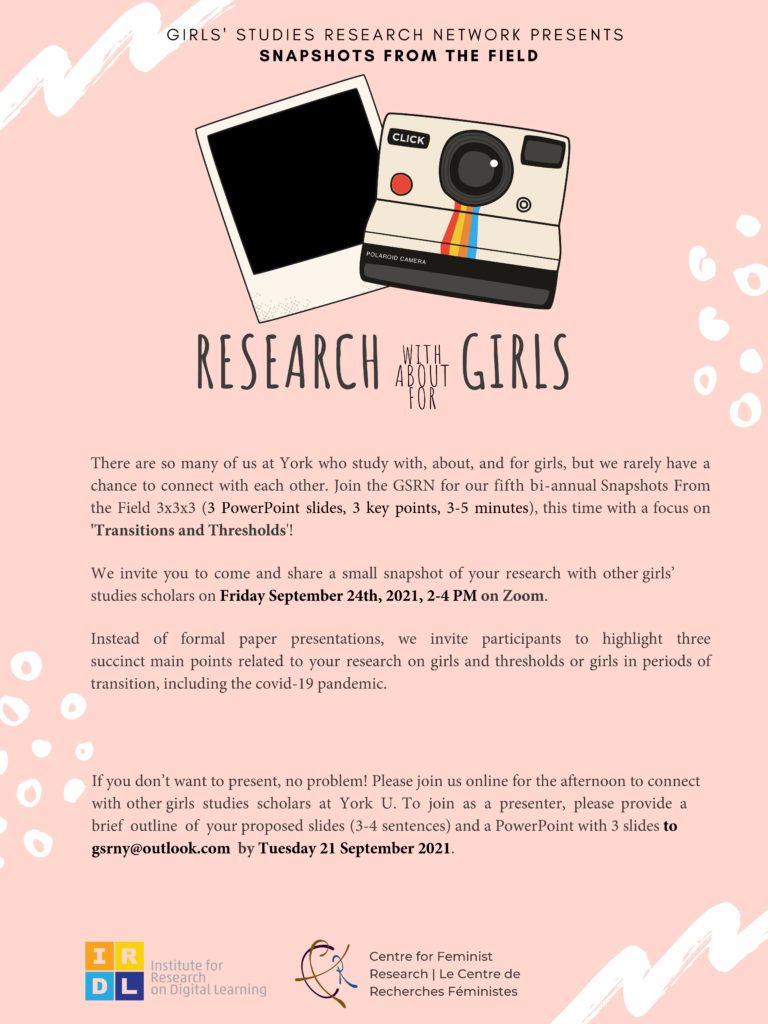 ---
September 16, 2021
The Girls Studies Research Network held a Pan-Canadian panel on Girls Studies: The State of the Art at the Interdisciplinary Feminist Sessions, Women's and Gender Studies et Recherches féministes conference on 30 May 2021. The panel was chaired by Deanne Williams, and GSRN members discussed the 'girl effect' (Anuppiriya Sriskandarajah), girls as knowledge producers (Natalie Coulter), girl performers and the law (Clara Chapdelaine-Feliciati), as well as Indie girl culture (Morgan Bimm) and the 'Tomgirl' in child literature (Ameera Ali), along with faculty from other Canadian universities who presented papers on how Black girls use social networks (Kisha McPherson, UBC, Vancouver), historical accounts of French minority young girls (Marie-France Guénette, université Laval, Québec) and inclusive digital literacy for girls (Amélie Lemieux, Mount St Vincent University, Halifax
---
July 22, 2021
Anuppiriya Sriskandarajah, assistant professor in the Department of Humanities and co-investigator Desirée de Jesus, assistant professor in the Department of Communication and Media Studies were awarded a Connection Grant of $15,934 for their project "Motion, Stop, Motion: Self-Imaging Racialized Girlhoods in the Time of COVID-19." The workshop aims to equip racialized girls and young women from immigrant communities with film production and editing skills to creatively express their lived experiences of the pandemic and their imagined futures post-COVID-19.
"In the context of Covid-19, inequalities that many racialized communities were all too familiar with have become more difficult to deny by the general public. Covid has exacerbated these existing inequalities and brought to the fore many discussions that often went unheard," Sriskandarajah said. For both Sriskandarajah and de Jesus, the project is timely and can result in a fruitful examination of an untapped research area with tangible engagement with the community at-large.
"While there are many anticipated outcomes, we believe that the creative expression of the girls' critical insights will also enrich youth workers' and policy makers' efforts to design effective recovery initiatives," de Jesus said.