Post
Published on 3 November 2022
ELRHA will be launching the third paper in its series on scaling up humanitarian innovations at an online event on November 23, 2022.
The new learning paper, "How to Scale: Tactics to Enable the Adoption of Humanitarian Innovations", provides a playbook of tactics for those aiming to scale up humanitarian innovations by enabling organizations to adopt their innovations.
The report draws on lessons learned in the scaling journey of several ELRHA-funded humanitarian innovations, including the Dahdaleh Institute's own Safe Water Optimization Tool. The report features a foreword by Dr. Syed Imran Ali, Dahdaleh research fellow and lead on the Safe Water Optimization Tool project.
Date: Wednesday, November 23, 2022
Time: 8 to 9 a.m. ET
Location: Online via Zoom
The event is open to everyone to attend.
To register, please visit the ELRHA event page here.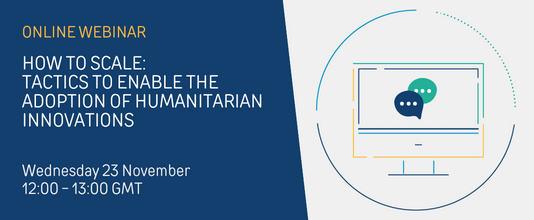 ---
You may also be interested in...