Post
Published on October 20, 2022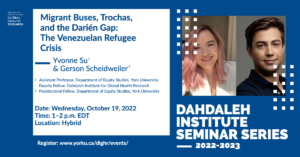 On October 19, the Dahdaleh Institute for Global Health Research and the Centre for Research in Latin America and the Caribbean co-sponsored a seminar with Yvonne Su (faculty fellow) and Gerson Scheidweiler (postdoctoral fellow).
Yvonne and Gerson shared their research on the experiences of LBTQI+ Venezuelan refugees in Brazil and the homophobia, xenophobia, transphobia, and gender-based violence they face, especially in the border cities of Pacaraima, Boa Vista, and Manaus. The presenters pointed out the feminization of shelters resulting from Brazil's interiorization process and the intersecting precarity and inter-diasporic discrimination that make LGBTQI+ Venezuelan refugees particularly vulnerable in Brazil.
The event provided an opportunity to discuss best practices for engaging in high-risk fieldwork with high-risk and hard-to-reach vulnerable communities.
Watch the seminar below.
You may also be interested in...