Post
Published on June 23, 2023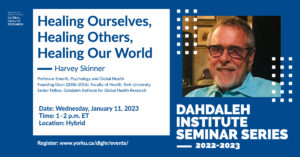 For most of us, our daily life continues to grow more difficult with challenges such as climate change, political instability, the aftermath of the COVID-19 pandemic, and a global sense of approaching doom. Now more than ever, practical ways are needed to manage stress and increase our energy. According to Prof. Harvey Skinner, we need not concentrate on fostering our personal wellbeing in order to have the resiliency for leadership in addressing these global challenges.
On January 11, during a seminar entitled, "Healing Ourselves, Healing Others, Healing the World," Prof. Skinner explained that we can engage in traditional Eastern healing practises, such as Qi Gong (Tai Chi), Mindfulness Meditation, and Yoga to promote our wellbeing. Such practises promote mindfulness and strengthen our connection to the world for which we are working to improve. Until recently, these traditional practices were dismissed by Western biomedical professionals as being unrelated to physiological health. However, there is a growing body of Western empirical evidence that suggest stretching movements (as demonstrated through Qi Gong) helps prevent ourselves from living in a stressful "fight-or-flight" mode.
At closing, Prof. Skinner, Dr. James Orbinski, and attendees agreed that we need healthy people to work in global health. Therefore, the Dahdaleh Institute introduced a Wellness and Self-Care mini-series starting February 1, 2023.
Watch the seminar presentation below:
Connect with Harvey Skinner
You may also be interested in...