Post
Published on August 8, 2023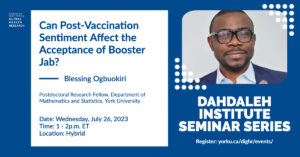 In the past, trending tweets have demonstrated their potential to influence the behaviours of individuals both online and in the real world, as seen with movements like #ObedientsMovement, #OperationDudula, and #FeeMustFall. Recently, on July 26, 2023, Dahdaleh research fellow, Blessing Ogbuokiri, shared insights into his comprehensive analysis of over 242,000 tweets discussing the COVID-19 booster vaccine from January 2022 to October 2022. The primary objective of this research was to explore the correlation between the sentiments expressed by Twitter users from nine African countries towards vaccination and the actual vaccine uptake.
Utilising topic modeling, particularly Latent Dirichlet Allocation (LDA), Blessing and his research team successfully created distinct topic categories, including booster safety, booster efficacy, booster type for Omicron, booster uptake, and general vaccine uptake. They meticulously categorised each tweet into one of these five topics, based on whether it conveyed a positive, negative, or neutral tone.
Upon analysing the data, Blessing observed that different countries exhibited varied responses across the five topic categories. For instance, Botswana garnered positive sentiments in all sections except for vaccine uptake. On the other hand, Namibia and Mozambique indicated that their citizens perceived booster safety as high, but vaccine uptake remained low. It became apparent that several factors played a significant role in vaccine acceptance, such as vaccine availability, personal beliefs, access to information, and existing health conditions. These factors may account for the comparatively lower rates of booster vaccinations observed in Cameroon and Eswatini.
His research revealed that, on average, approximately 45.5% of tweets discussing post-vaccination topics carry a positive sentiment. Despite this, the uptake of booster vaccines remains relatively low. Blessing emphasised the significance of post-vaccination sentiment in driving higher acceptance of booster shots. When individuals have a positive experience with their initial vaccination, it can serve as an encouraging factor for them to consider getting boosted in the future. Furthermore, such positive experiences can inspire others to follow suit.
Twitter, as a powerful social media platform, holds the potential to be a valuable tool for policymakers if they can access and utilise this data effectively. Blessing highlighted that by effectively publicising and communicating the benefits of vaccines, trust in the vaccination process can be built and the acceptance of booster shots can be increased. This highlights the importance of transparent and effective communication in shaping public perceptions and behaviour towards vaccination.
Overall, Blessing's findings underscore the crucial role of post-vaccination sentiments in promoting vaccine acceptance and uptake. By leveraging social media data, policymakers can better understand public perceptions and attitudes towards vaccination, enabling them to design targeted strategies and interventions that foster positive vaccine experiences and encourage higher uptake of booster shots. Effective communication of vaccine benefits can lead to increased public trust in vaccination efforts, ultimately contributing to improved public health outcomes in the face of infectious diseases like COVID-19.
Watch the seminar presentation below:
Connect with Blessing Ogbuokiri
You may also be interested in...