A new book by Natasha Tusikov, assistant professor in the Criminology program in the Department of Social Science at York University, investigates the hotly contested role of the state in today's digital society. Power and Authority in Internet Governance (Routledge, 2021) asks: is the state "back" in internet regulation? If so, what forms are state involvement taking, and with what consequences for the future?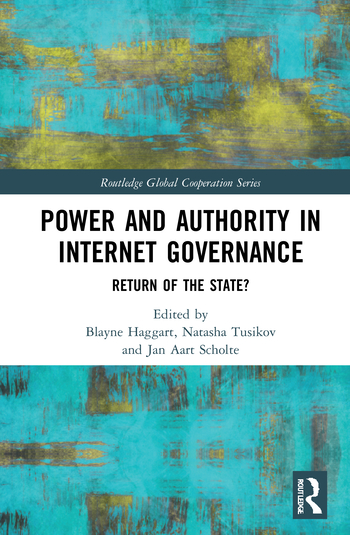 Co-edited with Professors Blayne Haggart of Brock University and Jan Aart Scholte of Leiden University in the Netherlands, the book brings together emerging and senior scholars from multiple disciplines – political science, international political economy, economics, business studies, communication studies, global studies, criminology, and technology ethics – and covers several geographical areas – China, Russia, the European Union, Brazil and North America. This diverse set of countries and regions allows for a comprehensive exploration of the ways in which forms of state, industry actors and civil society interact to shape internet regulation and governance domestically and globally. Through 10 case studies spanning the globe, and featuring experts from across the social sciences, this timely volume explores the future of internet governance at a time when its course has never been more unclear.
Power and Authority in Internet Governance aims to affect policy debates by moving the discussion of internet governance beyond a simplistic dichotomy between liberalism and authoritarianism in order to also consider greater state involvement based on values of democracy and human rights. The book's goal is to lay the groundwork for a more critical and nuanced discussion of both how the internet is governed, and how it should be governed.
The volume grew out of workshop in July 2019 hosted at the Käte Hamburger Kolleg/Centre for Global Cooperation at the University of Duisburg-Essen in Germany, which brought together senior and emerging scholars from North America, Latin America and Europe. Tusikov and Haggart were inaugural internet governance research fellows at the Centre in 2019.
Tusikov's research examines the intersection among law, crime, technology, and regulation. In addition to this new book, she is the author of Chokepoints: Global Private Regulation on the Internet (University of California Press, 2017). Before obtaining her PhD at the Australian National University, she was a strategic criminal intelligence analyst and researcher at the Royal Canadian Mounted Police in Ottawa.
Power and Authority in Internet Governance launched March 15.
Courtesy of YFile.