Collaborative storytelling, music, imagery and lived experience merge in an exciting new children's storybook called Zahra and the Lost Voices written and illustrated by newcomer refugee children in the GTA in collaboration with a team of researchers from York University.
An event to celebrate the pre-launch of the book will take place March 27 at 3:30 p.m., and will be presented by the Nai Children's Choir, a program that focuses on music, relationship-building and the well-being of refugee families.
The storybook is the outcome of a collaborative project between the Nai Children's Choir, Toronto Public Library, and the Connecting Culture and Childhood Project led by principal investigator and York University Associate Professor Andrea Emberly (Children, Childhood & Youth Program, Faculty of Liberal Arts & Professional Studies).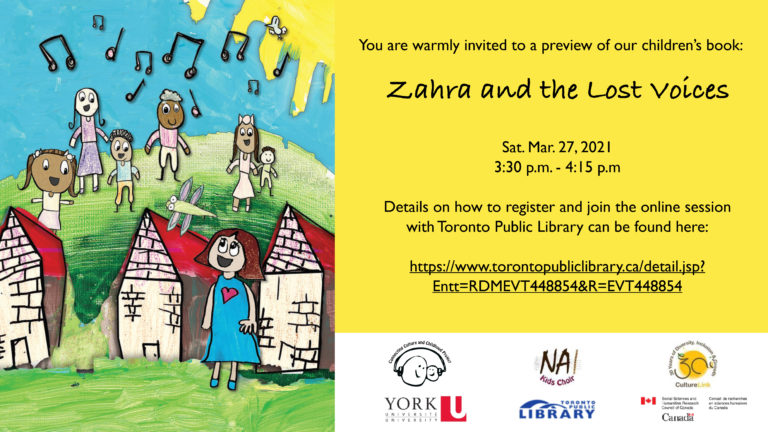 The online event is geared toward children ages six and up (attending with an adult) and aims to celebrate the story of Zahra through a child-led and creative process. Those in attendance will join Zahra on a quest to find the lost voices stolen from her village by an evil wizard, and along the way will meet an eagle, a mermaid, a firefly and children from around the world. After learning about, and participating in Zahra's adventures, youngsters will be invited to partake in activities such as creating their own stories.
Zahra and the Lost Voices is authored by children who participate in the Nai Children's Choir, which was founded in 2016 by a team of staff and volunteer musicians at CultureLink Settlement Services, a community organization with more than 30 years of experience delivering services to meet the needs of diverse communities. The Nai Children's Choir offers children and youth a space to express themselves through free weekly music education, singing, art-making and other activities.
Emberly says the children participating in the choir and contributing to the book have shared their positive feedback on their experience. "A Nai Choir member and key contributor to the storybook and the song, told us 'People are so friendly, and you get to learn new music, new languages, and people make you feel welcome' and said because of her involvement with Nai Choir, she will 'keep singing forever,'" said Emberly.
Zahra and the Lost Voices also includes a song composed by Nai Children's Choir called Music is for Everyone to Share, which will be shared during the online event. The song was recorded in partnership with Toronto producer, engineer and arranger, Lisa Patterson, along with Kate Reid, York University Postdoctoral Fellow on the Connecting Culture and Childhood Project.
Reid, a Canadian singer-songwriter, recording artist and public academic, has been working for many years at the intersections of music, performance, play, education and social justice. Reid has produced audio and visual material culture in the form of songs and digital stories as a solo artist, and in collaboration with children, youth, adults and various research projects at York, the University of Toronto and the University of Guelph. Reid was recently awarded a Social Sciences and Humanities Research Council (SSHRC) Explore Grant to collaborate on a songwriting and recording project with children of the Nai Choir. Nai Choir songwriters and Reid will share their work-in-progress at the upcoming Children, Youth, and Performance Conference hosted by Young People's Theatre in partnership with York University in Toronto in June 2021.
Information about purchasing Zahra and the Lost Voices in both e-book and hard copy format will be shared at the event. The project and event are supported by Toronto Public Library, the Nai Children's Choir, CultureLink, York University, and SSHRC.
To register for this free event on Saturday, March 27 from 3:30 to 4:30 p.m., visit the Toronto Public Library's Kids Page.
Courtesy of YFile.