Four professors in the Faculty of Graduate Studies (FGS) were honoured with teaching awards during a ceremony that recognizes the diverse and dedicated community of scholars housed at York University.
The unique celebration honoured professors Michaela Hynie and Mike Zryd as 2019-20 recipients, and professors Michele Johnson and Sandra Schecter as the 2020-21 award recipients. The event was held virtually, and was attended by more than 100 people over Zoom.
"It is so wonderful to see that all four recipients were able to join us today, and I would like to take this opportunity to personally recognize all of you for your exceptional contributions to graduate education at the University," said President and Vice-Chancellor Rhonda L. Lenton during the virtual Faculty Council held on May 6.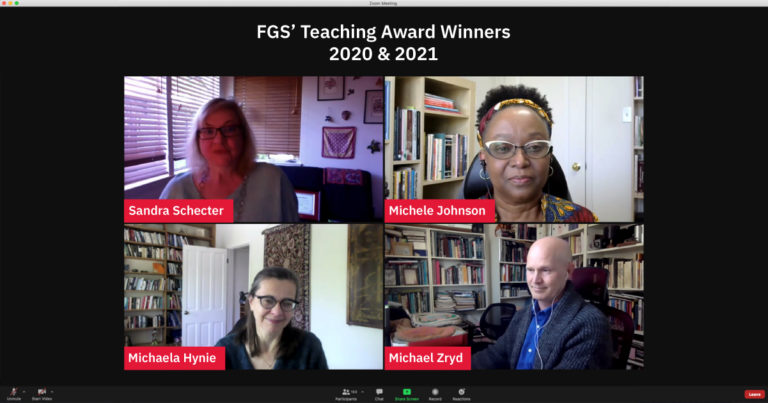 All awards were presented by FGS Dean and Associate Vice-President Graduate Thomas Loebel. He remarked on the vital work of the recipients. "The Faculty of Graduate Studies' Teaching Award is bestowed annually on a member of the Faculty of Graduate Studies who has displayed not simply excellence, commitment and enthusiasm to the multifaceted aspects of teaching at the graduate level at York, but rather excellence alliteratively, adjectivally qualified," he said.
The celebration included recognition of the 2019-20 award winners, who were recognized this year due to the postponement of last year's ceremony.
The 2019-20 recipients are: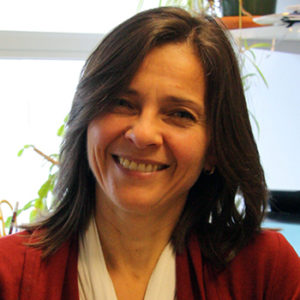 Michaela Hynie is a professor in the graduate programs in Psychology, Health, Kinesiology & Health Science, Development Studies, Environmental Studies, and Interdisciplinary Studies. Letters of support for her nomination noted her drive to provide students with fundamental skills needed to succeed outside of the classroom, such as becoming ethical researchers and creating projects that are meaningful to members of the larger community.
Hynie's work to address the challenges faced by refugee students, from housing support to financial aid, was highlighted. Her research addresses the development and evaluation of interventions that can strengthen social integration and inclusion in communities that have experienced social conflict or forced migration, whether through political and economic conflict or environmental change.
"Thank you to the students who went through all the trouble of nominating me… that is the biggest gift of all. I'm very moved," said Hynie.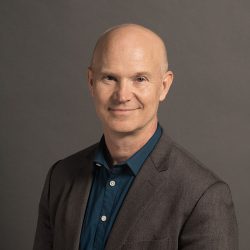 Mike Zryd is a professor in the graduate programs in Film, Communication & Culture, and Humanities, and was the second recipient of the 2020 award. He was noted for his intrinsic and internal pedagogical drive that supports students to reach the finish line in any endeavour they undertake. Zryd was recognized for his ability to motivate students in connecting critical course components to the advancement of their own research by providing them with the right tools and critical methodologies for their projects.
Nomination letters from current and former students highlight Zryd's generosity of time in various graduate endeavours, such as his steadfast participation in the department's Graduate Student Association events, including scholarship application support and TA training seminars.
"Grad teaching and supervision is always a collective activity. I want to thank the amazing staff, managers and decanal team at FGS, and all of the GPA and GPDs at the University," said Zryd. "I also want to thank the students… not quite sure what I teach them, but I learn an enormous amount from everyone."
The 2020-21 recipients are:
Michele Johnson, a professor in the graduate programs in Education, History, Social & Political Thought, and Theatre & Performance Studies, has served the University in a variety of important capacities. Her past roles include: co-ordinator of the Latin American & Caribbean Studies program; York's affirmative action officer; and director of the Harriet Tubman Institute for Research on Africa and its Diasporas. Currently, she is the associate dean, students, in the Faculty of Liberal Arts & Professional Studies.
Nomination letters emphasized Johnson's dedication to support every member of the York community. She is descried as selfless by constantly supporting not only her official advisees, but anyone in need. Johnson provides extensive encouragement to students as they navigate the academy and adapt to the unique demands of graduate education.
Johnson expressed gratitude to her support system after accepting the award, saying, "I'd like to thank my family, some streaming in from Ontario, Saskatchewan and Atlanta. I'm profoundly moved to receive this award, because it is the students at this institution who hold my heart. It is to those graduate students, who have trusted me to contribute to their dreams, to whom I would like to give my thanks."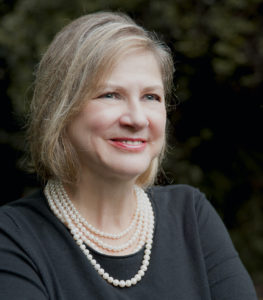 Sandra Schecter is a professor in the Graduate Program in Education. She deserves equal praise for her contribution to the York community. Since joining the University in 1996, Schecter has made sustained contributions to multiple fields of inquiry and has promoted an enduring commitment to anti-racist and social justice education. Furthermore, her work at York has been instrumental in new program creation of degrees and diplomas in the Faculty of Education.
Letters of support from students praise her direct instruction style and note her energetic personality and good-natured humour that demonstrate her consistent dedication and care.
"I am honoured and appreciate how much work goes into these nomination files when time is so valuable," said Schecter. "This award is just beautiful."
Courtesy of YFile.