When F. Tim Knight is finished his work day as an associate librarian and head of technical services for York University's Osgoode Hall Law School – a role he's held since 2006 – he takes on an alter ego.
Actually, he takes on one of four alter egos – and all of them make music.
Having turned to music in his youth, Knight has had the opportunity to explore music creatively, and more formally, throughout his journey. As a teenager, he would spend hours playing and teaching himself piano. He also picked up the drums, keyboard and guitar along the way.
In the early 1980s, his ambition to study music led him here to York University, where he earned a BFA. During that time, he learned about working in a studio, and studied electronic music with Phil Werren, composition with James Tenney and improvisation with Casey Sokol.
"It was a great experience and I'm grateful for the opportunities I had," he says. "I've always found music and sound to be a very magical, even spiritual, space that allows performers, creators and listeners an opportunity to tap into the essence of life."
Over the past year – with some extra time on his hands, due to the pandemic – that essence of life was translated into the first EP for his alter ego "freemoth," titled Why I'm Here.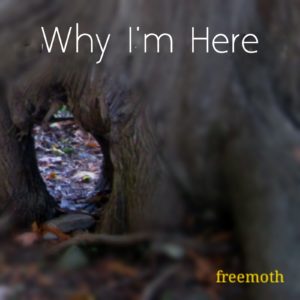 Released on March 23 on Bandcamp, the EP is the first from freemoth.
Written, recorded and produced over the past year, Knight says the six-song EP was born from a recently renovated home studio, and a new muse: the pandemic. Although he's always working on music, living in a new and evolving reality was a spark of inspiration.
"The EP certainly reflects on the challenges we are faced with at this time, especially 'This Submarine,' which was the first song written for this collection." And the title track, he says, came together after picking up his guitar one day and singing out, "I don't wanna die!"
As the pandemic progressed, with no end in sight, he spent more time translating his thoughts about life into music.
As for his musical style, he isn't sure he can quite pin it down.
"I guess my approach has been percussive by nature and this surfaces now in my guitar playing and arrangements. While there is a strong rhythmic element to my work, it's also a sonic exploration, where things are recorded and the sound is essentially sculpted to emphasize one thing or chiselled away to create the final piece of music."
This is where the different personas come into play.
"This EP, for example, is by freemoth, who writes and sings songs," explains Knight. "Then there is music by Silent K, which is instrumental and oriented toward an alternative, post-rock genre with some degree of experimentation. The Time Tailor is a prog rock/psychedelic explorer, and sonic(K) uses a software program called SonicPi to create experimental, ambient, musical environments and situations.
"There is certain amount of overlap, of course, but my cataloguer brain wants to sort it out like this at the moment," he adds.
Knight uses his home studio to record and produce his music, and credits advances in digital audio workstation (DAW) software for making high-quality recordings at home within grasp.
"For me, the DAW has become another musical instrument that I use to cultivate and discover the magic moments," he says.
Knight says he is always making music and, usually, he discovers something new whenever he picks up a guitar or sits down at his piano. This is what inspired the title for his first EP, No Shortage, released in 2005 by Silent K.
Knight is currently working on a full-length Silent K album, which he expects to be ready in July.
A selection of his musical pursuits can be found on his Knight Time Production page on SoundCloud. He is also on Instagram at @freedmoth.
By Ashley Goodfellow Craig, deputy editor, YFile
Do you have a "secret life" or know someone else at York who does? Drop us a line at yfile@yorku.ca with a brief summary of what makes you shine, or nominate someone you know at York. Use the subject line "My Secret Life."
Courtesy of YFile.