Post
Published on 13 June 2022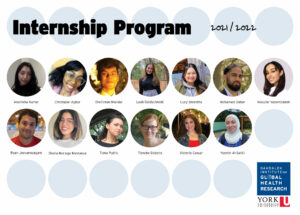 The Dahdaleh Institute worked with exceptional students this year through our Internship Program, which is founded in an experiential education approach. Students completed program practicums with us, were hired through the Research at York program, or volunteered their time as research assistants.
Congratulations and thank you to all the interns for jobs well done!
2021/2022 Interns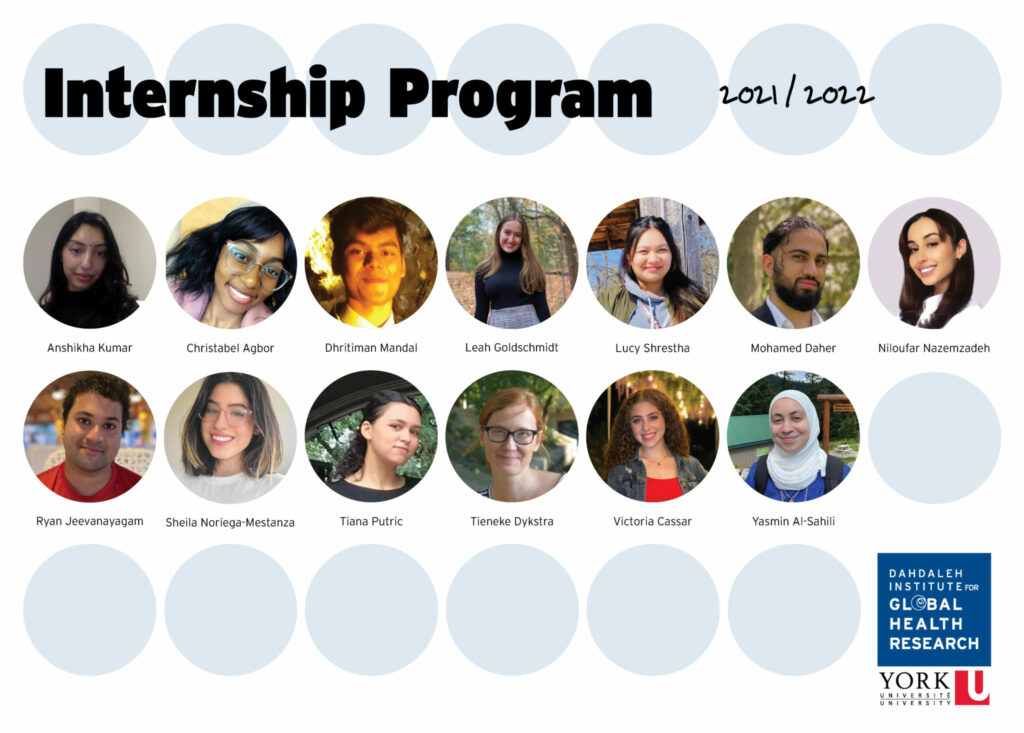 ---
Learnings & Doings
Mentored by faculty fellows and research fellows, interns learned firsthand about a range of today's global health challenges and how to address them through excellence in research. The internship program is coordinated by Theresa Dinh, who matched trainees with researchers and guided them throughout the experiential learning experience.
Hear from the interns themselves. The following students presented their work at the 2022 Dahdaleh Institute Intern Symposium on April 20, attended by Dahdaleh Institute fellows, faculty members, and staff:
Victoria Cassar (9:40): War, Disaster, and Migration
Yasmin Al-Sahili (15:34): Equity, Diversity, Inclusion, and Decolonization Within the School of Global Health
Niloufar Nazemzadeh (23:22): A Systematic Review on Integrated Climate-Biodiversity Action: Contributions to the Early Stages
Tieneke Dykstra (31:32): SMART Conservation in Belize
Anshika Kumar (55:42): The Global Governance of Antimicrobial Resistance
Christabel Agbor & Lucy Shrestha (1:01:32): Scoping Review on Performance Accountability in TB Antenatal Healthcare in Sub-Saharan Africa
Ryan Jeevanayagam (1:05:43)

Select Topics in Medical Humanitarianism
Themes

Global Health & Humanitarianism, Global Health Foresighting, Planetary Health

Status

Active

Related Work

N/A

Updates

N/A

People

Yasmin Al-Sahili

, Global Health Intern [FW21-22]

Victoria Cassar

, War, environmental damage/disasters, climate change, and forced migration, Global Health Intern [FW21-22; SU22; FW22-23]

Tieneke Dykstra

, SMART Conservation, Global Health Intern [S21;FW21-22]

Ryan Austin Jeevanayagam

, Research Assistant, Planetary Health [S20; FW20-21; S21; FW21-22]

Niloufar Nazemzadeh

, Synergies in Planetary Health Research, Global Health Intern [S21;FW21-22;S22]

Lucy Shrestha

, Global Health Intern [W22]

Christabel Agbor

, Performance Accountability in Maternal Care in Sub-Saharan Africa, Global Health Intern [W21; FW21-22; S22]

Anshikha Kumar

, Global Health Intern [W22]
You may also be interested in...