Synergies in Planetary Health Research, Global Health Intern [S21;FW21-22;S22]
Intern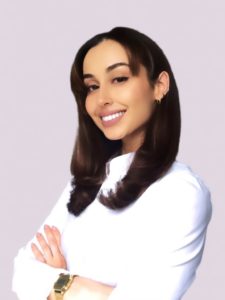 Niloufar is a current honours bachelor of science student majoring in psychology and minoring in biology at York University. She joined the Dahdaleh Institute for Global Health Research as a global health intern for the Synergies of Planetary Health Research Initiative and Lab. During her years as a science student, Niloufar cultivated knowledge on healthcare and environmental health. She understands that factors such as climate change, biodiversity loss, and health are interrelated, and through her assistantship, she aims to help the Synergies of Planetary Health Research Initiative and Lab team to achieve its mission of creating innovative methods for transforming our world into one that is more sustainable and just.
Niloufar is an aspiring medical practitioner with a goal of specializing in reproductive endocrinology and infertility, and she also wishes to serve as a volunteer medical practitioner in countries where the effects of climate change have significantly reduced the quality of life and access to healthcare has been limited.
Although Niloufar is very passionate about medicine, she is equally passionate about the social and political aspects of healthcare and their integration in the field of medicine; she recognizes these aspects as a very important and critical part of the healthcare system. Thus, under the supervision of Dr. Idil Boran, Niloufar wishes to further explore and maximize the synergies between the 17 UN Sustainable Development Goals, which will promote both well-being and planetary health.
You may also be interested in...