Post
Published on 1 May 2023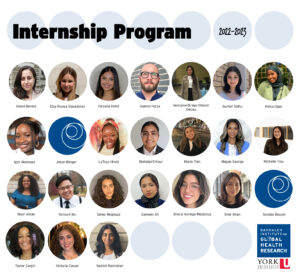 Over the course of the 2022-2023 academic year, the Dahdaleh Institute worked with numerous exceptional students through an Internship Program. Our Global Health Interns benefited from the unique opportunity to participate in various of stages of a research project, and gained valuable experience and insight into the field of critical global health research.
Congratulations and thank you to all the interns for contributing to another successful year!
---
2022/2023 Interns
---
Experiential Learning
Under the guidance and mentorship of faculty fellows and research fellows, interns learned about a wide range of pressing global health challenges and how to address them using effectiveness, equity, and excellence in research. The internship program is coordinated by Theresa Dinh, who matched trainees with researchers and guided them throughout the experiential learning journey.
This year, the following ten interns shared their experience in the internship program at the 2023 Dahdaleh Institute Intern Symposium on April 19.
Michelle Tieu (11:10): Global Health Design Seminar Series with Bruce Mau
Gurher Sidhu (18:25): Supporting the Institute and EcoSalud Project
Gabriel Fezza (23:05): Lessons from the Montreal Protocol for International Policymaking
Georgina Birago Odoom (29:13): House Insecurity Among People Living with HIV/AIDS in Kenya
Urmi Sheth (57:11): The Role of Artificial Intelligence in Non-Communicable Disease Prevention Policy
Sundas Begum (1:00:22): Global Health Lending Library at the Dahdaleh Institute
Taylor Cargill (1:06:55): Coordination of COVID-19 Decisions Across Canadian Post-Secondary Schools
LaToya Hinds (1:13:50): Communications and Global Health at the Dahdaleh Institute
Yashini Ravindran (1:22:34): Global Health Sub-website System at the Dahdaleh Institute
Themes

Global Health & Humanitarianism, Global Health Foresighting, Planetary Health

Status

Active

Related Work

N/A

Updates

N/A

People

Theresa Dinh

, Institute Coordinator

Yashini Ravindran

, Global Health Research Communications and Website, Global Health Intern [FW22-23]

Taylor Cargill

, ACADIC/AI4PEP, Global Health Intern [FW22-23]

Michelle Tieu

, Global Health Dissemination and Design, Global Health Intern [FW22-23]

LaToya Hinds

, Research Communications and Publication, Global Health Intern [FW22-23]

Gurher Sidhu

, Social Science & Health Innovation for Tuberculosis, Global Health Intern

Georgina Birago Odoom Owusu

, Global and Environmental Health Research Lab, Global Health Intern [FW22-23]

Gabriel Fezza

, Global Strategy Lab, Global Health Intern
You may also be interested in...